Chris Rock Is Finally Ready To Talk About The Will Smith Slap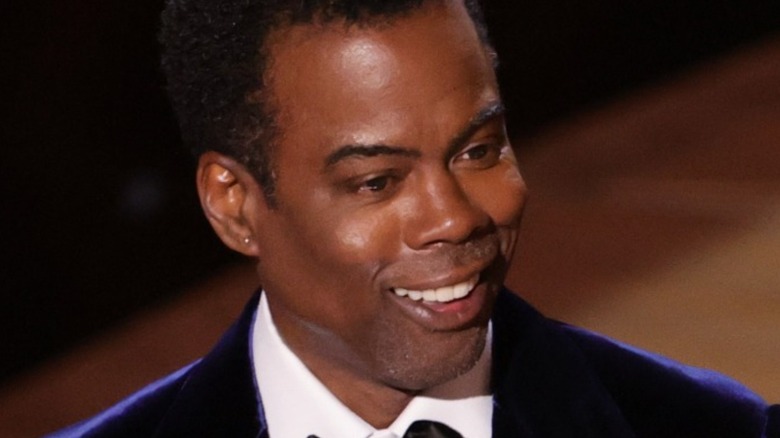 Neilson Barnard/Getty Images
Nearly half-a-year later, Chris Rock is finally ready to start talking about the slap heard 'round the world — with him reportedly opening up about his heated Oscars incident with Will Smith during some recent comedy shows. Rock has previously cracked jokes and commented, briefly, on what happened to him that night at the 94th Academy Awards when Smith stormed up on stage and slapped the legendary comedian across the face for making fun of his wife, Jada Pinkett Smith. But Rock has yet to go into detail about how it all made him feel — until now. 
In the weeks and months after the March 27 incident, the 57-year-old stand-up star and actor tried his best to remain mum on the whole matter. But Rock is still human. During a comedy set in May 2022 at London's Royal Albert Hall, the former "Saturday Night Live" funnyman said: "I'm ok, if anybody was wondering. Got most of my hearing back." Rock added, "Don't expect me to talk about the bulls**t. I'll talk about it at some point — on Netflix. Your tickets were expensive, but not that expensive" (via Us Weekly).
Smith has since apologized for his actions, saying his behavior was "unacceptable and inexcusable." But the "Aladdin" and "King Richard" star appears to still be feeling the fallout, with almost no public appearances or posts on social media since March. Rock, meanwhile, appears to have finally come to terms with what happened and is ready to speak about his feelings, with him doing just that during recent comedy shows in New York and New Jersey.
'I'm not a victim'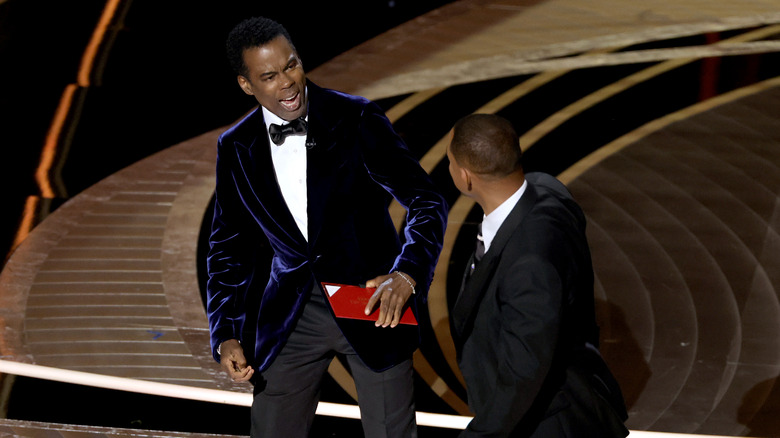 Neilson Barnard/Getty Images
Speaking to audiences at Madison Square Garden in New York City on July 23 — and then again on July 24 at the PNC Bank Arts Center in Holmdel, New Jersey — Chris Rock reportedly told everyone to stop feeling sorry for him and painting him as a victim (via Deadline). "I'm not a victim," Rock said. "Yeah, that s**t hurt, motherf**ker. But I shook that sh*t off and went to work the next day. I don't go to the hospital for a paper cut."
The comments came over the weekend as Rock is touring with Kevin Hart across the country. At one point, he appeared to poke fun at people saying Rock had crossed the line and hurt the Smith family with his words that night when he joked about Jada being bald. The longtime screen star reportedly suffers from alopecia. "Anyone who says words hurt has never been punched in the face," Rock wisecracked. 
The comedy icon was presenting an award that night and making fun of Smith, initially, before turning his attention to Jada — who could be seen laughing both before and after the slap (via Fox). "Jada, I love you. G.I. Jane 2. Can't wait to see it," Rock said to her. Moments later, Smith jumped out of his seat and stormed up to Rock and slapped him. Smith later returned to his seat, but continued to hurl invectives at Rock. While no major consequences or criminal repercussions have come out of the incident, Smith later chose to resign from the Academy of Motion Picture Arts and Sciences on April 1. It's still unclear if he and Rock have spoken since the incident.