Chris Rock Responds To Will Smith's Oscars Assault With A Surprising Remark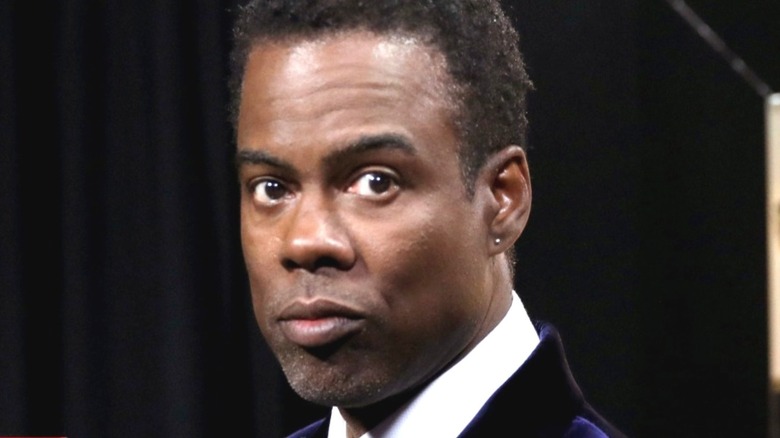 Al Seib /A.M.P.A.S. via Getty Images
The bizarre 94th Academy Awards ceremony remains in the news almost solely for the strange altercation between Will Smith and Chris Rock during Rock's presentation of the Best Documentary Feature award. It's hard to imagine anyone on the internet has not heard about what happened or seen the footage of Smith striding on stage to slap Rock in response to Rock's "G.I. Jane" joke about Jada Pinkett Smith's alopecia. What started as a shocking moment in live television broadcast history has turned into a fairly serious moment for the Academy at large, as the organization conducts a formal review of the incident.
While People Magazine reported that ABC and Academy producers discussed removing Smith from the Dolby Theatre in Los Angeles after the incident, Smith was allowed to return to his seat. Both he and Jada Pinkett Smith appeared in happy spirits when the show's broadcast resumed: footage taken by The Hollywood Reporter's Scott Feinberg showed Smith speaking with Denzel Washington, Tyler Perry, and his publicist during the commercial break. Smith stayed in his seat until he was announced as the winner of the Best Actor award for his performance in "King Richard."
Rock, for his part, has not spoken publicly since he left the stage on Sunday night, but based on what he reportedly said to Oscars crew members and other presenters during his exit, it sounds like he tried to maintain a sense of humor about the situation.
Chris Rock's initial response backstage reportedly involved an Ali reference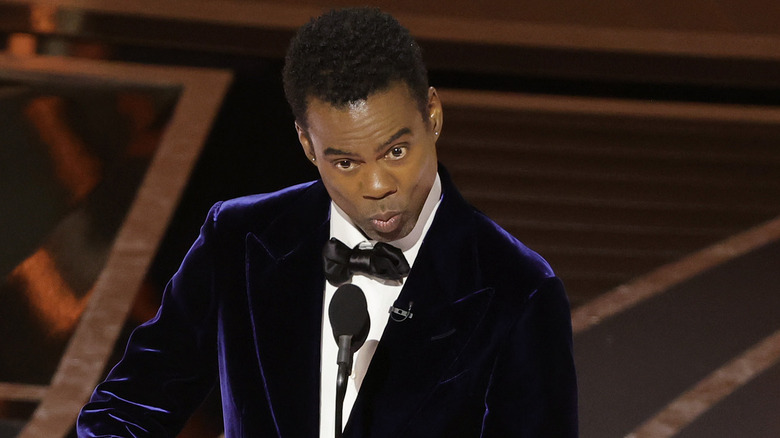 Neilson Barnard/Getty Images
According to Vanity Fair's live reporting from the Oscars, Rock continued to play off the altercation with Smith after he left the stage by cracking a joke about Will Smith's role as Muhammad Ali in 2001's "Ali." That film is notable in Smith's career as the first role for which he received a nomination for an Academy Award (Denzel Washington won that year's award for his starring performance in "Training Day", per Oscars.org).
"That's the only time you get hit [by] Muhammad Ali and it doesn't leave a scratch," Rock reportedly told crew and other Oscars presenters after he exited the stage.
During Sunday night's telecast, Smith offered an apology to the Academy and to the awards show's audience when he accepted his Oscar for Best Actor. He did not offer a public apology to Rock for the incident until Monday, acknowledging on his Instagram account that he is embarrassed by his actions and sorry for resorting to violence in that moment. "I would like to publicly apologize to you, Chris. I was out of line and I was wrong," Smith wrote.
While Rock reportedly declined to press charges against Smith the night of the altercation, the comedian has not offered any public comments since he left the stage during the show. Sean "Diddy" Combs told Page Six at the Vanity Fair afterparty that Smith and Rock had made amends, but the same outlet clarified that Combs spoke individually with Smith and Rock and that the two had not actually spoken one-on-one since the altercation.
Chris Rock wasn't the only one cracking jokes about the incident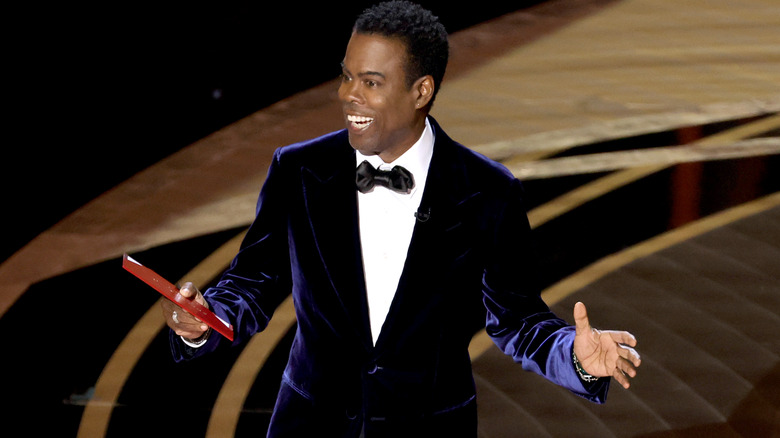 Neilson Barnard/Getty Images
Chris Rock's remark after getting slapped seems to indicate he's taking the incident in stride. While plenty of people online condemned Will Smith's actions, others didn't necessarily see a ton of harm and saw no problem taking a cue from Rock and cracking wise. Comedian Patton Oswalt had several choice tweets about the slap, including, "Faye Dunaway and Warren Beatty must be texting like mad right now," in reference to the infamous "Moonlight"/"La La Land" debacle from the 2017 ceremony. 
Comedic actor Diedrich Bader also got in the fun, taking to Twitter to write, "As a minor celebrity [I] feel like [I] have 27-30 hours to do anything [I] want and no one will notice." But it wasn't just comedians who saw the lighter side of the situation. Pennsylvania representative Malcolm Kenyatta showed no one knows his state better than him when he wrote, "Will Smith smacking Chris Rock and QuestLove winning an Oscar are the two most back to back Philly things to ever happen at the Oscars."
And those are just a few of the reactions from public figures. The rest of the general public have done what they do best in these scenarios: turn the event into a meme. In the aftermath of the slap, numerous people have made some variation of the joke, "Paper beats rock," in reference to Smith using an open hand to hit Rock. It's only natural for some people to use humor to defuse a tense situation, as Chris Rock probably knows all too well.