Chris Rock Had A Surprising Response To Anti-Will Smith Heckler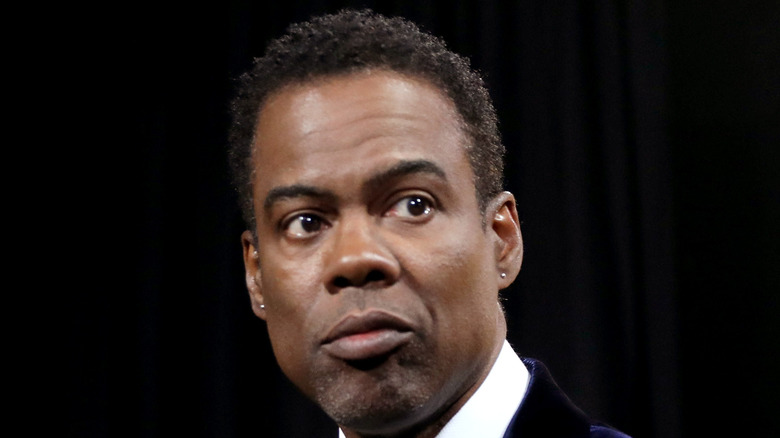 Handout/Getty Images
Unless you've been living under a rock (no pun intended) in recent days, you are probably aware of what went down between Will Smith and Chris Rock at this year's Oscars. But for the sake of posterity, let's quickly recap the events that took place.
It all began when Rock took to the stage and made a joke about Jada Pinkett Smith's shaved head as the result of alopecia ("Jada, can't wait for 'GI Jane 2,'" he said). Moments later, Smith confronted Rock and slapped him across the face, before returning to his seat and yelling at the comedian to keep his wife's name out of his mouth. It will go down in history as one of the event's most shocking moments, and the world just can't stop talking about it.
Smith has since apologized for his actions at the 94th Academy Awards, but people have been dying to hear Rock's side of the story. Earlier this week, the "Everybody Hates Chris" star confirmed that he hasn't spoken to his attacker yet. That said, some recent developments suggests that he harbors no ill will toward Smith following the unexpected showdown.
Chris Rock shut down a heckler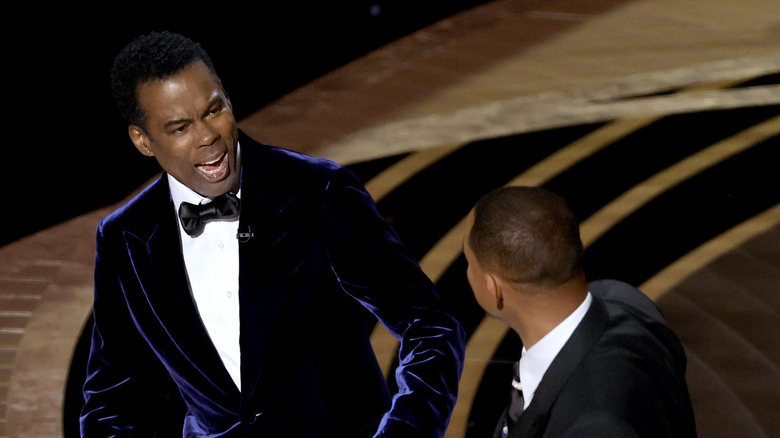 Neilson Barnard/Getty Images
Chris Rock's response to being slapped has been quite lighthearted, all things considered. The comic even made a joke about Smith hitting him right after it happened, and he reportedly had more humorous remarks to share about the incident after he walked off the stage at the Oscars ceremony. Unsurprisingly, then, Rock hasn't expressed any rage about the situation during his recent shows.
According to Yahoo, Rock took to the stage at a show on Thursday night and addressed the Smith incident from the get-go. During the set, an audience member showed their support for Rock by dissing Smith, dropping an F-bomb in the process. However, Rock wasn't there to bad mouth the "King Richard" star and immediately shut down the heckler. "No, no, no, no, no...," he replied in response to the anti-Smith sentiment. Furthermore, as the Yahoo report points out, Rock still hasn't talked to Smith since their confrontation, despite some reports claiming otherwise.
Rock might be against people dissing Smith, but the Academy is not willing to let the situation go unpunished. The Board of Governors recently had a meeting to discuss how to deal with the actor following the incident, and the consensus seems to be that he will face repercussions.