This Look At Shawn Mendes As Doctor Strange Is Melting Our Minds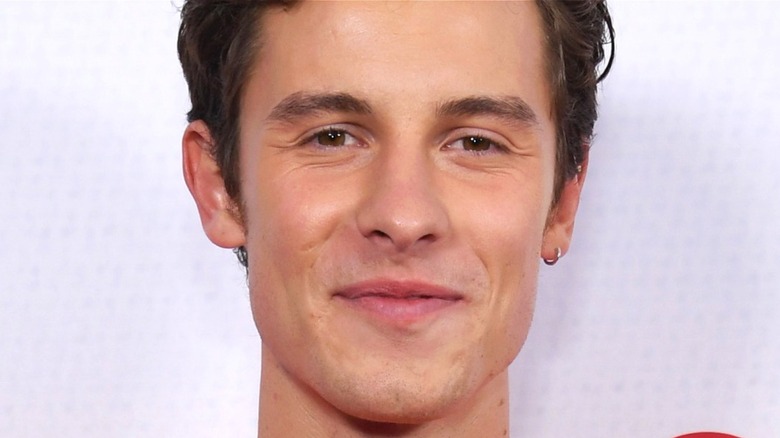 Jon Kopaloff/Getty Images
"Doctor Strange in the Multiverse of Madness" brought fans of the Marvel Cinematic Universe some great new characters from other universes and furthered the story of Doctor Strange (Benedict Cumberbatch) after the events of "Spider-Man: No Way Home." Although we knew Wanda (Elizabeth Olsen) would be involved in the plot of the film, it was sort of a big reveal to see that she is the central antagonist. By the end of it all, Strange and America Chavez (Xochitl Gomez) manage to defeat Wanda, with America continuing to train her powers at Kamar-Taj. However, Strange is yet again whisked away on another adventure in the post-credits scene.
It is unclear how or when Doctor Strange will show up again in future MCU projects, even after the unveiling of every MCU Phase Five movie and Disney+ show and the two Avengers movies in Phase Six at the Marvel panel during San Diego Comic-Con 2022. Either way, Strange has had quite the growth as a character thus far. Similar to Tony Stark, aka Iron Man (Robert Downey Jr.), he has gone from a fairly self-centered and egotistical man to one who (mostly) puts the safety of others and the protection of reality over his own wants and desires.
It's hard to believe that Cumberbatch has portrayed Doctor Strange for over seven years now and appeared in six different MCU films. That said, it's even harder to picture anyone else playing the character. On the other hand, fan art of singer-songwriter Shawn Mendes as a version of Doctor Strange is kind of melting our minds.
Shawn Mendes looks like a young Stephen Strange in concept art
Well-known creator Bosslogic posted some concept art on their Instagram account of Shawn Mendes dressed up as Doctor Strange, and it's not bad. According to the caption, the inspiration came from Mendes' outfit at the 2022 Met Gala. "Forgot about the #MetGala I saw @shawnmendes looking a little Strange! 😂 #MetGala2022 #DoctorStrange," Bosslogic explained.
The image features Mendes sporting the faint but signature goatee, the Cloak of Levitation, the Eye of Agamotto around his neck, some rings, his hands in a position to enact sorcery, and glowing eyes. The rest of the costume is an edit of the outfit he wore at the Met Gala, which was a trench-coat-with-a-popped-collar sort of look vaguely reminiscent of Doctor Strange (via Billboard).
Although the role of Doctor Strange is certainly still secured by Benedict Cumberbatch, Mendes could be a Strange variant somewhere in the Multiverse. As a sidenote, Shang-Chi actor Simu Liu jokingly advocated for Mendes to join the MCU in an interview with ET Canada at the 2022 Juno Awards. Mendes himself has vocalized his desire to do more acting (via Variety), so a superhero role could come sooner than we might think.