Guardians Of The Galaxy Vol. 3 Introduces A Classic Villain To The MCU
San Diego Comic-Con is upon us and that means a plethora of Marvel Cinematic Universe content is headed fans' way, and fast. Announcements have been made for upcoming features and television series in Phase Five, including "Daredevil: Born Again," "Ironheart," "Captain America: New World Order," and more. Not to mention, we got the first teaser trailer for "Black Panther: Wakanda Forever." As if that wasn't mind-blowing enough, two new Avengers movies have been announced for Phase Six: "Avengers: The Kang Dynasty" and "Avengers: Secret Wars." Needless to say, there's a lot, which feels very typical for the MCU. 
In addition to the exciting news, there was also a somber confirmation that "Guardians of the Galaxy Vol. 3" will be the last appearance for the famed funny crew set to wander the cosmos in their spaceship. Recently, the Guardians made an appearance in "Thor: Love and Thunder," but their solo third film is set to release in May 2022, and we still don't know a whole lot about the plot. We do know that Will Poulter's Adam Warlock is confirmed to be in the film, but the main antagonist has remained mostly unknown. In the past, the Guardians have fought Ronan the Accuser (Lee Pace), Ego (Kurt Russell), Thanos (Josh Brolin) and his armies, and others, as seen at the beginning of "Thor: Love and Thunder."
The speculation as to who could be the villain in "Vol. 3" seems to have been silenced, however, as SDCC has given another major reveal of a classic Marvel Comics villain joining the MCU to fight this ragtag team.
It's the High Evolutionary vs. the Guardians in Vol. 3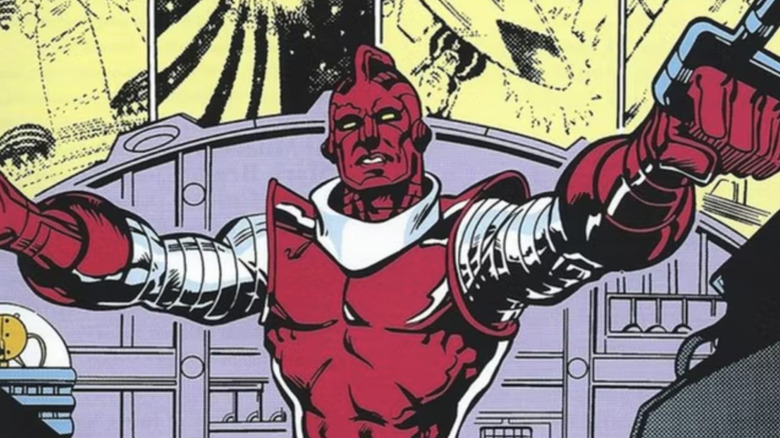 Marvel Comics
During Marvel Studios' Saturday evening presentation in Hall H at San Diego Comic-Con 2022, it was finally revealed who would be playing the villain in "Guardians of the Galaxy Vol. 3." The infamous — and classic — Marvel Comics meanie will be portrayed by none other than actor Chukwudi Iwuji, who may be best known to U.S. audiences for his role as Clemson Murn on the DC Comics HBO Max show, "Peacemaker," yet another James Gunn project (via IMDb). A Twitter video shared by IGN from on the floor of Hall H shows Iwuji in full High Evolutionary costume, walking down the aisle clad in full purple armor from head to toe. The video also sees the actor fully absorbed into his High Evolutionary role, at times scowling at the crowd before breaking into an unnerving smile.
Based on the character's comic origins, the High Evolutionary is a very intelligent biologist named Herbert Wyndham who grew up in England. He becomes obsessed with the process of evolution, leading him down a dangerous path that bestows him with special abilities but also leads him to conflict with The Avengers and other Marvel characters. His intellect after, er, improving himself is now unimaginable, and he is a formidable and powerful combatant.
The High Evolutionary's role in the "Guardians of the Galaxy Vol. 3" story likely has a lot to do with Will Poulter's Adam Warlock given that he is incredibly involved in the origins of Adam's story in Marvel Comics. It will be interesting to learn more of the plot of "Vol. 3" as we get closer to its release, hopefully learning more about The Guardians' final adventure in the process.