Here's The Daredevil News We've All Been Waiting For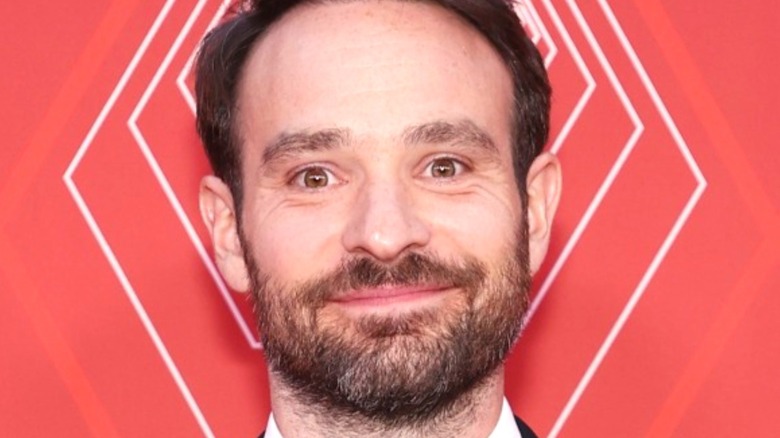 Arturo Holmes/Getty
Fresh on the heels of the first trailer for "She-Hulk: Attorney at Law," Disney+ is welcoming more general counsel to the law offices of Marvel, Cinematic, and Universe.
While the MCU has been around since 2008 with the Robert Downey Jr. blockbuster superhero film "Iron Man," other Marvel projects have been produced with different studios thanks to previous deals with Marvel Comics. For example, "Spider-Man" came to life in two different iterations via Sony Pictures, while "X-Men," "Fantastic Four" and "Deadpool" were brought into live-action by 20th Century Fox (before being acquired by Disney). Then, in 2015, Netflix managed to get the rights to "Daredevil." 
Netflix's "Daredevil" starred Charlie Cox as Matt Murdock, a blind attorney who protects the vulnerable at night through his keen ninja skills as the costumed vigilante Daredevil. Cox's titular character kicked off the first of four Marvel superhero tales for the streamer, followed by "Jessica Jones" in November 2015, "Luke Cage" in September 2016, and "Iron Fist" in March 2017. In between subsequent seasons of each series, all four titular characters joined forces for "The Defenders" in August 2017. After that, each of the series slowly faded away — "Daredevil" specifically was canceled in 2018 — only leaving behind hopes by fans that each of the gritty shows would eventually find their way to Disney+.
Those very hopes for more "Daredevil" began to emerge, thankfully, with Murdock's unexpected visit to Peter Parker (Tom Holland) in "Spider-Man: No Way Home" in December 2021, and were solidified when Daredevil's nemesis, Kingpin (Vincent D'Onofrio) made a surprise turn in the Disney+ series "Hawkeye" the same month.
An executive producer and writer have been tapped for a Daredevil series on Disney+
Reported exclusively by Variety, writer Matt Corman and executive producer Chris Ord have been hired by the House of Mouse to get the ball rolling for a series on Disney+. According to Variety, Corman and Ord — who created the USA series "Covert Affairs" — were also the executive producers and showrunners on such NBC series as "The Enemy Within" and "The Brave."
Details about the new "Daredevil" series have not yet been confirmed by Marvel Studios, which produces all of the MCU content for Disney+. Given Charlie Cox's and Vincent D'Onofrio's respective appearances in the MCU in "Spider-Man: No Way Home" and "Hawkeye," it seems all but certain that both actors will reprise their role for the new iteration of "Daredevil."
While the new "Daredevil" series is in its early developmental stages, it's not out of the question that fans will see Cox and D'Onofrio before the show debuts. Since both actors' iconic characters are part of the MCU now, don't be surprised if Matt Murdock aka Daredevil or Kingpin turns up in another Marvel Studios series sooner than later. Murdock especially feels like a shoo-in for "She-Hulk: Attorney at Law," which would set up a very superheroic court battle.