Here's What Happens When You Call The Number On The New She-Hulk Poster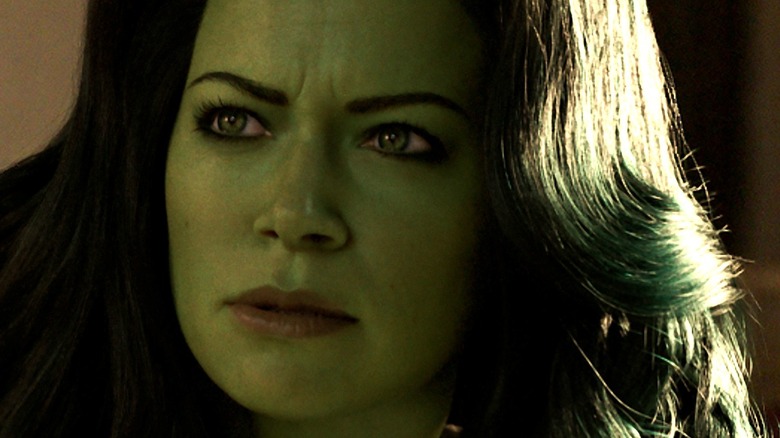 Marvel Studios/Disney+/YouTube
While many MCU fans would prefer to ignore the standalone Hulk movie, there's no denying that the character has been a highlight of the franchise, especially since Mark Ruffalo took over the role in 2012 for "The Avengers." Now, Marvel Studios is bringing a new Hulk to town in the form of Jennifer Walters, legal powerhouse. Played by Tatiana Maslany, "She-Hulk: Attorney at Law" will be the next live-action MCU series to hit Disney+, and will follow Walters through her attempts to balance a superstar legal career with a love life, all of which is made difficult by the fact that, you know, she turns into a giant green rage-monster at the drop of a dime.
Fans have been furiously theorizing what "She-Hulk" might entail, from the possible return of Charlie Cox as fellow law practitioner Matthew Murdock (aka Daredevil) to possibly revealing Bruce Banner's long-lost son. And while there was some concern over the quality of the VFX employed for the trailer, Marvel seems to have fixed that rather quickly. Even the show's music has been hyped up, with composer Amie Doherty telling MCU fans to keep their ears peeled for Easter eggs.
At this week's San Diego Comic-Con, Marvel unveiled a new, interactive poster for the show. Found in gift bags at the Disney+ Comic-Con booth, the poster imitates an advertisement for Walters' services and features a telephone number at the bottom of the screen. If you were tempted to call 1-877-SHE-HULK but didn't know what to expect, there's no need to worry. We called it for you, and here's what you'll be treated to if you dial in yourself.
Jennifer Walters wants to represent Thor in court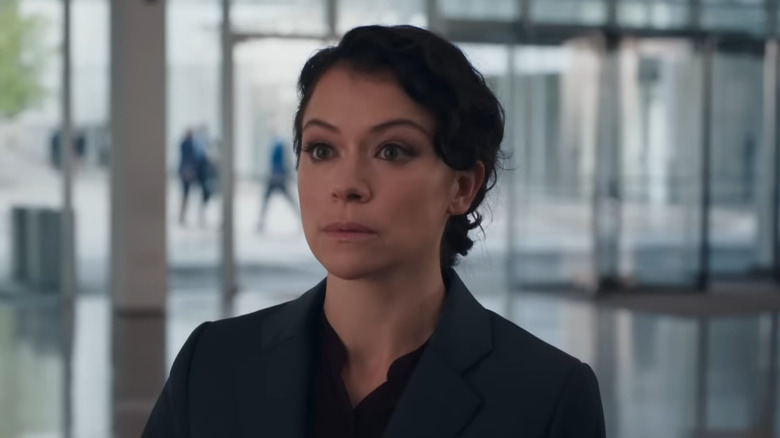 Marvel Studios/Disney+/YouTube
Calling the number on the new "She-Hulk" poster unveiled at San Diego Comic-Con will treat fans to an answering machine recording from Jennifer Walters, super lawyer. In the message, the big, green legal machine appears to be pitching her services to Tony Stark (Robert Downey Jr.) and Thor (Chris Hemsworth), among others. Walters is heard workshopping the script, with someone in the background giving her notes. "Hi, you've reached the superhuman law division at GLK&H," Walters says before someone tells her to "record it as She-Hulk." Walters retorts, "You know they can't see me, right? Okay, whatever."
After informing potential clients how important their call is to her, Walters pitches her legal services. "Have you been fined for thousands of dollars for damage to the city you were trying to protect? Did you accidentally create a sentient robot who got the feels and tried to destroy the world? Maybe you're an Asgardian god who leaves a giant, burning imprint on private property every time you arrive on Earth." She-Hulk is, of course, referring in the former case to the events of "Avengers: Age of Ultron," and in the latter to the Bifrost symbol which appears etched into the ground when Thor uses it to traverse the galaxy. The voice in the background chimes in with "I know who she's talking about!"
Clearly, "She-Hulk: Attorney at Law" will be leaning heavily into its subtitle, with Jennifer Walters struggling to balance her life as a high-powered lawyer by day and a giant, super-strong green monster by night. Or, you know, anytime she loses her temper. The trailers have shown Professor Hulk trying to teach Jennifer how to control her powers, but to what degree she's succeeds will remain a mystery until the show hits your TV screen on August 17.