Kelsey Grammer Believes This Is The Key To A Successful Frasier Reboot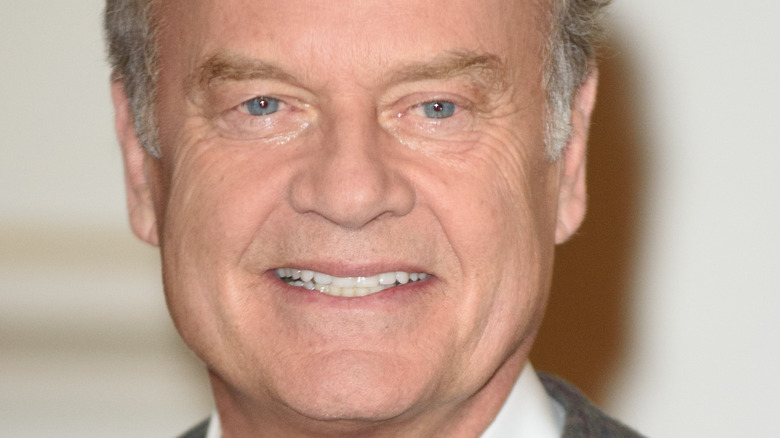 Featureflash Photo Agency/Shutterstock
There's no denying it. Dr. Frasier Crane (Kelsey Grammer), the central figure on the original NBC series "Frasier," is a serious snob. Over the course of a mind-blowing 11 seasons from 1993 to 2004, fans watched him launch from a side character on "Cheers" (another 11-season NBC series) to take center stage in his own story. And his is often a long-winded story, punctuated by effusive mansplaining and a certain lack of self-awareness — particularly amusing when you consider he's a radio psychologist who solves other people's problems.
Surrounding Frasier is a colorful cast of characters who bring his world to life. There's Martin Crane (John Mahoney), Frasier's gruff and down-to-earth father and roommate. Daphne Moon (Jane Leeves) is Martin's charming caregiver. Roz Doyle (Peri Gilpin) is Frasier's sarcastic friend and producer. And of course, we can't forget Niles Crane (David Hyde Pierce), Frasier's equally elitist brother. Despite—and perhaps because of—their flaws, everyone on the show, including Frasier, comes across as somehow likable. Or at least you can't help but root for them.
In the original series, all the ingredients come together to create a successful show. So what's it going to take to make the reboot equally engaging?
The idea for a Frasier reboot has been floating around for years
Rumors of a "Frasier" reboot began swirling in 2018 after Deadline reported Kelsey Grammer was in talks with CBS TV Studios about the project. The idea was to have him reprise his title character, with the storyline set in a whole new city. In its day, the original had been a hit, setting a record for winning more Emmy Awards than any other scripted series. As far as reboots go, it was a natural, pretty much guaranteed to draw an audience.
But Grammer wasn't interested in moving forward too quickly or even bringing the idea to fruition if the new version of "Frasier" wasn't going to be spectacular. On a Television Critics Association press tour in 2018, he warned reporters, "If it's not a great show, and if we don't hear a pitch that hits it out of the park, it probably won't happen, according to Yahoo! Finance.
By 2019, Grammer was talking to writers, hearing ideas, and hinting at storylines, including one where his TV son Frederick (Trevor Einhorn) winds up as an uncomplicated adult more closely aligned with Martin Crane than his neurotic dad, per Today. And in 2021, The Hollywood Reporter broke the news that, yes, a "Frasier" reboot at Paramount+ finally had the green light.
If Grammer was good with this — and he was — that could only mean he'd found the right reason to move forward. And in 2022, he revealed what that was when "The Talk" host Akbar Gbajabiamila asked Grammer to name the key ingredient for making the show a success. Smiling, Grammer didn't hesitate. "The key ingredient for the 'Frasier' reboot is actually Frasier, honestly," he said (via Deadline). "It's me. I am the key."
Frasier's new life will be full of surprises
Kelsey Grammer's answer on "The Talk" may sound reminiscent of his Frasier persona, even a bit egotistical. But we couldn't agree more. "Frasier" would be nothing without its namesake central character. Thankfully, Grammer looks to be a big part of the reboot, and other actors from the original series are expected to join in the project, too. "We have a story to tell that can actually be told with or without them honestly," he told Collider. "But I want them back because that's what I always dreamed of. I thought we should explore all their lives in their third act. And so that is my hope."
Specifically, Grammer wants to include Roz, Niles, and Daphne in future storylines. (Sadly, John Mahoney died in 2018.) In the reboot, Frasier will move from Seattle to a new city and his life will take some surprising turns. "He's like the George Bailey of television," Grammer told New York Live, referencing the 1946 film "It's a Wonderful Life," and the character James Stewart played in the film. "He thinks he's going to go off and do one thing, and sure enough his life takes him in another direction. And he ends up rich beyond his dreams."
Fans may not have long to wait for the first episode of the new "Frasier," as shooting is expected to commence this fall. Grammer, for one, is happy with what he's seen so far. "It looks pretty good. I've had a couple of run-throughs of it, and I cried so, you know, I'm happy," he said.