What David Hyde Pierce Has Been Doing Since Frasier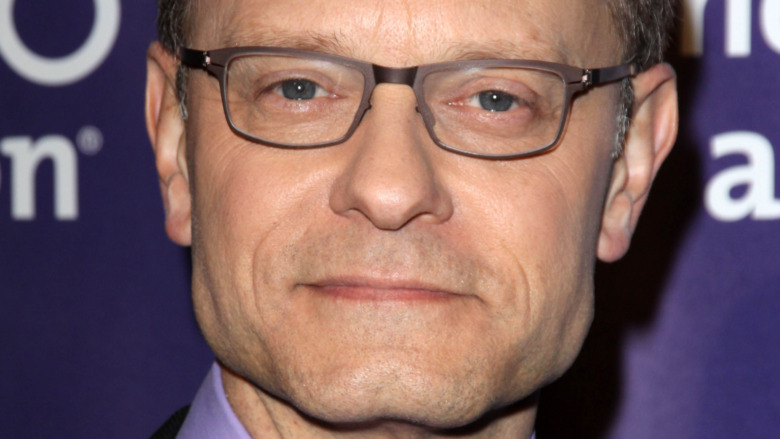 Shutterstock
When the hit sitcom Cheers ended, not all of the patrons of the eponymous Boston bar were ready to end their time on TV. For example, Dr. Frasier Crane (Kelsey Grammer) moved back to his hometown of Seattle for the spinoff Frasier, giving us the chance to learn a lot more about Frasier's life and introducing us to his father and his brother, Niles, the latter played by David Hyde Pierce. 
A highly educated psychiatrist just like his brother, Niles is a tightly wound germaphobe carrying an intense torch for Frasier's housekeeper, Daphne (Jane Leeves), and he lives under the restrictive thumb of his unseen wife, Maris. He's the closest thing Frasier has to a best friend or confidant, even if it isn't rare for Niles to betray a touch of sadistic joy at all the messes his brother finds himself in. His performance on the sitcom earned him 11 Emmy nominations for Outstanding Supporting Actor in a Comedy Series, and four of those times, he took the trophy home.
But Pierce's life didn't begin or end in Frasier Crane's lavish apartment. He's continued to work on TV and film, along with returning to his roots in the theater. He's used his fame to bring attention to important matters both in terms of social justice and healthcare, and at the same time, he's landed some high-profile projects along the way. For more specifics, keep reading to learn what David Hyde Pierce has been doing since the end of Frasier. 
David Hyde Pierce voiced one of Hellboy's allies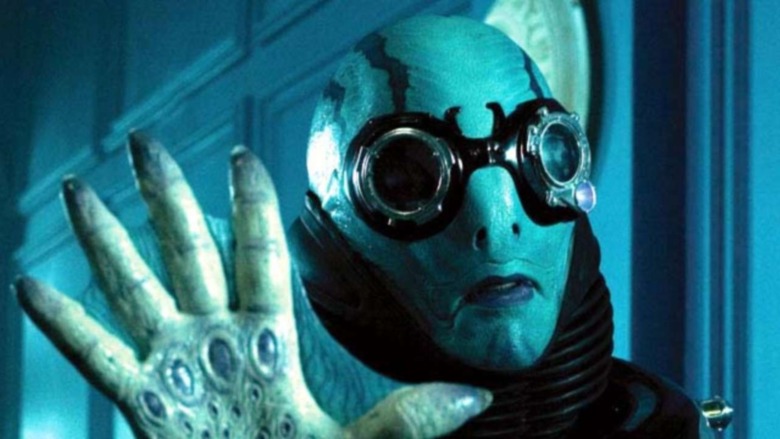 We might be cheating a little bit here — 2004's Hellboy hit theaters roughly a month before Frasier's series finale aired, but it's close enough that we'd feel silly if we didn't mention it. Why? Because David Hyde Pierce joined the superhero movie world by helping to bring one of Hellboy's closest allies to life.  
In the very first live-action adaptation of the Hellboy comics, Pierce lends his voice to Abe Sapien — a psychic amphibious man working for the Bureau for Paranormal Research and Defense. While it's Pierce you're hearing when you watch Hellboy, he never physically appears. The guy under all of that makeup is Doug Jones, who's known for portraying nonhuman characters. There's a good chance you've seen Jones without even knowing it if you've ever watched TV series like What We Do in the Shadows and Star Trek: Discovery or films like Pan's Labyrinth and The Shape of Water. 
If you've seen Hellboy and are surprised Pierce was involved, that's probably because he didn't want to be credited for the film. According to Horror.com's 2007 interview with Jones, Pierce felt Sapien was more Jones' character than his. "[Pierce] wanted that character to be mine so he declined taking the credit in the film, he declined doing any interviews or any press," Jones recalled. The actor also pointed out he was able to do the voice of Sapien in the sequel, two animated Hellboy features, and a video game because Pierce "politely declined."
After Frasier, he came out publicly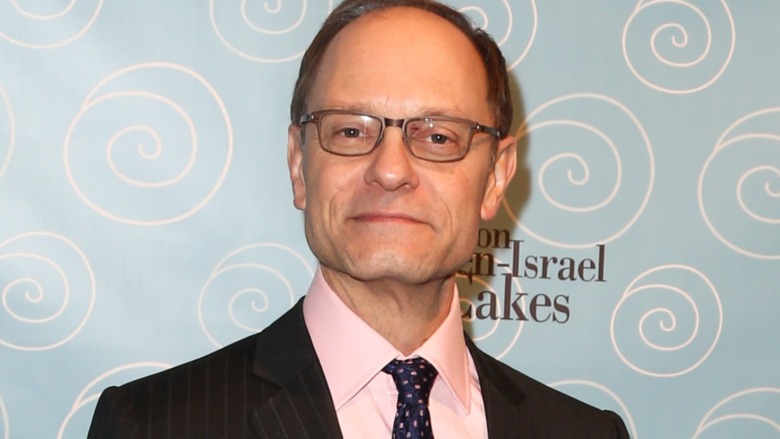 Shutterstock
One of the biggest pieces of news to emerge about Pierce in his post-Frasier life was the public confirmation that he was gay. In May 2007 — after years of rumors — Pierce's sexuality became public knowledge. Rather than making any kind of public declaration, Pierce simply allowed the facts about his life to slip into a CNN article. The headline didn't announce it, but instead, a sentence deep in the article read, "Pierce got to Los Angeles in the early 1990s when his partner, actor-writer-producer Brian Hargrove, wanted to write for television" (via Digital Spy).  
Considering how Pierce "came out" to his own family, the way he chose to do the same to the rest of the world isn't surprising. Speaking to Vulture in 2017, Pierce said he never had any conversation in which he "sat them down and said, 'Mom and Dad, I'm gay.'" Rather than telling, he showed them. "I brought home the guy I was in love with," Pierce recalled. "And they met him and loved him and embraced him, and he was a member of the family instantly."
While admitting some regret over not coming out publicly sooner, Pierce said that he'd bristled at the idea of some kind of widely circulated proclamation. "I just got p*ssed off at the idea that there was only one way to do things," Pierce explained. He added, "I believed that living your life without hiding was the political statement."
He got married, but it wasn't to Daphne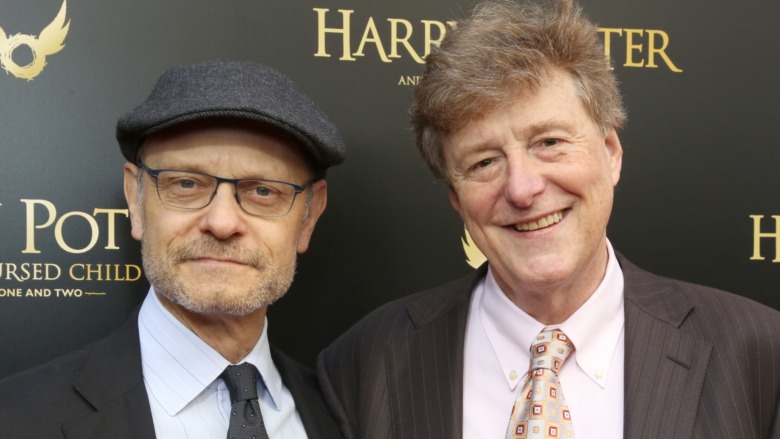 Walter McBride/Getty Images
Pierce was a guest on The View in May 2009 when he revealed he and his partner, Brian Hargrove — who he'd been with since the early '80s — were quietly married the previous October (via Daily News). The announcement couldn't help but take on a political context, as Pierce and Hargrove were married mere days before California's infamous Proposition 8 was voted into law, which banned same-sex marriage in the state. 
Pierce may have been initially quiet about his marriage, but on The View, he wasn't silent about his anger over Proposition 8. "We got married last October 24th and thought that was fine," Pierce explained. "And then suddenly the state of California said, 'No, it's not.'" When it was mentioned that his marriage would still be considered legal since it took place before the vote, Pierce pointed out, "That's a mixed thing too. It's like, 'Oh great, we made the cut.'" Responding to the California Supreme Court's decision to uphold Proposition 8, Pierce said, "I was sitting in front of my television wondering, 'Gee, I hope the Supreme Court thinks it's okay for us to be married.' Excuse me — it's none of your business." 
Thankfully, while it would take a few more years, the U.S. Court of Appeals for the Ninth Circuit ruled Proposition 8 unconstitutional in February 2012.
David Hyde Pierce is a champion in the fight against Alzheimer's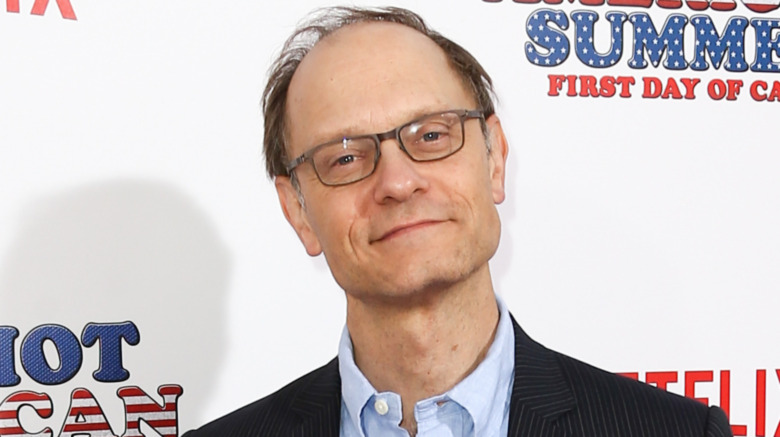 Shutterstock
In 2007, Pierce became a high-profile and eloquent voice in the fight to end Alzheimer's as the national spokesperson for the Alzheimer's Association. Speaking to ABC News in June 2007, Pierce called Alzheimer's "a disease that takes your brain apart a piece at a time, and it doesn't stop until it kills you." Pierce has testified before the U.S Congress multiple times about expanding funding for Alzheimer's research and other related issues, contending, "Congress needs to weigh Alzheimer's disease in with every, virtually every other issue that they address." 
Alzheimer's is, sadly, a familiar enemy to Pierce and his family. Pierce was candid about losing both his father and grandfather to the disease while speaking to Brain & Life in 2007. He said his family didn't even know what Alzheimer's was when his grandfather showed symptoms in the '80s. Pierce didn't see the warning signs with his father at first, he said, because his mother — just as his grandmother had with his grandfather — would cover for him by doing things like taking over the balancing of the checkbook.
In 2010, Pierce was honored with the Isabelle Stevenson Tony Award for his work with the Alzheimer's Association. The award is reserved for members of the theater community who've made a "substantial contribution of volunteered time and effort" toward a "humanitarian, social service or charitable organization."
He's won awards for his work on the stage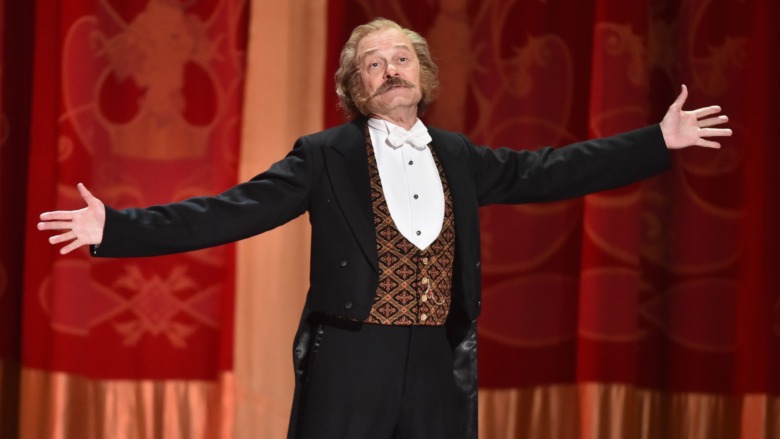 Theo Wargo/Getty Images
Long before he appeared on Frasier, Pierce was cast as a waiter in the 1982 Broadway premiere of the Christopher Durang play Beyond Therapy. The year after Frasier ended, Pierce found his way back to the theater. In 2005, he joined the legendary Tim Curry for the original stage production of Spamalot, the musical adapted from the 1975 comedy classic Monty Python and the Holy Grail. Like most of the actors in the original film, Pierce played multiple roles in the production, with his main focus being the cowardly Sir Robin. 
Spamalot was only the beginning of Pierce's return to theater. In 2006, he played Lieutenant Frank Cioffi as part of the original cast for the musical mystery comedy Curtains, and he won a Tony Award for Best Actor in a Musical for his efforts. And in 2013, being cast as the male lead for the comedy Vanya and Sonia and Masha and Spike in 2013 must've felt like a wonderful victory, considering — like his Broadway premiere in Beyond Therapy — the play was written by Christopher Durang, and this time, Pierce wasn't playing a waiter. While he didn't win that year, the Durang comedy got him a Tony nomination for Best Actor in a Play. 
In 2017, Pierce appeared opposite Bette Midler in a new Broadway production of Hello, Dolly! Pierce played Horace Vandergelder, the titular matchmaker's romantic target. Pierce earned a Tony nomination for Best Actor in a Musical, and he performed "Penny in My Pocket" at the 2017 Tony Awards ceremony. 
Since Frasier, he's continued voice acting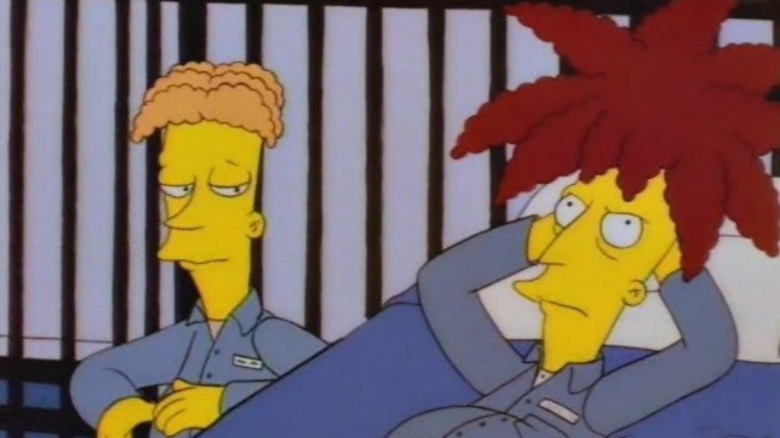 The potential of Pierce's distinct voice hasn't been lost on casting directors, and the actor was finding a good amount of voice work even before the end of Frasier. In the 1998 animated comedy A Bug's Life – as well as the accompanying video game — Pierce voiced Slim the stick insect, who pals around with Heimlich, the German-accented caterpillar. The same year, he lent his voice to the teacher Mr. Daedalus in Disney's Hercules: The Animated Series. Plus, he was the cold pill Drix in 2001's Osmosis Jones and the canine astronomer Dr. Delbert Doppler in 2002's Treasure Planet. 
One of his more memorable voice roles was for The Simpsons. Since before the airing of Frasier, Kelsey Grammer voiced the cartoon's circus-themed villain Sideshow Bob. As an obvious nod to their roles in Frasier, Pierce was cast as Sideshow Bob's brother, Cecil, in season 8's "Brother from Another Series." Three years after Frasier ended, Pierce reprised the role of Cecil in "Funeral for a Fiend," and the late John Mahoney — who played Pierce and Grammer's father on Frasier – got in on the joke, voicing Bob and Cecil's father.
Along with voicing animated characters, Pierce has also proven to be a popular choice for the narrator of live-action projects, like he was for the 1999 comedy The Mating Habits of the Earthbound Human. He likewise narrated two musical comedy films after Frasier ended – 2008's Forever Plaid and 2009's Stingray Sam.  
He ran against The Good Wife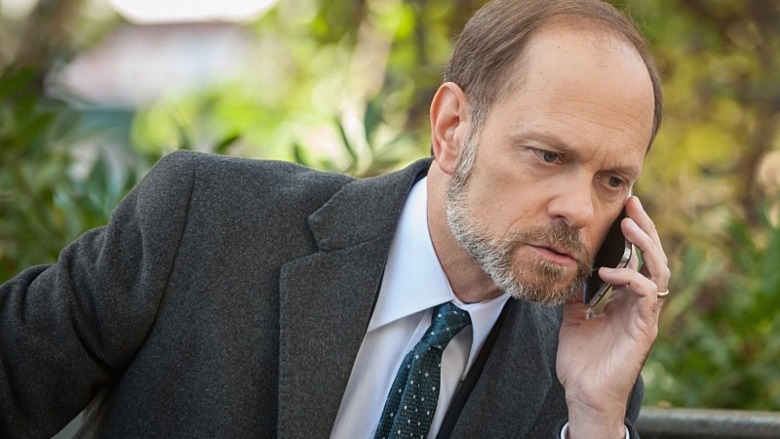 In 2014, after staying away from prime-time TV for a decade, David Hyde Pierce returned to make a big splash in CBS' acclaimed legal and political drama The Good Wife. Pierce jumped on board in the show's sixth season, playing the role of Frank Prady, a TV personality known for his legal commentary. Prady becomes a political opponent of series lead Alicia Florrick (Julianna Margulies) when he throws his hat in the ring in the election for Cook County State's Attorney. 
TV critics celebrated the casting, both for Pierce's return to prime time and for what it meant for The Good Wife. USA Today's Robert Bianco warned that adding new talent "to a show that is running so well is a risk," but he added that Pierce's talent made it "a risk worth taking" that ultimately "paid off in spades." Writing for The Atlantic, David Sims saw Pierce as a breath of fresh air for the series. He wrote that he'd worried that Florrick's previous political opponent — Michael Cerveris' James Castro, who Sims called "a mean-spirited, small-minded fool" — would lead to the show's election storyline proving to be "disappointingly one-sided." Those fears were cured, Sims wrote, by Pierce's "smart and canny yet still sympathetic" Frank Prady.
David Hyde Pierce returned to Wet Hot American Summer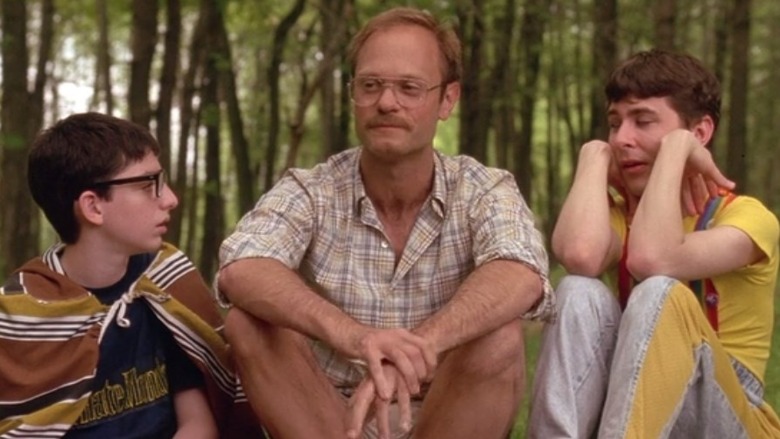 Sex comedies were all the rage in the '80s, and in 2001, an ensemble cast gathered to help make a spoof of those films. The result was Wet Hot American Summer, which saw David Hyde Pierce joining a cast that included Janeane Garofalo, Molly Shannon, Paul Rudd, Christopher Meloni, Bradley Cooper, and more in Maine's Camp Firewood. Pierce played Professor Henry Newman — love interest to camp director Beth (Garofalo) and a scientist struggling to save Camp Firewood from a plummeting chunk of NASA's Skylab.
In spite of a long list of impressive talent, critics hated Wet Hot American Summer, as evidenced by its poor 38% approval score on Rotten Tomatoes. But audiences weren't deterred by the critics, and in the decade that followed, the film attracted a significant cult following. And eventually, Netflix took notice. 
In 2015, Netflix aired an original prequel series, Wet Hot American Summer: First Day of Camp, and in 2017, it was followed by the sequel series, Wet Hot American Summer: Ten Years Later. Pierce reprised his role as Henry Newman in both shows, along with the bulk of the original cast. He appeared in two of First Day of Camp's eight episodes, though in Ten Years Later, he only showed up for the finale.
He helped tell the story of When We Rise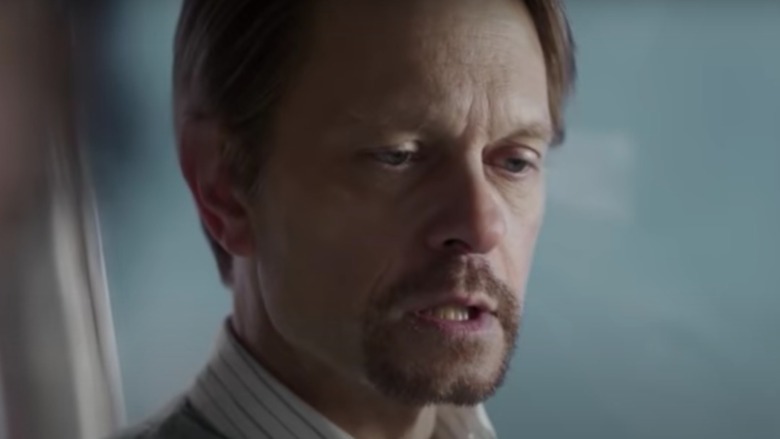 In 2017, ABC aired the acclaimed docudrama miniseries When We Rise. Based on the memoirs of Cleve Jones — a noted LGBTQ+ rights activist known for, among other things, conceiving the NAMES Project AIDS Memorial Quilt – When We Rise chronicles the history of the LGBTQ+ rights struggle in the United States, beginning just after New York City's Stonewall Riots and running to the 2010s. An ensemble cast of celebrities helped make the miniseries happen, including Guy Pearce, Mary Louise-Parker, Rob Reiner, Michael K. Williams, Whoopi Goldberg, Rosie O'Donnell, and many more. David Hyde Pierce appeared in the series as well, as Cleve Jones' father — referred to simply as "Dr. Jones" –who initially sees his son's sexual identity as an illness to be treated.
Speaking to Vulture about his part in the miniseries, Pierce said he took the role because of his admiration for Cleve Jones and because he felt it was a character whose story was important to tell. He explained, "I like the opportunity in a piece that's clearly about gay rights to play someone who didn't understand that." He also said it was "important for a parent who maybe isn't tolerant to see themselves represented in a hopefully three-dimensional way."
Pierce also told Vulture it was Cleve Jones' idea to cast him as his father. Along with there being some physical similarities between Pierce and the real-life doctor, the actual Dr. Jones had apparently been a fan of Niles on Frasier.
David Hyde Pierce will be cooking up something with Julia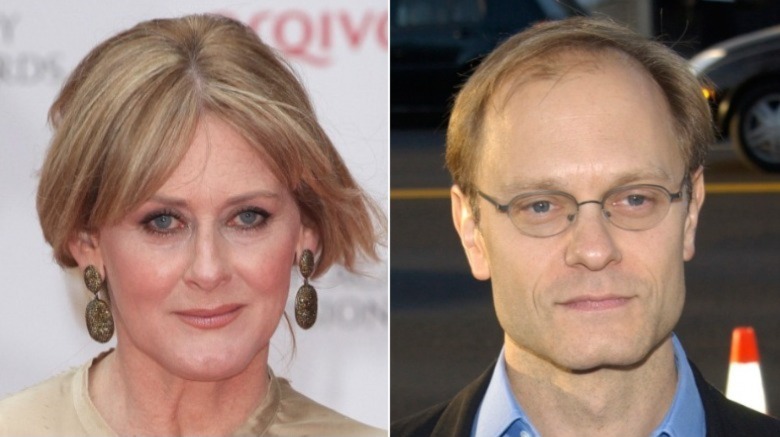 Shutterstock/Shutterstock
There's no shortage of cooking and food shows on television these days, and whether they're showing you how to make tasty meals, pitting chefs against one another, or just giving Gordon Ramsay a chance to swear a lot, they all owe a debt of gratitude to the late Julia Child, the chef who essentially created food television. And it won't be too long before we all get to see David Hyde Pierce honor Child with the upcoming HBO Max miniseries Julia, based on the beloved chef's life. Pierce will play Child's husband, Paul, while Sarah Lancashire plays the title role.
In part, Pierce has the COVID-19 pandemic to thank for his part in Julia. Announced in September 2019, Julia has endured a number of casting hiccups, including Joan Cusack — originally attached to the lead role — leaving the project. Similarly, English actor Tom Hollander was the first choice to play Julia's husband, but in September 2020, news broke that Pierce had replaced him. Hollander reportedly left the project both because of scheduling changes necessitated by the pandemic and "COVID travel-related circumstances."