Why Better Call Saul Fans Should Look Through The Series Again For Horses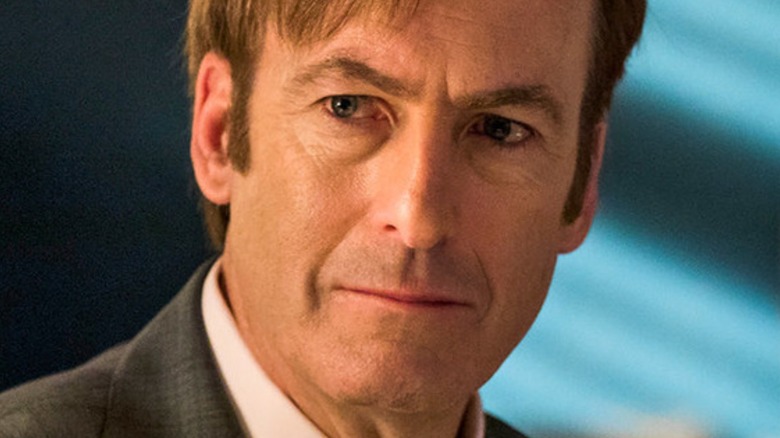 AMC
The second half of "Better Call Saul" Season 6 has officially arrived, with Bob Odenkirk's Jimmy McGill aka Saul Goodman returning for one last run after more than a half-decade on AMC. The "Breaking Bad" spinoff first premiered in February 2015 and went on to carve its own critically-acclaimed path in television history, with some even saying that "Better Call Saul" is the superior Vince Gilligan joint, including famed Hollywood filmmaker and longtime fan Guillermo del Toro. 
"I like it even more than BB, not to be a contrarian but because the evident stakes seem smaller but the moral downfall strike me as deeper, more poignant," Del Toro tweeted in 2018. He noted how it was the little things in "Better Call Saul" and creative nuances that made the spinoff more impactful for him. And when it comes to little things, there's been no shortage of small details related to the character Lalo Salamanca (Tony Dalton). Debuting in Season 4, the eerily calm and cheerful cartel leader has become one of the most lauded and talked-about personalities on the show. His killing of Howard Hamlin at the end of Season 6's Part 1 was one of the biggest moments of the entire series. But there's something else that people have noticed about Lalo, other than his sadistic and entertaining exterior — and it surprisingly revolves around horses.
Better Call Saul is full of sneaky references to Lalo and his secret love for horses
First pointed out by Redditor u/PatientEggplant in a July 2022 "Better Call Saul" discussion, the Lalo Salamanca horse references have become a real treat for longtime viewers, with them being spotted regularly throughout the series. The references, according to fans, are proof of how impressive the show's writing and attention to detail really is. 
"When the character is first introduced, he is singing along to the song: 'Al Compás De Mi Caballo' which translates to 'to the Rhythm of my Horse,'" explained u/PatientEggplant. "In a later episode, he's singing that exact song while fixing his Monte Carlo before asking Jimmy's help with Krazy-8. At the end of season 5 when Lalo and Nacho go to his compound in Mexico, you can see horses galloping in an enclosure for a brief moment. The last detail I noticed was when he enters the laundry mat and kills the guards, he clicks at Gus like you would a horse in order to get him moving to show him where the lab is."
Lalo's time on "Better Call Saul" officially came to an end on July 11 in the episode "Point and Shoot," which saw him get taken out by Gus Fring (Giancarlo Esposito). While actor Tony Dalton has never spoken publicly about the horse connection — and it was never explained on the show — fans believe Vince Gilligan knew what he was doing by including it. "It's a cool detail that makes the characters more fleshed out and realistic, like they have their own interests and personalities and aren't just plot points that move the story along," wrote u/PatientEggplant in his Reddit post, which got more than 700 upvotes. "It makes it feel living and breathing."