Better Call Saul's Eye-Opening Death Has Fans Talking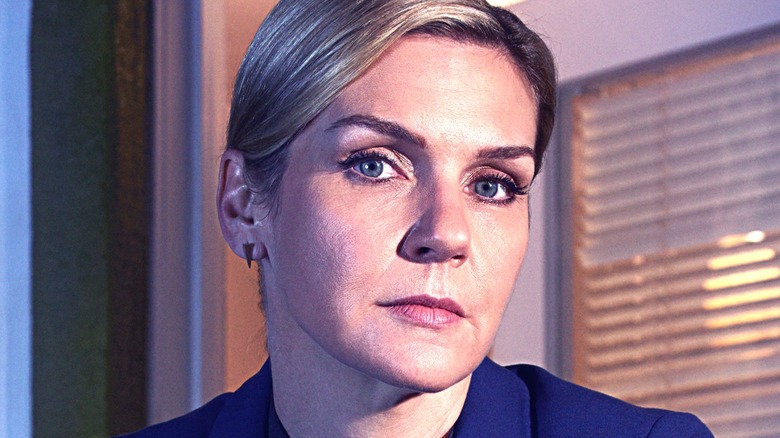 Joe Pugliese/AMC/Sony Pictures Television
Contains spoilers for "Better Call Saul" mid-season finale, "Plan and Execution"
The first half of "Better Call Saul" Season 6 reaches its end with "Plan and Execution," a title that reads very differently when you've actually watched the episode. Jimmy (Bob Odenkirk) and Kim (Rhea Seehorn) finally bring their long-winded and complex plan to ruin Howard Hamlin (Patrick Fabian) to its completion. Their scam is a definite success, and a highly entertaining watch, but it also ends up thoroughly ruining Howard over the course of a single, awful day.
Near the end of the episode, it seems that Howard at least gets to give Kim and Jimmy a richly deserved earful, as he turns up at their apartment to exchange a few cold words. Unfortunately, this small moment of glorious comeback is spoiled when the dangerous Lalo Salamanca (Tony Dalton) turns up with a gun, and after a few tense moments ends the beleaguered lawyer's story for good.
Pompous and prone to unfortunate vanity plates as he may be, Howard is one of the genuinely nicest and most well-meaning characters in the show, to the point that some fans think he's the true hero of "Better Call Saul." As such, it's no surprise that the tragic finish to his endless humiliations has fans talking. Here's what viewers have to say about Howard's shocking death in "Better Call Saul."
Fans think Howard's death is heartbreaking, but impactful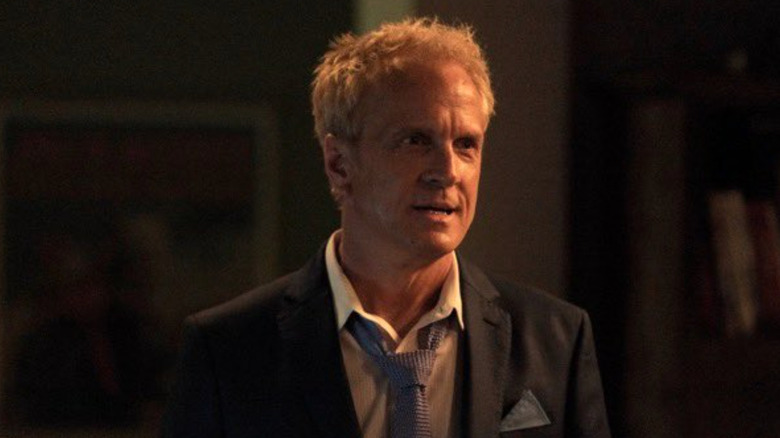 AMC
It's inevitable that losing a character of Howard Hamlin's magnitude in such a dramatic manner changes the game for the remaining episodes of "Better Call Saul." What's worse, fans will have to wait until the second half of Season 6 to find out where things go from here. As such, it's understandable that the Reddit discussion thread about the episode has a mildly shell-shocked air, with many users expressing their shock over the dramatic, yet disturbingly realistic death scene.  
"That's up there as one of the most heartbreaking deaths in the Breaking Bad universe," redditor u/Stolz3 wrote. User u/feefifofanna agreed, and compared Howard's fate to the earlier Season 6 death of Nacho Varga (Michael Mando), as well as Hank Schrader's (Dean Norris) fate in "Breaking Bad." "At least Nacho and Hank were reaping the consequences of their own actions. Howard was an unlucky b******* who was innocent and didn't deserve any of this," they wrote.
Others admired the grim mood shift the scene took when Lalo appeared to the scene, and how it elevates the danger the deadly Salamanca poses to Jimmy and Kim. "The terror in Jimmy's face when Lalo appeared. 10/10 episode," u/Ishtastic08 wrote. 
Reddit isn't the only venue where fans have expressed their views regarding Howard's death. Twitter user @odenhead found similarities between Howard's fate and his former partner Chuck McGill's death in Season 3. "I can't believe how this two destroyed HHM. They put a scam on Chuck and Howard that led to the death of both," they wrote above an image of Kim and Saul. User @kboosky, meanwhile, felt that Howard's death may be without parallel in TV history. "That was the single most shocking moment of a TV show I have ever seen," they tweeted.