Hocus Pocus Characters We Probably Won't See In The Disney+ Sequel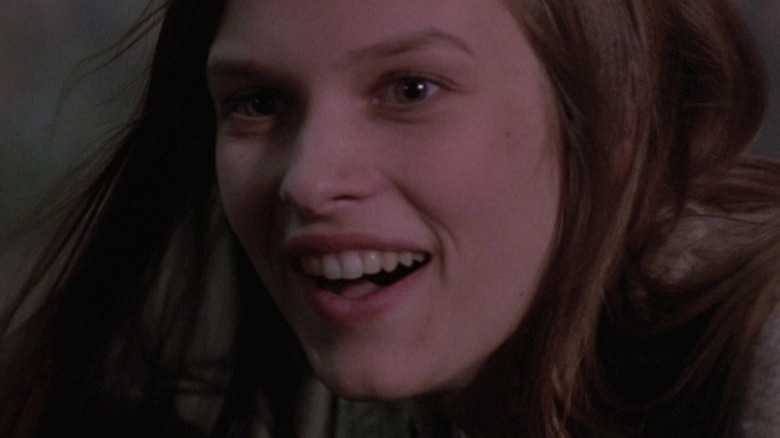 Buena Vista Pictures
Released in 1993, "Hocus Pocus" failed to reach an audience during its theatrical run. But the home video release and subsequent airings on cable every October slowly built its massive cult audience. It is seen by many as the quintessential Halloween film, perhaps winning out over the iconic slasher film "Halloween" thanks to its family-friendly tone. Given the film's continued popularity, it makes sense that a sequel was finally made. At the time of writing, "Hocus Pocus 2" is slated for a streaming release on Disney+ as of September 30, 2022.
Since it's been just a hair under two decades since the original film was unleashed, it is unlikely that all of the original cast will return. For one thing, some of them have sadly passed away. Others might be off working on other things, and some might not be interested in revisiting Salem, Massachusetts. Also, there's the fact that this will be something of a legacy sequel. Like "Star Wars: The Force Awakens" or "Ghostbusters: Afterlife," the emphasis will most likely be on a whole new group of Salem residents doing battle with the Sanderson sisters.
If any original characters other than the three witches were to show up at all (and surely there must be), chances are they would be relegated to supporting roles. That's how these kinds of sequels operate. In anticipation of the film, we're taking a look at some of the characters whom, for one reason or another, we probably won't be seeing in the Disney+ sequel.
Max and Allison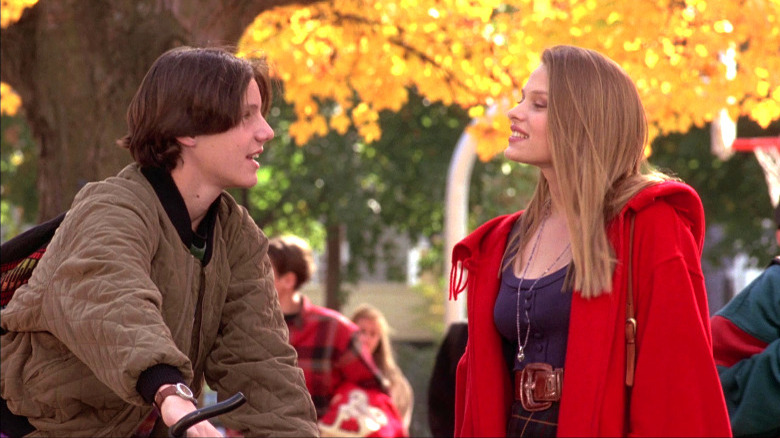 Buena Vista Pictures
Max Dennison (Omri Katz) is the main character of "Hocus Pocus." While all the characters are wonderful and memorable, we're primarily focused on him throughout the first film. He's a new resident of the town of Salem thanks to his family moving him across the country from his beloved California. His isolation and sense of feeling out of place in New England is our gateway into the story and the kooky, haunted small town it takes place in. Not only that, but without him, there would be no movie. He literally lights the flame that brings back the Sanderson sisters and gets the plot moving.
Likewise, Allison (Vinessa Shaw) is equally important. Max has a crush on her and would do anything to impress her. This includes unintentionally summoning three dead witches who feed on the souls of children to survive. Without her knowledge of Salem's past and the convenient access Allison has to the Sanderson home (which has become a museum) the story would have been pretty boring.
In a sequel to "Hocus Pocus," Max and Allison should really come back. While their return may seem like a no-brainer to fans, Katz has cast some doubts about whether he and Shaw will be returning. While speaking to Hocus Pocus Collector at '90s Con, the actor said neither he nor Shaw are involved. However, he did admit that he could be lying. So there's no way to know until the film comes out.
Thackery Binx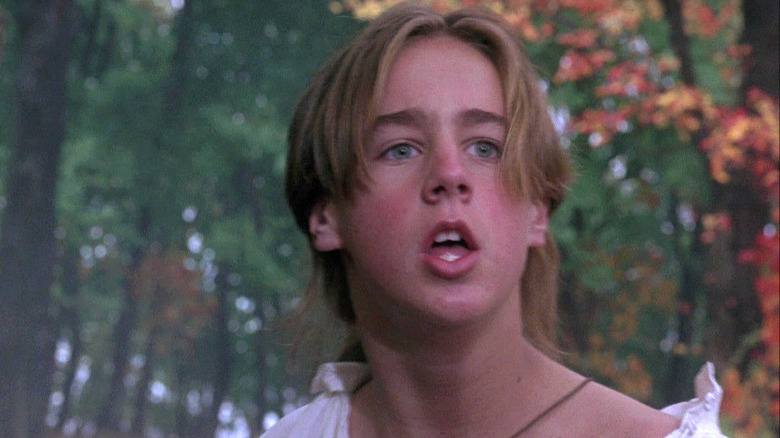 Buena Vista Pictures
Max isn't the only character in "Hocus Pocus" with personal stakes in what happens with the Sanderson sisters. The black cat Thackery Binx (Sean Murray as a human, Jason Marsden's voice as a cat) has been cursed with eternal life as punishment for his part in the events that led to the initial demise of Winifred (Bette Midler) and her sisters Sarah (Sarah Jessica Parker) and Mary (Kathy Najimy). At the start of the film, he is in a race against time to save his sister, Dani (Thora Birch), from the witches, who are attempting to steal her soul in order to be young again.
Failing to save Emily, Thackery is transformed into the black cat who can't die. Instead of mourning his situation, Thackery tasks himself with protecting the Black Flame Candle from any kids hoping to light it again and bring the witches back. In the climax, when the sisters are turned to stone and dust, his spirit is freed, and he is finally able to enter the afterlife with his dear sister (Amanda Shepherd). This would suggest that both his and Emily's story is over and there's no reason to bring them back.
But there is a black cat in the trailer for the sequel. Is it Thackery? Perhaps not. However, it does hint at the possibility of a small cameo. Of course, Jason Marsden, the actor who provided Thackery's voice, has said he won't be returning (per Variety). Well, Andrew Garfield said the same thing about "Spider-Man: No Way Home." We'll have to see.
Jenny and Dave Dennison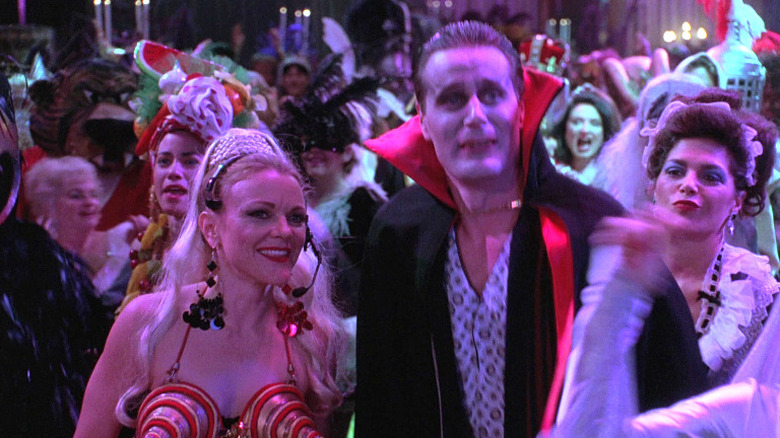 Buena Vista Pictures
Parents in family films usually come in two molds: one-dimensional antagonists or overbearing obstacles. They either actively work against their children or, at the very least, get in their way. When it comes to Max's parents, Dave and Jenny Dennison (Charles Rocket and Stephanie Faracy), they're a bit more human and real than that. On the one hand, they are responsible for Max's situation, but instead of treating him like an entitled, mopey brat, they come off as empathetic but realistic. They get that he's a teenager going through some heavy emotions, so they give him his space and allow him to work it out. Even seeing them later at the costume party is refreshing because we witness them letting loose and having a good time before switching into parent mode when they think something is wrong. They don't have a lot to do, but they're fun characters, and it would be nice to see them again.
Unfortunately, this seems unlikely as Rocket, who played Dave, died in 2005 (per The Seattle Times). As for Faracy, the actress has recently appeared in TV series such as "How to Get Away with Murder," "Sneaky Pete," and "The Goldbergs," but she still might not make a reappearance. if the new film is going to succeed, it needs to let its new characters shine. As great as it would be to have Jenny Dennison back, her presence might distract from the story the sequel's director, Anne Fletcher, is telling. Maybe she can show a family photo with the parents in it.
Ernie and Jay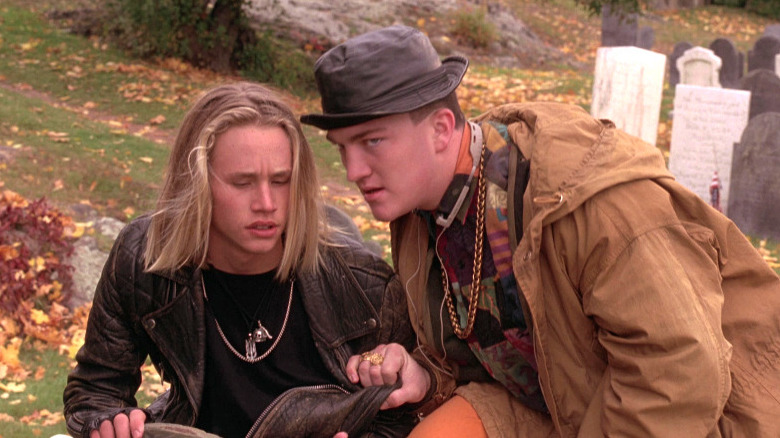 Buena Vista Pictures
Not only is Max Dennison bummed about leaving California behind, but two Salem residents are fixated on making his time in Massachusetts as difficult as possible. As Max rides his bike through a cemetery on his way home from school, he is greeted by Jay (Tobias Jelinek) and Ernie (Larry Bagby), who prefers to go by Ice. Why these young men think they're so cool when they're spending all their time scheming in graveyards is a mystery, but they see Max as fresh meat ready to be ground up and spit out.
Of course, the tough exterior is just a facade. Both guys are complete losers who get their comeuppance when the Sanderson sisters lock them in cages and leave them there. Together, they make a great comedy pair — each kid works phenomenally off the other, and it would be a real shame if they didn't return. Just imagine seeing where they ended up. Are they still stealing candy from kids, or did they make something of themselves? Maybe since they love shoes so much (Max's shoes, at least), they could be shoe salesmen who act like they own the place when the boss isn't around.
Yet again, the official word seems to be that these two will not be returning to Salem. Both actors told Entertainment Weekly that their agents reached out to the producers of the sequel, but nothing came of it. Let's hope that this is another misdirect and that we see these two goons one more time. It wouldn't be Halloween without them.
The Bus Driver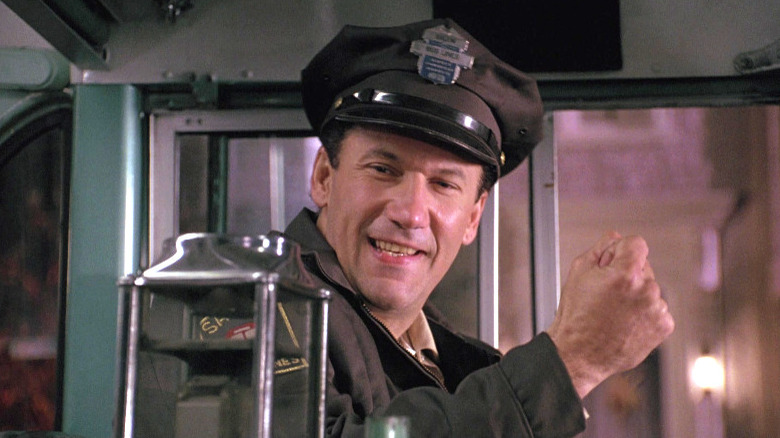 Buena Vista Pictures
As Konstantin Stanislavski once said, "There are no small parts, only small actors." This is certainly true when it comes to many of the supporting roles found in "Hocus Pocus." Just because they don't get a lot of screen time, doesn't mean they don't make an impact. For instance, the little girl (Jordan Redmond) dressed as an angel who blesses Winifred, or Don Yesso as the unnamed Salem bus driver. When he rolls up and discovers the Sanderson sisters, he immediately imprints on your memory with his perfect delivery of the line, "Bubble, bubble, I'm in trouble."
The guy doesn't hesitate to flirt with the ladies. He says he will convey them to their most "forbidden desires." Tickled by this, Winifred explains that they desire children. Without missing a beat, this lascivious driver replies, "Hey, that may take me a couple of tries, but I don't think there'll be a problem." Very rarely is the core of a character so clearly on display that we completely understand them the second they show up. This bus driver is, without a doubt, one of those characters.
That being said, he may not be coming back for "Hocus Pocus 2." By now, the driver would most likely be retired. That's not to say he can't still be living in Salem, but there wouldn't be much need to bring him back, unless he is still driving buses, of course.
The band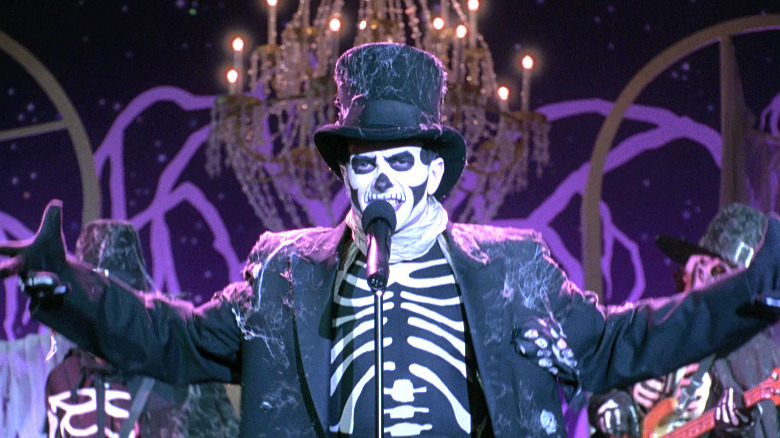 Buena Vista Pictures
Ask anyone what the most spectacular sequence in "Hocus Pocus" is and they will likely tell you it's Winifred's performance during the costume party held in the school gymnasium. Her rendition of "I Put a Spell On You" is iconic in its own right, working as a campy Broadway-style number and also necessary for the plot. The eldest Sanderson sister uses her moment in the spotlight to literally put a spell on the parents of Salem, ensuring they will not get in her way when the time comes to steal all of their children's souls. 
The trailer for "Hocus Pocus 2" features a moment where Winifred says she is always looking for the stage. So there will probably be another big dance scene, and that's great. You cannot make a "Hocus Pocus" movie without a wild and fun musical number. The question is, though, who will be Winifred's backup band? Will the same group of musicians still be kicking around Salem, performing at the annual Halloween party? While not impossible, it certainly seems unlikely.
Bringing back the original band would be a cute, if unnecessary, nod to the first movie. Not that many viewers would even recognize them. The entire band wore skeleton costumes complete with makeup that obscured their faces. Although diehard fans might get a nostalgic jolt out of seeing the old band back together again, the casual audience would be none the wiser.
Dani Dennison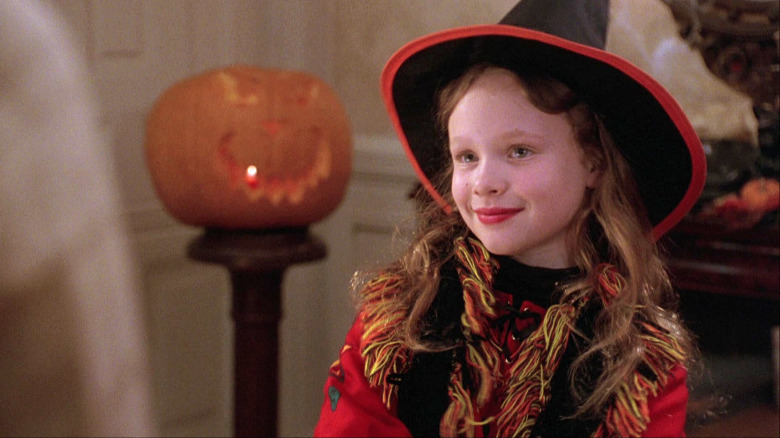 Buena Vista Pictures
Every actor in "Hocus Pocus" is great, but Thora Birch almost threatened to steal the entire movie away from her costars with her charismatic performance as Max's annoying little sister, Dani Dennison. Casting child actors can be a tricky thing, but director Kenny Ortega and company knocked it out of the park with this one. Dani feels like an authentic kid. She is someone who looks on the bright side (as much as possible) and just wants to celebrate her favorite holiday with her big brother before they're both too old for trick-or-treating. Birch, amazingly, never hits a false note.
Even if you can't bring back Max, who might have high-tailed it out of Salem to head back to California the second he turned 18, wouldn't it make sense to have Dani still living in the old neighborhood? Unlike her brother, Dani liked living in Salem. It feels appropriate that she would stick around just in case those pesky Sandersons returned yet again to feed. She would make an excellent mentor to the next generation.
That was just the plan with the sequel at one point. Earlier drafts of the sequel's script found Dani returning in a sizable supporting part as a mentor to the new generation of Salem kids, but due to other filming obligations, Birch declined (per Entertainment Weekly). But does that 100% mean they never figured out a way to fit her into the movie, even if it's a cameo? Only time will tell.
Eddie the fake cop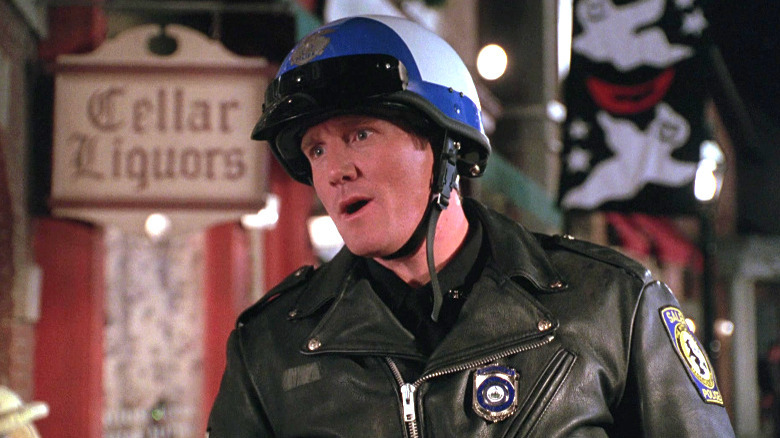 Buena Vista Pictures
Acting on film is hard, but playing a character who is pretending to be someone they're not takes that to a whole new level. That is exactly what Michael McGrady did in his only scene in "Hocus Pocus," playing a man named Eddie whom the main characters mistake for a cop.
Hoping a law enforcement officer will be able to help them take on the Sanderson Sisters, Max and his friends find a cop hanging out on his motorcycle. Max is forced to admit that he is a virgin (thanks to Dani's input) who lit the Black Flame Candle. Eddie decides to give the kid a hard time for his lack of experience and tells them to get lost because he has more important things to do.
When his girlfriend (Leigh Hamilton) walks out of the store and asks what's up, we learn that the uniform was just a costume. McGrady plays a great fake cop — and even went on to have a career in TV playing real cops in "Southland," "Chicago P.D.," and "American Crime Story: The People v. O. J. Simpson" — but there's no need to bring this character back. Are the new kids going to ask a cop for help only for him to say, "I need to stop dressing like this every year?" It might be neat, but not necessary.
Miss Olin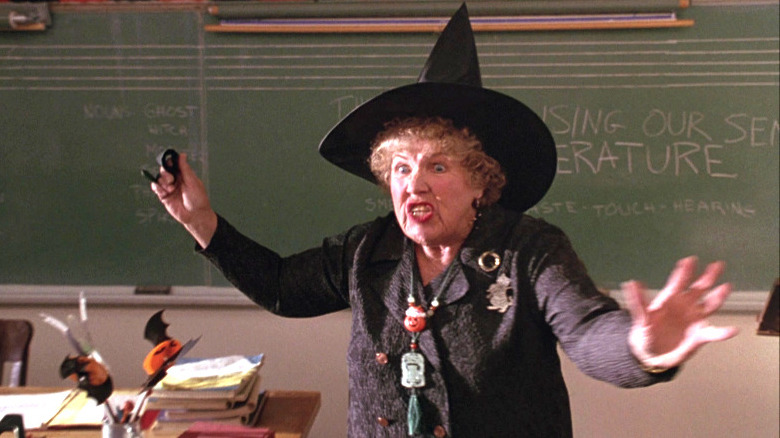 Buena Vista Pictures
The "Hocus Pocus" prologue is an epic and genuinely spooky introduction to the history of Salem and the Sanderson Sisters. After an exciting, harrowing, and creepy introduction to the Sanderson sisters, via voiceover, we transition to 1990s Salem, where Max's teacher Miss Olin (Kathleen Freeman) is relaying the story to her class.
She's a theatrical woman who doesn't seem content to convey information to her students. Based on her wardrobe and the flare with which she performs the story, she's one of those miraculous teachers who try to make history come alive. Not only does every kid in that class now fully understand what happened, but she makes her character instantly memorable despite only appearing in this one scene.
Tragically, the actress who played Miss Olin died in 2001 (via The Washington Post). She was a longtime veteran of show business who appeared in over 300 titles. With that kind of resume, it's no wonder she made such an impact with her limited "Hocus Pocus" screen time.
The Devil and his wife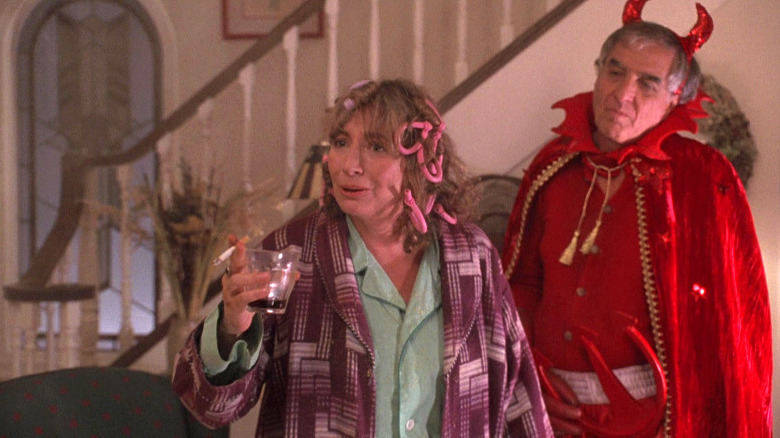 Buena Vista Pictures
As if the fact that Winifred, Sarah, and Mary all feed on the souls of children wasn't evidence enough that they were evil characters, "Hocus Pocus" reminds us of their alliance with dark forces when they encounter a man handing out candy while dressed as Satan, the Devil, himself. They're totally oblivious to the fact that this stranger is wearing a costume and immediately refer to him as master, comically demonstrating that these three are in the service of the Devil.
The actor playing "the Devil" is none other than Hollywood legend Garry Marshall. This man was responsible for hit shows like "Happy Days" and its spinoff, "Laverne & Shirley" and "Mork & Mindy," as well as the films "Pretty Woman" and "The Princess Diaries," which he directed. His sister, Penny Marshall, plays his wife, who wants no part of Halloween or these three strange women fawning over her husband. It's a little weird to have siblings play a married couple, but it's just a movie. Penny Marshall is best known for playing Laverne in "Laverne & Shirley" and for directing films such as "A League of Their Own" and "Riding in Cars with Boys."
It could be interesting if the actual Devil made an appearance in the new film — perhaps the Sandersons meet him and assume it's a guy in a costume this time — but he won't be played by Garry Marshall. He died in 2016 (per Variety). Penny died in 2018 (per The New York Times). Maybe they'll find a nice way to pay tribute to the sibling filmmakers and honor their hilarious scene in the sequel film.