What Max From Hocus Pocus Looks Like Today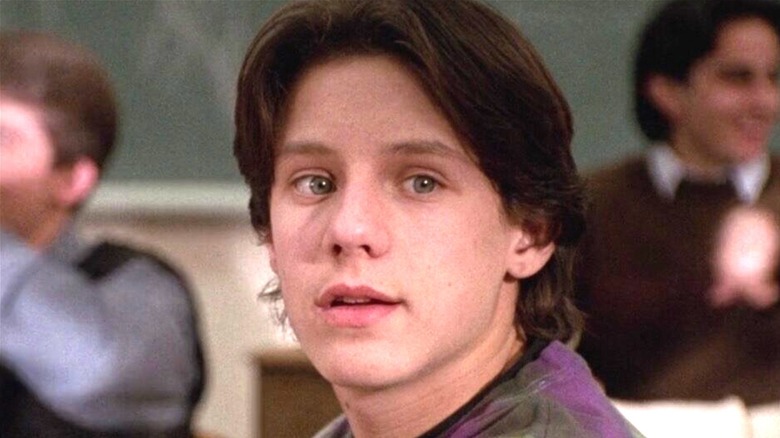 Buena Vista Pictures
Every Halloween, horror fans scour the internet for spooky content like zombies constantly searching for brains. Given the time of year, what could be better than trading in generic horror movies for ones set around Halloween, like "Trick 'R Treat," the "Halloween" film series, and "The Nightmare Before Christmas." Another great pick for horror fans in search of a good fright-fest is "Hocus Pocus," a classic Disney film that incorporates the October holiday into its family-friendly scares.
"Hocus Pocus" stars Omri Katz as Max, a new citizen of Salem, Massachusetts. Max and his family have come to the land of witches and historical haunts — the antithesis of his interests — from Los Angeles. His disregard for a particular Salem legend about the Sanderson sisters (played by Bette Midler, Kathy Najimy, and Sarah Jessica Parker), who were sentenced to death for witchcraft, comes back to, er, haunt him when he accidentally resurrects the trio of evildoers. Now, with the Sandersons back from the dead and focused on achieving immortality by eating the souls of all the children in Salem, Max, his sister Dani (Thora Birch), his love interest Allison (Vinessa Shaw), and a talking cat named Binx must save the day (or night, as the case may be).
"Hocus Pocus" has, generally, been a staple of the Millennial Halloween viewing diet since its release in 1993. Originally considered a box office flop (per Yahoo News), the Disney movie has become a cult favorite. As a result, Katz is forever Max, the teenager who lit the Black Flame Candle, in the mind of fans. But it's been nearly 30 years since "Hocus Pocus" debuted, which means Katz has moved on with his life.
Omri Katz is lighting up something other than the Black Flame Candle these days
According to US Weekly, "Hocus Pocus" star Omri Katz retired from acting in 2002. Per his IMDb profile, other notable roles include playing John Ross Ewing on the popular soapy drama "Dallas" and starring in the short-lived '90s TV show "Eerie, Indiana." Like "Hocus Pocus," the show focused on aspects of the supernatural world and was geared toward a young audience. Katz played Marshall Teller, a kid who moves to the freaky titular town. Together with his friend Simon, Marshall uncovers the sci-fi and supernatural secrets in the town. Katz also guest-starred on one episode of the critically acclaimed, one-season wonder "Freaks and Geeks."
Since retiring from acting, Katz has been working with cannabis company The Mary Danksters, which he regularly posts updates about on his Instagram page. According to the company's website, The Mary Danksters are "ambassadors of the cannabis culture, with deep roots within the traditional cannabis community." In between updates about his company, Katz shares photos from his personal life, including snaps from a reunion with his "Hocus Pocus" co-stars in 2019 (via Instagram). He is also a fond participant in and proponent of various "Hocus Pocus" reunions and themed events, including events for the New York Restoration Project in 2020 and Freeform's 31 Nights of Halloween in 2019.