29% Of Fans Polled Said This Was Their Favorite Fast And Furious Villain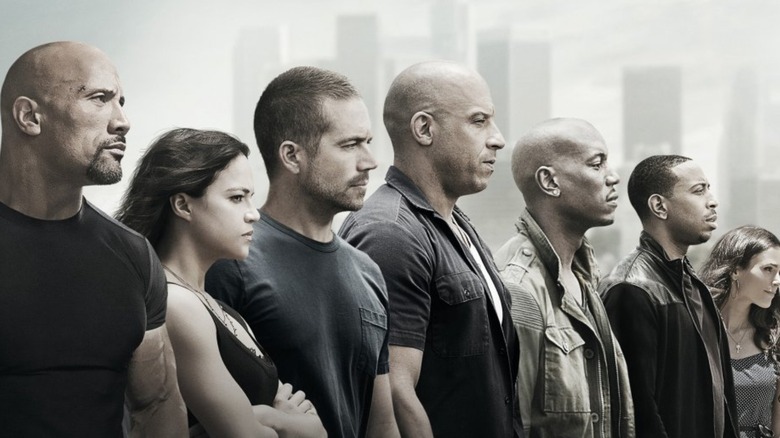 Universal Pictures
The "Fast & Furious" franchise is currently filming its 10th movie, "Fast X," according to a recent report from Deadline. "Fast X" is apparently supposed to be the first in a two-part finale of sorts per Vin Diesel (via GamesRadar). 2001's "The Fast and the Furious" seems so far away now, and since that time, fans have witnessed Diesel's Dominic "Dom" Toretto grow his family considerably from younger sister Mia (Jordana Brewster) and friend Brian O'Conner (Paul Walker). Even after losing Walker to a tragic car accident during the filming of "Furious 7," the Fast Family has since completed action-packed adventures on a massive scale.
These adventures always feature tricked out and incredibly nice cars, of course. They also have begun to feature some incredibly identifiable villains over the years as well. Back during the first movie, the villains weren't anything more than the FBI and Johnny Tran (Rick Yune). Moving forward after that, there were other distinct bad guys like Owen Shaw (Luke Evans) and Deckard Shaw (Jason Statham). Even Dwayne "The Rock" Johnson's Luke Hobbs was a former villain before essentially joining and assisting Dom and the family. Most recently, in "The Fate of the Furious" and "F9: The Fast Saga," Charlize Theron's Cipher has brought some serious trouble to Dom in specific.
It's safe to say that being a "Fast & Furious" villain is always an action-packed and interesting gig, but which one ultimately did it best? Here's who fans deemed as their favorite "Fast & Furious" villain thus far.
Takashi from Tokyo Drift is Fast & Furious fans' favorite villain
According to a recent poll that Looper conducted with over 560 United States-based fans of the "Fast & Furious" franchise, the villain Takashi Kamata (Brian Tee) from 2006's "The Fast and the Furious: Tokyo Drift" is favored by the majority. Takashi led the way with 29.56% of the vote, followed by Owen Shaw in "Fast & Furious 6" at 19.82%, and Cipher and Brixton (Idris Elba) from "Hobbs & Shaw" both at 14.16%. Meanwhile, 13.81% of voters chose Hernan Reyes (Joaquim de Almeida), and a surprising 8.50% went for Deckard Shaw in "Furious 7."
In "The Fast & Furious: Tokyo Drift," Takashi is known as the "Drift King." He is an angry street racer who has ties with the Yakuza, partially causing the death of Han (Sung Kang), or so it seemed at the time. He and Sean Boswell (Lucas Black) ultimately settle their differences in a race, with the loser having to leave Japan for good. Sean ends up winning.
As far as why Takashi serves as fans' favorite villain, it may likely have to do with "Tokyo Drift" recently gaining more love (via Reddit). However, it could also possibly be that Takashi never had any former ties to Sean, as many "Fast & Furious" villains sometimes have obvious family ties to Dom. A prime example of this is with "F9: The Fast Saga" and the main villain (aside from Cipher) being Dom's long-lost brother, Jakob (John Cena).
"Game of Thrones" and "Aquaman" star Jason Momoa is set to be the "Fast X" antagonist this time around.