The Ending Of The Fate Of The Furious Explained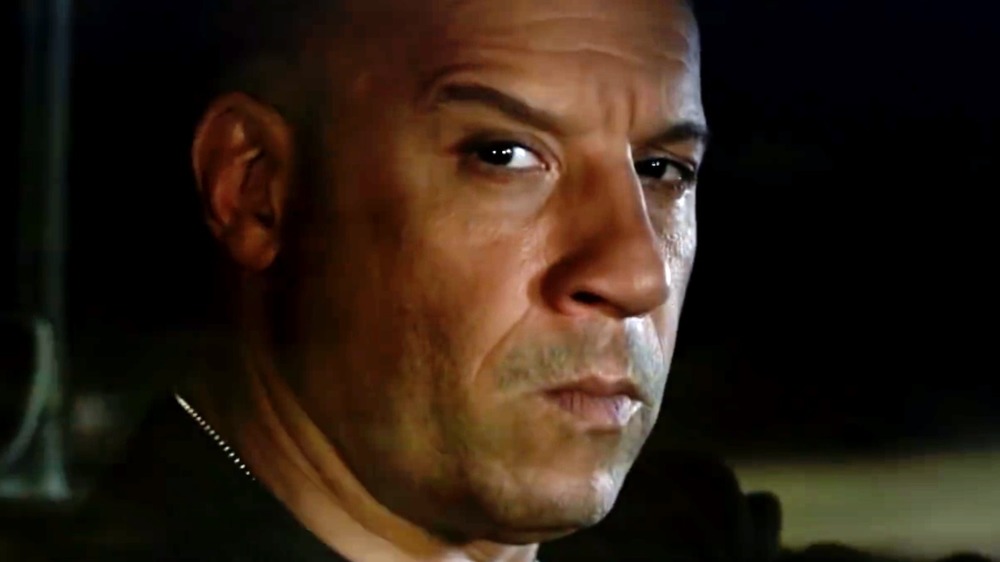 Universal
The Fate of the Furious is the eighth installment of the Fast & Furious franchise, aka the greatest film series about family and car chases that ever was. The movie was also designed to kick off a trilogy that would conclude the Fast saga. According to Deadline, series mainstay Vin Diesel intended the last three movies in the series to act as a tribute to Paul Walker.
But fans were left stunned by the film's trailer, where one major cast member seemed to do what professional wrestlers call a heel turn. Diesel's iconic protagonist Dominic Toretto seemed to go rogue, working for the villainous Cipher (played by Charlize Theron). The trailer even showed the two locking lips in front of his longtime paramour Letty (played by Michelle Rodriguez). What could spur Dom to turn his back on family, the one thing he holds most dear? Fate of the Furious explains Dom's villainous actions, sets up F9, and honors Walker's memory in one shocking ending. Prepare for spoilers as we kick into overdrive, and let's dissect that ending.
Dom was protecting his family in Fate of the Furious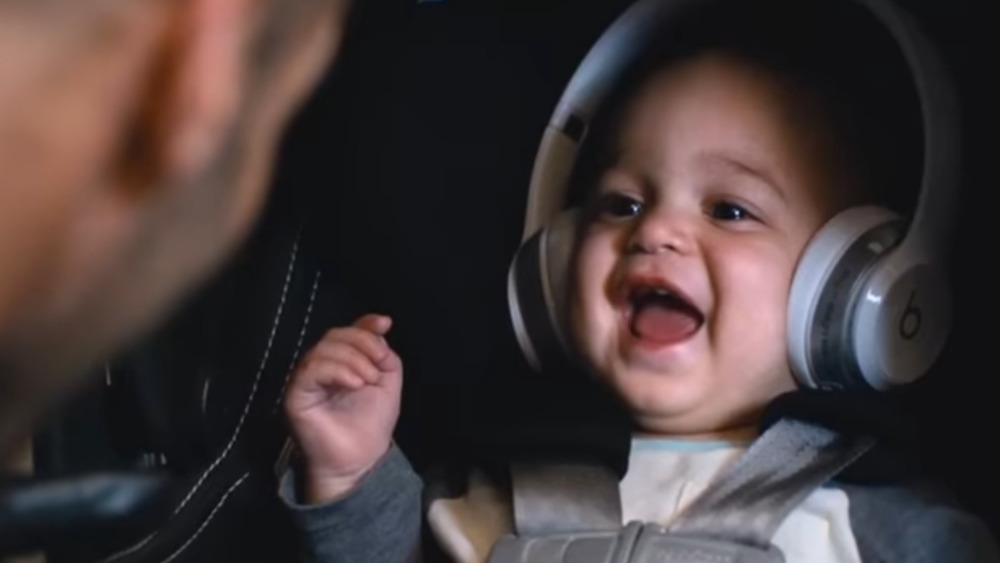 Universal
What could make Dom turn on his family? More family, of course! 
Near the end of Fate of the Furious, we find out that Cipher held Dom's ex-girlfriend Elena and their son hostage, which is why he's been working for the baddies. Fast fans will remember Elena from Fast Five, where the character originally worked for the Rio de Janeiro police department. She later joined up with Dwayne Johnson's Hobbs and briefly dated Dom when we all thought Letty was dead. It turns out that during their brief relationship, Elena and Dom had a son.
The once-evil Deckard Shaw (played by Jason Statham) rescues Dom's son and returns him to the family at the end of Fate. Unfortunately, Elena isn't so lucky. Cipher has her killed while making Dom watch, and the child, now motherless, ends up going to live with a reunited Dom and Letty.
Actor Paul Walker's memory looms large in the Fast saga both on and off-screen. Dom's son is named Brian in honor of Walker's character. Diesel also paid homage to his former co-star on Instagram in February 2021, writing, "The next chapter may be the best...but the weight, the reflections of true brotherhood will burden the soul in ways one can't explain." That next chapter, F9, is set up by the ending of Fate of the Furious.
We meet the villain behind the whole Fast saga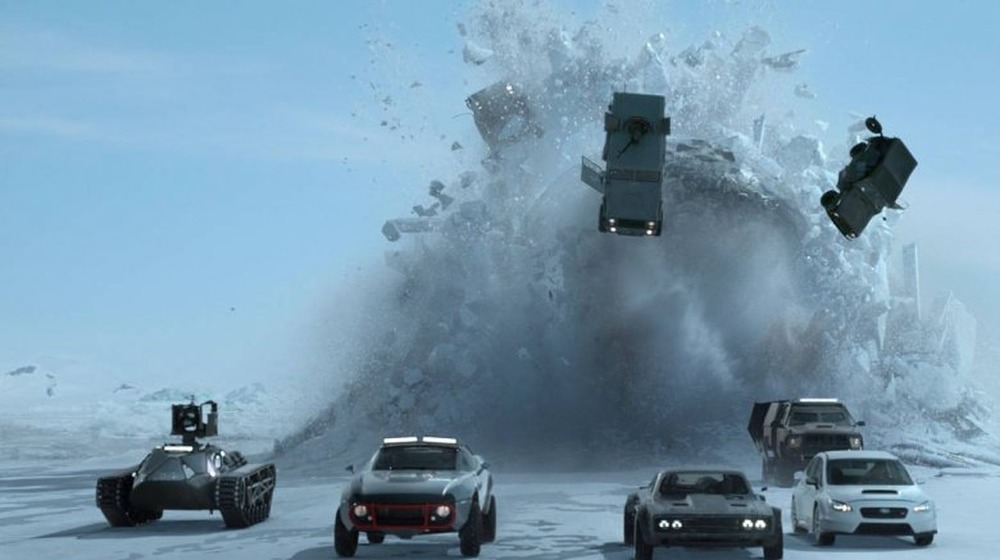 Universal
At the end of Fate of the Furious, Dom's team confronts Theron's cyberterrorist character in Russia, where she has hijacked a nuclear submarine. Her plan is to start a nuclear war with its onboard arsenal, but Dom and the gang stop her just in time. The Fast family destroys the sub, but Cipher manages to escape.
In a final twist, we learn that Cipher has pulled the strings behind many of the big-bads of the Fast series. She bankrolled Djimon Hounsou's character from Furious 7. She was also behind Deckard's brother Owen Shaw's plot to use Letty against the rest of the family in Fast & Furious 6. What else has she masterminded? Will F9 show us that Cipher owned the bank they robbed in Fast Five? Did she force a clothing company to discontinue Dom's favorite tank top? Her villainy knows no bounds.
With Cipher still on the loose at the end of Fate, it seems plausible that she will be behind whatever dastardly plots are thrown at Dom and his team in F9.
What comes next in F9?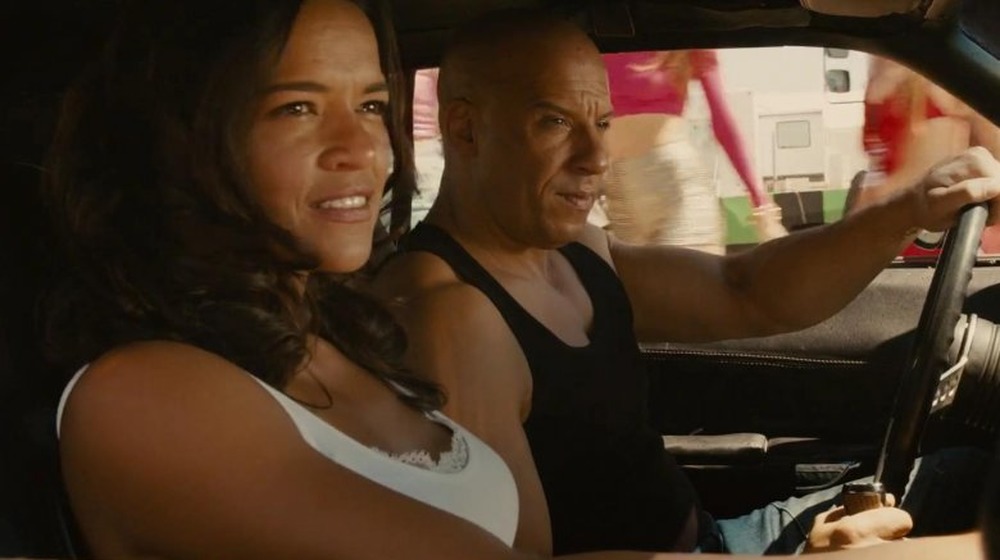 Universal
F9 is set to be released on May 22, 2021. Director Justin Lin is back at the helm after directing 2013's sixth installment, and that's not the only person returning to the franchise. The trailer for the highly anticipated flick dropped on January 31, leaving fans stunned at some of the reveals. For one thing, Han Seoul-Oh is back. The Fast hero character played by Sun Kang has been dead since Tokyo Drift, but he seems to have somehow gotten better in the intervening years.
This is good news for both Han and Deckard fans, since it was revealed in Furious 6 that Statham's character was behind Han's crash in F3. Fans didn't care for Deckard becoming part of the family in Fate of the Furious, since he killed one of the most beloved character of the series. But if Han is back, maybe bygones can be bygones.
We also know that Theron will be back for F9, though whether she is the ultimate baddie or someone else's pawn is not known. Since all Fast & Furious antagonists eventually join the family, it's possible this movie will be Cipher's redemption arc. Perhaps she will be forced to team up with Dom, just like Deckard in Fate of the Furious. Or she could stay evil and create some sort of sentient car that wants to drive people. Just spitballing here. The Fast & Furious series can do just about anything.