The Stranger Things Moment Joseph Quinn Considers A Career Highlight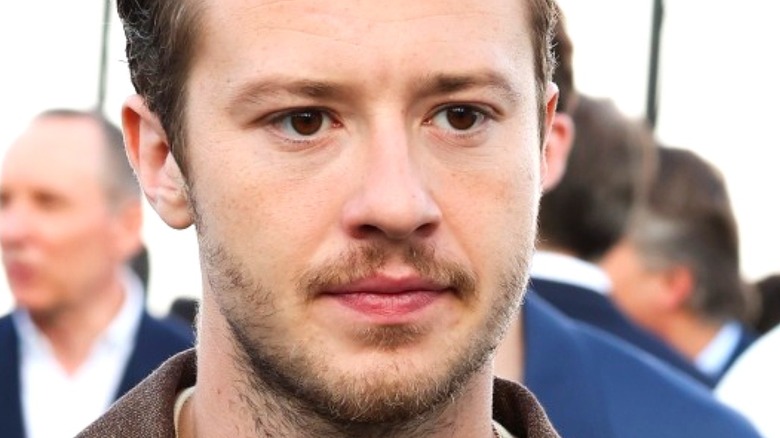 Jacopo Raule/Getty Images
After three years, "Stranger Things" has returned with Season 4, and the horror-themed '80s nostalgia ride from Matt and Ross Duffer has once again become the binge-watch of the summer. After the final episodes of the season dropped in early July, Netflix reported that viewers had consumed over 1 billion hours of the show in only 28 days, beating the internal record set by "Squid Game" last year.
"Stranger Things 4" (as it's officially billed by the streaming service) brought a terrifying new villain in Vecna (Jamie Campbell Bower), along with new lore that casts previous seasons in a new light and multiple new characters to aid the kids of Hawkins on their quest to save the world. Among these new additions, the breakout star has been Joseph Quinn. The English actor plays Eddie Munson, a Hawkins High super-senior, heavy metal enthusiast, and D&D dungeon master who is accused of ritualistic murder after Vecna begins brutally murdering a series of teenagers across town.
Casting has been a major strength of "Stranger Things" since the beginning, with Season 1 plucking its child stars from relative obscurity and elevating them to superstardom. With Quinn, whose most notable prior credits include a minor role on "Game of Thrones" Season 7, the Duffer Brothers have pulled off another coup. Eddie Munson has been a notable fan-favorite character this season and was given some of the season's highlight moments.
Now, Quinn has revealed what he considers to be the highlight of his time on "Stranger Things 4."
Joseph Quinn doesn't think he'll do anything as cool as that Metallica scene again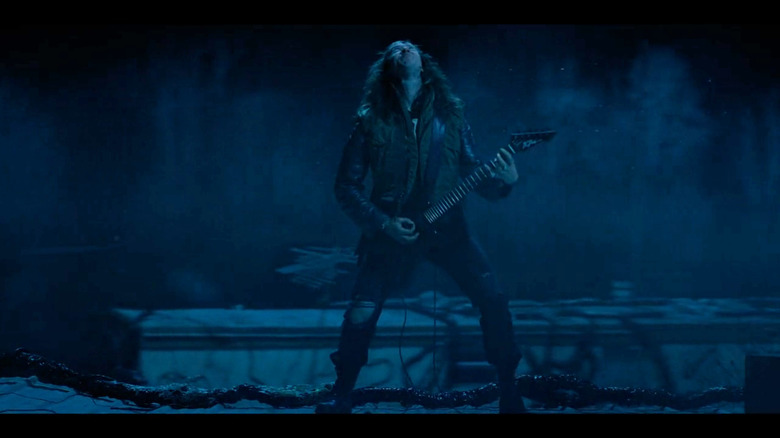 Netflix
In a new interview with ScreenRant, "Stranger Things 4" star Joseph Quinn revealed the best bit of his time on the smash hit show. After qualifying that, overall, his favorite aspect of the gig was doing ensemble scenes with the rest of the cast, he affirmed that the highlight was exactly what you might expect: that incredible guitar sequence in the season finale. In an effort to draw the creatures of the Upside Down away from their friends, Eddie and Dustin (Gaten Matarazzo) play a spirited rendition of the song "Master of Puppets" by Metallica on top of a trailer home. "I'd say the highlight was probably the Metallica sequence," Quinn said, "just because it was so fun."
The Metallica scene wasn't just a highlight for Quinn, but for many viewers as well. Metallica even took to social media to share their love for the scene, re-sharing it in a post to Instagram with a caption reading, in part, "The way the Duffer Brothers have incorporated music into Stranger Things has always been next level, so we were beyond psyched for them to not only include 'Master of Puppets' in the show, but to have such a pivotal scene built around it." Of course, the band has a reason to be excited beyond mere fandom. Just as "Stranger Things" did with Kate Bush's "Running Up That Hill" in the first half of Season 4, the inclusion of "Master of Puppets" on the show has caused the song to skyrocket up the Spotify charts more than three decades after its initial 1986 release.
As for Quinn, he relished the opportunity to flex his guitar-shredding skills, saying, "The whole time I was doing it, I was like, 'I'm never going to be able to do anything this cool again. This is it, so make the most of it.'"