Did Joseph Quinn Actually Play Master Of Puppets In The Stranger Things 4 Finale?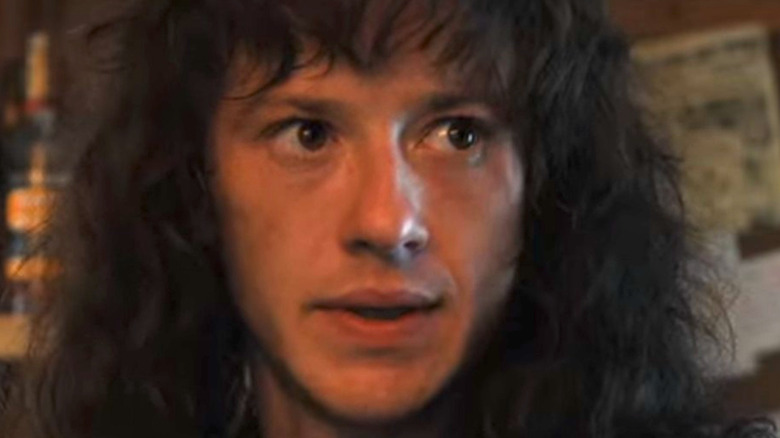 Netflix
The final two chapters of the blockbuster fourth season of "Stranger Things" finally landed on Netflix on Friday, July 1, and fans are most likely still mourning one major death that shakes Hawkins down to its foundation during its pulse-pounding final hours. That shocking loss is Eddie Munson (Joseph Quinn), the "Dungeons & Dragons"-loving teen whose moving storyline sees him battle against accusations of murder and a history of cowardice to stand tall and help buy his friends extra time in their struggle with Vecna (Jamie Campbell Bower).
In the character's final moments, he chooses to distract the DemoBats, who act as guards at the entrance to Vecna's lair in the Upside Down, by playing Metallica's "Master of Puppets" on his guitar. He dedicates his performance to Chrissy Cunningham (Grace Van Dien), the childhood friend he is accused of killing but who actually dies while under Vecna's influence. The DemoBats batter Eddie to death, but his willingness to stand tall against them ultimately saves the lives of Dustin Henderson (Gaten Matarazzo) and the rest of the Hawkins crew, who are able to complete their mission in the Upside Down thanks to his work.
Many "Stranger Things" fans probably wonder if Quinn actually plays Eddie's masterful Metallica solo. Thanks to a recent interview with the actor, we definitely have an answer to that question.
Quinn is indeed playing the guitar on Stranger Things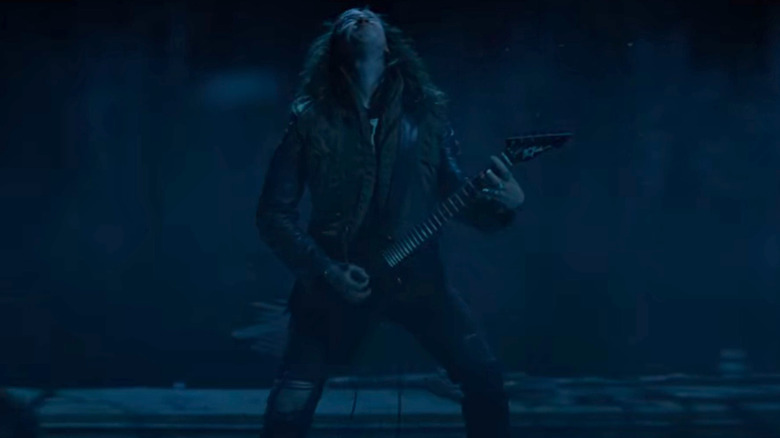 Netflix
In an early July interview with Entertainment Tonight, "Stranger Things 4" actor Joseph Quinn confirms that it is indeed him shredding away at Metallica's "Master of Puppets" for real onscreen (via YouTube). "It's pretty much all of me," he confirmed. The actor added that he has a background in music and has played the guitar since he was young, which made it a little bit easier for him to step into Eddie's shoes and play along. "I had kind of the foundations to take most of it. It's great fun, you know, who wouldn't wanna kind of be a rock star for an afternoon or an evening?"
While the actor has mainly specialized in period pieces before playing the very American Eddie — he's perhaps otherwise best known for his work as Prince Paul in HBO's "Catherine the Great" or Enjolras in the 2019 version of "Les Misérables," per IMDb – his playing was impressive enough to draw accolades from the band itself. "It's so extremely well done, so much so that some folks were able to guess the song just by seeing a few seconds of Joseph Quinn's hands in the trailer!! How crazy cool is that?" a post published on Metallica's official Instagram reads in part.