Who Plays Eddie Munson In Netflix's Stranger Things 4?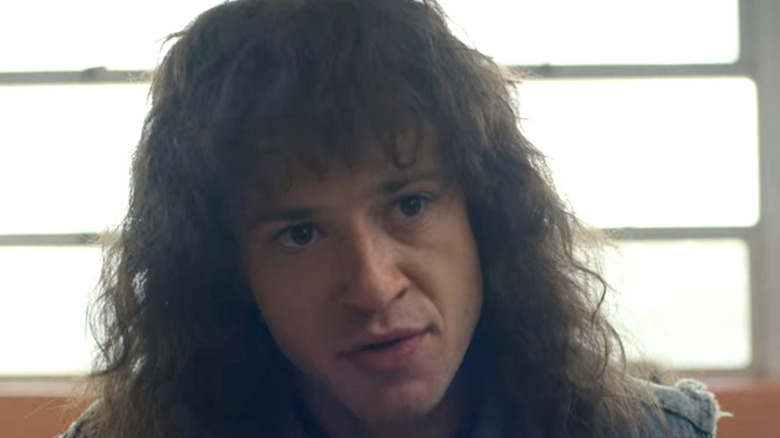 Netflix
In November 2020, the "Stranger Things" Twitter account went on a posting frenzy to introduce a new slate of Season 4 cast members. In a list that includes military intelligence, high school jocks, and enigmatic Russians, one stand-out is newcomer Eddie Munson. Underneath an upside down (zing!) photo of the actor reads a short character bio: "He's the head of the Hawkins High official D&D Club, The Hellfire Club."
With the "Stranger Things" Season 4 trailer having officially dropped, fans have the opportunity to get a first glimpse at Munson. In one brief cut, he can be seen holding court as Dungeon Master in a candle-lit room (in the trailer, Mike can be seen wearing a Hellfire Club t-shirt, indicating that he might be chummy with Munson).
If his brief appearances are any indication, the character is not only a D&D aficionado — and an X-Men fan, with the name of his club being a small detail Marvel Comics fans will recognize – but also a long-haired rocker whose scruffy bangs make him a dead ringer for Eddie Van Halen. So, it seems, do his guitar-playing skills. Towards the end of the trailer, a leather jacket-wearing Munson can be seen shredding atop a mobile home trailer, with supernatural red flashes emanating in the distance. 
There's still much to learn about Munson. Does his guitar freakout take place in the Upside Down? Is he partial to David Lee Roth or Sammy Hagar? But in the meantime, let's get up to speed on the actor who plays him.
Eddie Munson is portrayed by Joseph Quinn
As "Stranger Things" confirmed back in 2020, the new character will be played by Joseph Quinn. A British actor, Quinn will most likely shed his accent for the Indiana-set "Stranger Things," which appears to be his first major American role. Per IMDb, the actor's body of work has taken place largely across the pond. Quinn's first significant role was in the British series "Dickensian" from 2015 to 2016. Based on Charles Dickens' greatest works, Quinn plays Arthur Havisham, a character from "Great Expectations."
Quinn followed up "Dickensian" with appearances in other British series, including a Kenneth Lonergan-helmed television adaptation of "Howards End" and the Helen Mirren-starring "Catherine the Great." He also appeared in the "Les Misérables" TV series alongside Dominic West, David Oyelowo, Lily Collins, and Olivia Coleman. Other credits include a 2017 episode of "Game of Thrones," a part in the film "Overlord," and a role in Steve McQueen's acclaimed anthology series "Small Axe." 
Still, "Stranger Things" promises to be Quinn's meatiest role yet, with the actor slated to appear in nine episodes of Season 4 (via IMDb). Whether his character's D&D skills will come in handy remains to be seen.