Why Jerry Chose To Return To Stand-Up Comedy After Seinfeld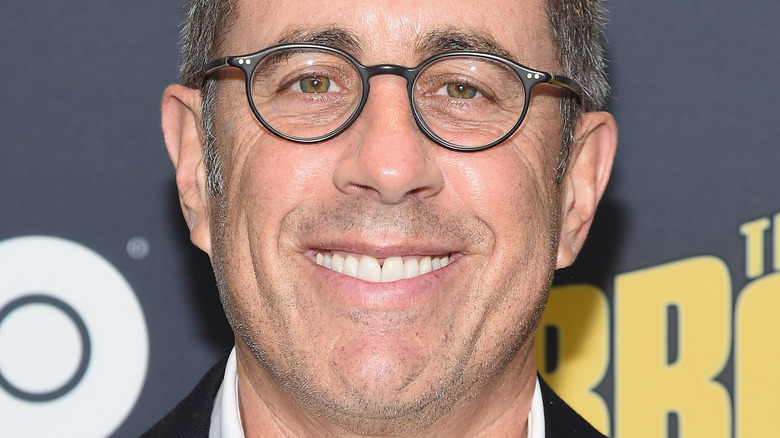 Gary Gershoff/Getty Images
Between 1989 and 1998, comedian and actor Jerry Seinfeld was one of the most recognizable figures in entertainment. That's largely because he was the star of NBC's hit sitcom "Seinfeld," which was one of the biggest shows on television over that span, counting even legendary director Steven Spielberg among its fans (the revelation of which Seinfeld called one of the show's "great moments"). More than just a network hit, "Seinfeld" became a veritable pop culture sensation during its 1990s heyday, with classic catchphrases like "yada yada yada," and "not that there's anything wrong with that," dominating watercooler conversations across the globe.
Yet, seemingly at the height of its popularity, Jerry Seinfeld and company ended their iconic "show about nothing." Per his 1997 interview with The New York Times, Seinfeld explained ending the show was essentially about ensuring it didn't outstay its welcome. In his words, "I wanted to end the show on the same kind of peak we've been doing it on for years. I wanted it to be graceful." These days, however, even Seinfeld admits the show's massive two-part ending was anything but graceful, telling Vulture in 2017, "There was a lot of pressure on us at that time to do one big last show, but big is always bad in comedy."
More surprising perhaps than the end of "Seinfeld" was that its star essentially walked away from Hollywood when it was over. Instead of doing big budget movies, Jerry Seinfeld opted to return to the stand-up stage that helped make him famous to begin with. And now we know why. 
Jerry Seinfeld wanted a more low-key life after his iconic TV series ended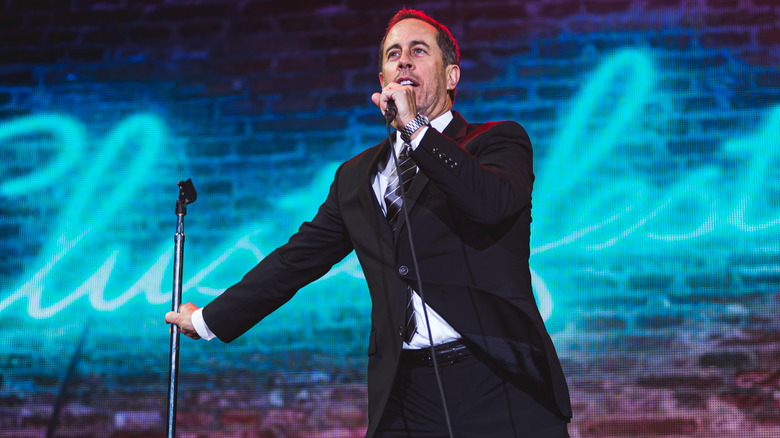 Ian Young Nounpusher/Shutterstock
Jerry Seinfeld, of course, didn't completely walk away from Hollywood after "Seinfeld." But he's mostly kept to small time cameos as himself, some commercial work, and the occasional voice gig since. He may have been wise to do so, as many of his co-stars have struggled to find the same sort of success in their post-"Seinfeld" careers. Heck, even Julia Louis-Dreyfus is probably still best-known for playing Elaine Benes on the series, and she's not only won 10 Primetime Emmy Awards since "Seinfeld" ended, but recently joined the Marvel Cinematic Universe, to boot.
Given the show's enduring legacy, the stand-up stage likely seemed a safer bet for Jerry Seinfeld. But the comedian and actor had a far more specific reason for going back to his roots, telling Extra in a 2021 interview he merely longed for a less complicated existence after working in network television. In his own words, Seinfeld claimed, "I like a simple life, actually. There's a simplicity, and a poetry to doing stand-up. You just write, and perform it. And if they [audiences] like it, you've had a great night." The comedian went on to equate television to working as part of a machine, insisting, "I wanted to go back to a quiet life." 
For the most part, he has. That life has been a little louder in recent years with his pseudo docu-series "Comedians in Cars Getting Coffee" proving an unexpected hit in its own right. Seinfeld also just directed his first feature film, "Unfrosted," a comedy about the infamous birth of the Pop Tart which he also produced, co-wrote, and stars in.