What Jerry Seinfeld Calls One Of The 'Great Moments' In Seinfeld's History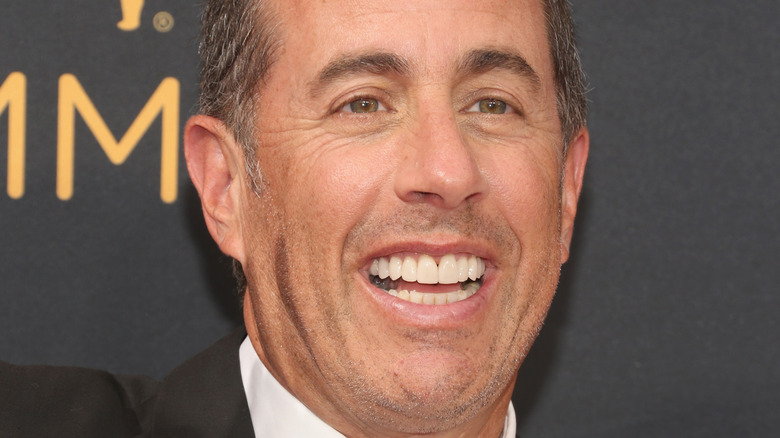 Todd Williamson/Getty Images
"Seinfeld" was the biggest sitcom of the 90s, pulling in fans from all walks of life every Thursday night to see what the iconic foursome was up to. According to the Los Angeles Times, the series had absolutely stellar ratings, averaging 30 million viewers each week. The show's season finale brought in a whopping 76.3 million viewers, making it the 6th most-watched entertainment event of all time (sans Super Bowls).
The finale was one of the show's biggest moments, especially for the incredible record it set. Other momentous occasions for the sitcom were its 10 Emmy wins, three Golden Globe wins, and six SAG awards. While this is all well and good, there was a special moment for Jerry Seinfeld and the rest of the cast that he called one of the greatest in the show's history. It has nothing to do with award wins, nominations, or records but with how the series affected someone — and a very famous someone — in a very profound way.
Jerry Seinfeld felt like Seinfeld was worthwhile when he learned about Steven Spielberg's affection for it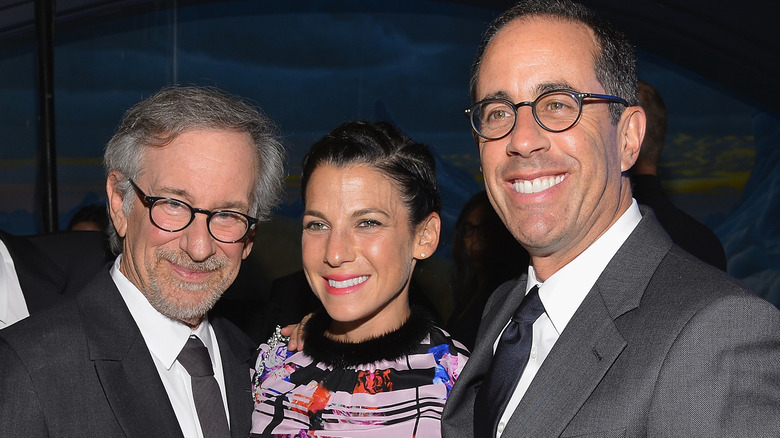 Larry Busacca/Getty Images
In a 2014 Reddit AMA, a fan asked Jerry Seinfeld about Steven Spielberg's love of "Seinfeld." The director admitted to watching the sitcom while filming "Schindler's List" to help with the depression that came with making such a gut-wrenching project. When Seinfeld himself found out the iconic director was watching his show, it made him and everyone else on the set very proud. "That was really one of the great moments in the history of the show for us when we heard that. We really felt like we were doing something worthwhile," Seinfeld said in the AMA.
According to AFI, filming for "Schindler's List" began in late March 1993 and finished that May. During this time, "Seinfeld" was running its last four episodes of Season 4, which included "The Junior Mint," "The Smelly Car," "The Handicap Spot," and "The Pilot." "Seinfeld" didn't enter its syndication run until 1995, so Speilberg was catching new episodes alongside the rest of the fandom and possibly had others recorded. But let's face it — if you're Steven Spielberg and want copies of "Seinfeld" episodes, you're going to get them.
Seinfeld made sure to mention Schindler's List in the show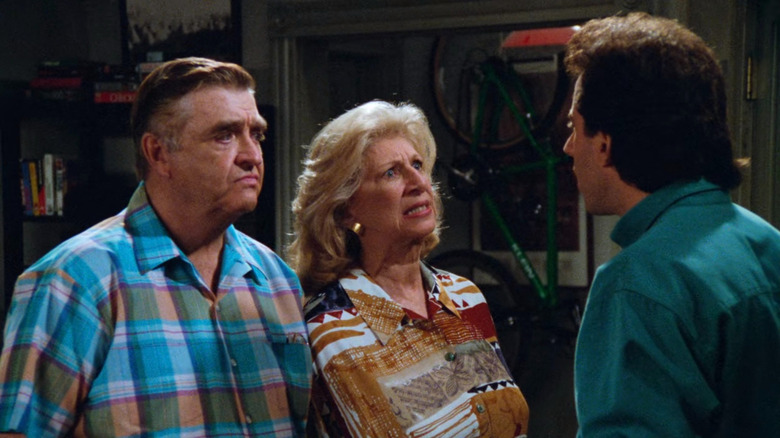 NBC
Jerry Seinfeld was clearly affected by learning of Steven Speilberg's fondness for the show and how it helped him during a depressing time. This encouraged the comedian to pay homage to "Schindler's List" in "Seinfeld." In Season 5, Episodes 18 and 19 ("The Raincoats"), Jerry and his girlfriend Rachel (Melanie Smith) go to see "Schindler's List" in theaters. This is the only alone time the couple can get, so they spend the whole film making out with one another and barely get a glimpse of the movie. Newman (Wayne Knight) is in the same theater and spots their dirty deed and outs Jerry to his mother, Helen (Liz Sheridan).
"You were making out during 'Schindler's List'?!" is one of the most recognizable lines from Season 5, and it's so hilarious because of how outrageous that scenario actually is. "The Raincoats" aired on April 28, 1994, about four months after "Schindler's List" debuted in theaters. Spielberg would win the Oscar for best director in 1994, with the film taking home the prestigious title of Best Picture. 1994 would also be the year "Seinfeld" snagged three Golden Globes, with Seinfeld winning best performance by an actor in a TV series – comedy/musical; Julia Louis-Dreyfus winning best performance by an actress in a supporting role in a Series, mini-series or motion picture made for TV, and the show itself winning best TV-series – comedy/musical.