Ted Lasso's Stars Reveal The Best Aspect Of Keeley And Rebecca's Relationship
For a drama series that spends a lot of time examining mental health in sports and the effects of toxic masculinity, "Ted Lasso" also devotes plenty of minutes to the lives of the women working at Nelson Road. Out of the many entertaining dynamics on the show, Keeley Jones (Juno Temple) and Rebecca Welton's (Hannah Waddingham) evolving friendship is one of the most satisfying to watch.
Although she starts the first season as the primary antagonist, Rebecca's connection with Keeley is one of the things that helps her to heal in the wake of her divorce. Similarly, Keeley employs the lessons she's learned from Rebecca in her professional endeavors, resulting in her newfound career as a public relations manager. Although Keeley and Rebecca are at different places in their lives, they have each other's backs in situations that range from heartwarming to heartbreaking. Whether the characters are in a scene together or are using what they've learned from each other in their own lives, their dynamic is a joy to witness and filled with hilarious banter.
The pair's camaraderie is even infectious behind the scenes, with Temple admitting that she struggles to keep a straight face when on set with Waddingham. In a recent Apple TV+ panel discussion moderated by "Ted Lasso" actor James Lance, Waddingham and Temple were asked about what makes their characters' friendship so special. Their grounded answer demonstrates how the show's uplifting rhetoric is woven into every aspect of the narrative.
Keeley and Rebecca exemplify a normal female friendship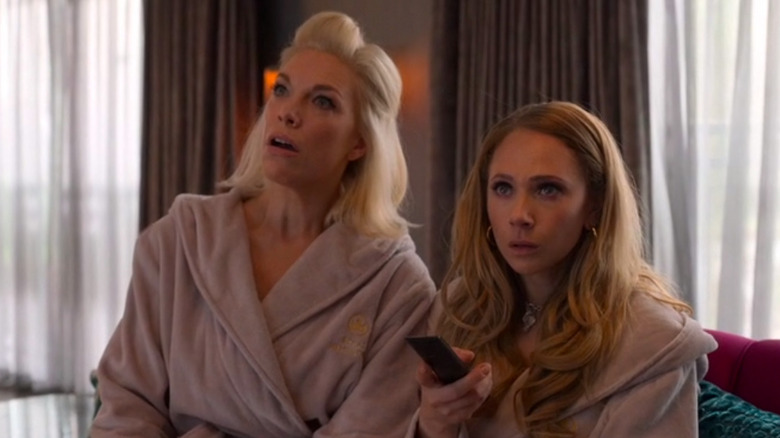 Apple TV+
According to the actresses, the key to Rebecca and Keeley's relationship is simple. As the two female leads, it would have been easy to have the characters compete with one another, a tired trope that is still employed all too frequently. Instead, they form an incredible bond that realistically portrays the sisterhood between best friends.
When prompted to speak on Rebecca and Keeley's friendship around the nine-minute mark of the Apple TV+ panel discussion, Temple expressed her gratitude at the opportunity to depict a dynamic that subverts expectations. "It's been so gorgeous to actually play two women that are different, but at the same time go through some of the same pains, some very different pains, but really, truly support each other through it, and call each other out on each other's s**t, as well. It's a real friendship," the actress explained (via Apple FYC).
Her co-star was quick to agree. "That's the biggest thing, I think, calling each other out," Waddingham replied. "People don't actually ever focus on the fact that women can call each other out and still love each other deeply and push the other one forward."
Keeley and Rebecca motivate one another and hold each other accountable in equal measure, a refreshing balance that plays into the show's infectious sense of goodwill. The third (and maybe final) season of "Ted Lasso" is currently in production, so hopefully, the plot will continue to explore Keeley and Rebecca's connection when new episodes premiere.