Ted Lasso's Brett Goldstein May Have Confirmed Our Suspicions About Season 3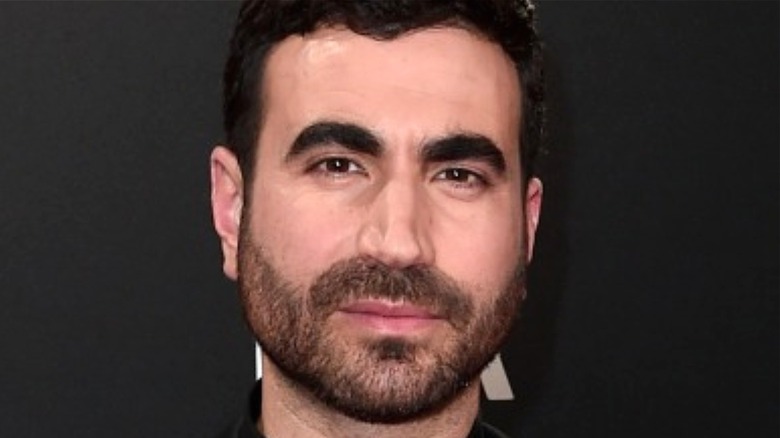 Eamonn M. Mccormack/Getty
The Apple TV+ comedy "Ted Lasso" has been a smash hit since appearing on the streamer in 2020, with a 94% Tomatometer score and an 8.8/10 rating from IMDb users. Jason Sudeikis stars as the relentlessly upbeat title character, a college football coach who is brought to England to helm a Premier League soccer team despite zero experience with what the rest of the world calls "football." AFC Richmond's owner, Rebecca Welton (Hannah Waddingham), won the team in a bitter divorce and wants to destroy her ex-husband's prize possession to punish him for his infidelity. But Lasso's optimism and persistence push the team to unexpected success by the end of Season 2.
Sudeikis, Waddingham, and Brett Goldstein, who plays volatile aging star Roy Kent and also writes for the show, have all won Emmys for their performances, and "Ted Lasso" took home the 2021 award for best comedy series. "Ted Lasso" debuted during the COVID-19 pandemic and the positive message that runs throughout the first two seasons has certainly contributed to the show's reception. However, fans might not feel too positively about what Goldstein has recently indicated about "Ted Lasso" Season 3.
It sounds like Season 3 will be the last for Ted Lasso
While speaking to The Times, Brett Goldstein seemingly revealed that the third season of "Ted Lasso," due to hit Apple TV+ later in 2022, will be the show's last. "We are writing it like that," he said. "It was planned as three. Spoiler alert — everyone dies." While a disaster killing the entire cast would be a shocking, horrifying, and tremendously unlikely ending to "Ted Lasso," regardless, fans will be heartbroken to know that the show itself is now possibly on borrowed time. 
Showrunner Bill Lawrence hinted as much last fall, telling The Hollywood Reporter, "The cool thing about this show is when we started, we plotted out everybody's beginning, middle and end of a three-season arc. I would say that this story is going to be over next year, regardless — even if the show finds another story to tell and goes on."
It's hard to imagine "Ted Lasso" without its title character and his persistent ability to see the best in everyone around him. The eponymous coach has come a long way since he debuted nearly a decade ago in a pair of promotions for NBC's Premier League coverage (via Sports Illustrated), and while the series ending after three seasons may not be a surprise to fans, it would certainly be bittersweet.