Ted Lasso Star Juno Temple Struggled To Keep A Straight Face During This Scene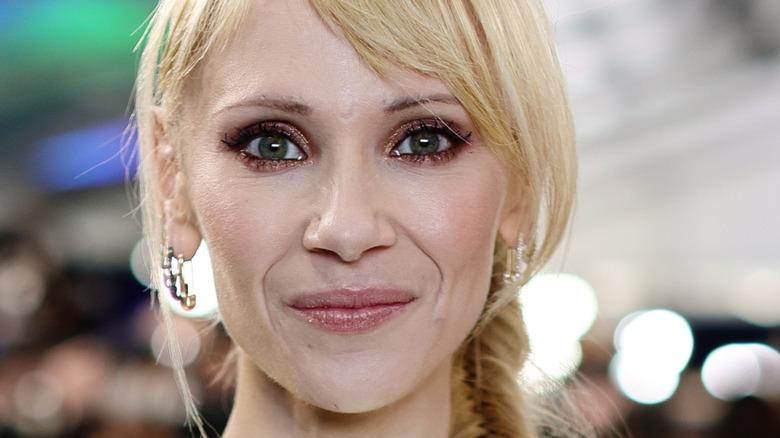 Dimitrios Kambouris/Getty Images
A compelling, well-rounded cast of characters populates the halls of Nelson Road on "Ted Lasso," including actor Juno Temple as model-turned-marketing manager Keeley Jones. Season 2 ushered in a host of changes for Keeley, including the opportunity to start her own public relations firm, a job that might soon come in handy. AFC Richmond is certainly going to need help dealing with the press next season, especially now that Rupert Mannion (Anthony Head) has secured ownership of rival team West Ham United and lured away the coaching talents of Nathan Shelley (Nick Mohammed), a shocking betrayal that's expected to play a significant role in the narrative when the series returns for Season 3.
In a Zoom interview hosted by film critic Scott Mantz, Temple and Mohammed appeared alongside cast members Hannah Waddingham (Rebecca Welton) and Toheeb Jimoh (Sam Obisanya) to discuss what fans can look forward to in the third (and perhaps final) season of "Ted Lasso." Mantz quickly brought up Nathan's fall from grace, an expertly portrayed and somber twist for the character that was foreshadowed throughout the second season. Although the shift in his personality was hard to watch at times, Juno Temple revealed that crafting the storyline caused plenty of laughter behind the scenes. Let's take a look at one moment in particular that had Temple struggling to stay in character.
Rebecca and Keeley teach Nathan about assertiveness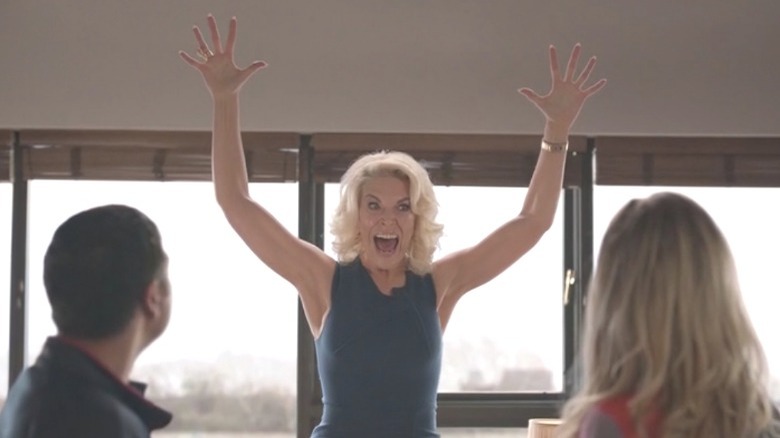 Apple TV+
"Ted Lasso" is interchangeably heartfelt and hilarious, with the narrative's most poignant plot points working in tandem with the show's unique brand of humor. Prior to going over to the dark side, Nathan's genuine attempts to become more confident led to one such scene with Keeley and Rebecca in the Season 2 episode "Rainbow." When Nathan has a hard time getting a table at a restaurant, Keeley brings him to Rebecca for a lesson in assertiveness. Nathan's attempts to role-play a conversation with the host end with him aggressively calling Keeley a "dithering kestrel." Rebecca also reveals her secret to dealing with misogyny in the workplace: she makes herself look as large and intimidating as she can by stretching to her full height and roaring like a lion.
According to Juno Temple, the scene was just as fun to make as it was to watch. "The main thing I remember from that day is both me and Nick being blown away by this final roar and also us not being able to keep a straight face with 'dithering kestrel,'" Temple told Scott Mantz with a laugh (via Madelyn Hammond & Associates). "I don't know how we managed to actually get a take where [Hannah Waddingham] and [I] didn't fully ruin that."
Unfortunately, Nathan callously abandons his teammates at AFC Richmond in the season finale, so it's unlikely that his next meeting with Rebecca, Keeley, and the rest will have quite the same levity.