The Cult Classic Superhero Film You Likely Forgot Starred Scrubs' Donald Faison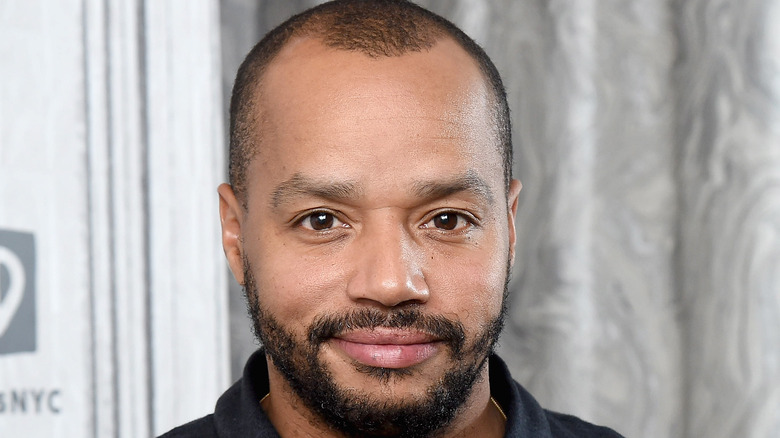 Gary Gershoff/Getty Images
Actor Donald Faison has been in the entertainment industry for quite a while. However, it was likely Faison's performance as Murray in 1995's "Clueless" that started gaining him traction moving into some of his most known roles. You may have seen him over the years in "Sabrina the Teenage Witch," "Remember the Titans," "Skyline," or "Wish I Was Here," although it was probably his time as Dr. Christopher Turk on "Scrubs" that truly stands out, as Faison was a main cast member on the show from 2001 until its end in 2010. "Scrubs" certainly provided a foundation moving forward in the industry for both Faison and his co-star, Zach Braff. The two are known to be close off-camera as well, even having their own podcast together called "Fake Doctors, Real Friends with Zach and Donald."
After his time on "Scrubs," Faison landed some supporting roles in film and television, and he even took on the role of a superhero on "Legends of Tomorrow" as Booster Gold, an iconic hero from the future within the DC Comics universe. Faison appeared as the character in the Season 7 episode "Knocked Down, Knocked Up," and since that time, Braff has even noted that he would certainly appear alongside Faison as Ted Kord, the first Blue Beetle. However, this actually wasn't the first time Faison had portrayed a superhero on the big or small screen. In fact, he was part of a cult classic superhero movie from the 2010s that you likely forgot about.
Donald Faison was Dr. Gravity in Kick-Ass 2
Back in 2010, the violent and ambitious superhero film "Kick-Ass," featuring Aaron Taylor-Johnson, Nicolas Cage, and Chloë Grace Moretz, made waves with critics and fans. In 2013, the sequel hit the big screen with "Kick-Ass 2" continuing the story of Taylor-Johnson's Dave Lizewski and Moretz's Mindy Macready after the death of her father (Cage) in the first movie. Some big names were added to the supporting cast and even appeared in the film as various heroes and villains. Jim Carrey played a large role as Colonel Stars and Stripes, the leader of the small superhero group known as "Justice Forever." The team features several members, including Donald Faison's Dr. Gravity, a physics professor turned masked hero who introduces Kick-Ass to the group that was inspired by his example.
Although Faison's character is featured in only a couple of scenes throughout "Kick-Ass 2," he even filmed an extra deleted scene as the character that served as an advertisement for joining Justice Forever. Faison also noted in an interview with Fandom Entertainment at San Diego Comic-Con in 2013 that playing a superhero was something he had desired to do since he was a child, so "Kick-Ass 2" completed that for him. Faison said, "I've always wanted to do this...ever since I was a kid. Since I played 'Star Wars' I wanted to be in an action movie and I finally got the opportunity." He also revealed that he actually read Mark Millar's "Kick-Ass" comic books before appearing in "Kick-Ass 2," and that he was excited to meet him when he dropped by to visit the film's set.