Chris Pratt And Bryce Dallas Howard On Working With The OG Jurassic Park Cast In Jurassic World Dominion - Exclusive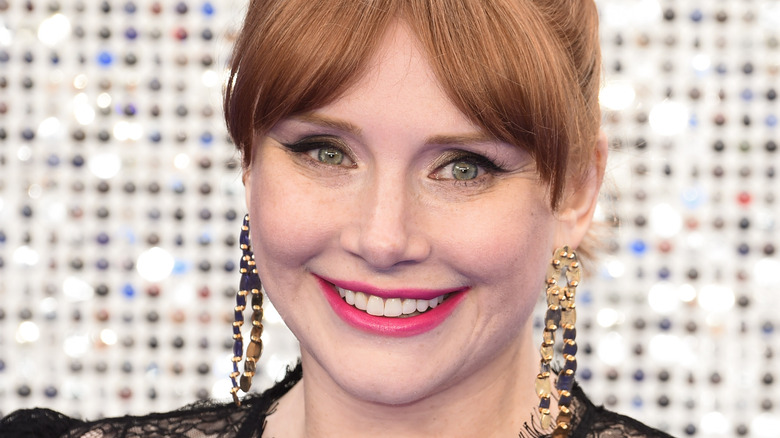 Featureflash Photo Agency/Shutterstock
"Jurassic Park" fans can't stop talking about the reprisal of OG cast members like Laura Dern (Ellie Sattler) and Sam Neill (Alan Grant) in "Jurassic World Dominion." A phone call from Steven Spielberg made it happen for Dern — along with her excitement to contribute to the development of Ellie's feminist arc.
While it seems the fan reaction is on-par with the OG actors, it's equally thrilling for the new generation of "Jurassic World" actors to act alongside the cast that brought the original trilogy to life when they were younger. For many involved in the series, it's a pretty epic geeky moment that brought the experience full circle: from fans of "Jurassic Park," to becoming a part of the sequel series, and ultimately, earning the status of peers to the cast who brought the OGs to life.
During an exclusive interview with Looper, Chris Pratt (Owen) and Bryce Dallas Howard (Claire) revealed what it was like working with the original "Jurassic Park" cast. They also broke down their own onscreen dynamic and relationship.
Getting the Jurassic crew together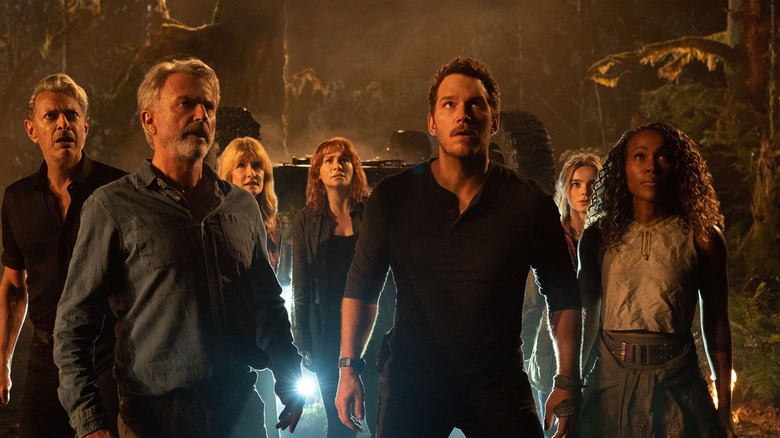 Universal Studios
The moment when Ellie and Alan grace the screen together was an out-of-body experience for some fans, and it only gets better as the film goes on and the OGs meet some of the newer franchise additions. On what it was like working with the original cast on "Jurassic World Dominion," Pratt said, "God. Surreal, epic." Well, that just about sums it up. Howard added, "Really fun. Wonderful. They're wonderful people."
Pratt noted the dynamic of going from fan to costar, which is every actor's dream for their favorite franchises. "It's true. It was really cool, man. They were cemented in both of our brains as icons when we were children watching this movie," Pratt explained. "You're like young teenagers. She was 12 [and] I was 13 when the film came out — 'Jurassic Park' in '93. To think 30 years later, we're wrapping up this franchise with them on screen, sharing the screen, it's epic."
Defining the relationship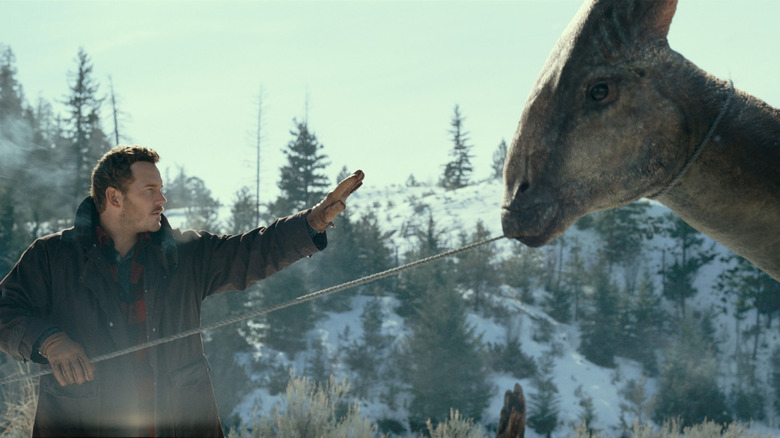 Universal Studios
If you weren't yelling "define the relationship" whenever Pratt and Howard graced the screen in the first two "Jurassic World" movies, were you even watching the same movie? Now that Claire and Owen have adopted Maisie, their dynamic is a bit more established, Howard explained. " It's the first time in the 'Jurassic World' franchise when the question isn't between Owen and Claire, 'Will they or won't they?' It's pretty clear that they're a couple," Howard said. "They're together. There's actually a hilarious line that Justice Smith [Franklin Webb] says where he's like, 'Aren't you guys still a weird thing?' And we are. Now, we're parents."
Pratt added, "Hot mom and dad chemistry," and Howard quipped back, "Weird mom and dad chemistry." Pratt even noted that the new dynamic grosses Maisie out when the onscreen couple kisses. He said, "It's nice because beautifully, that 'Will they, won't they' sexual chemistry that many of these films have, is left to two real pros with Sam Neill and Laura Dern, and boy, talk about some red hot chemistry right there. Watching them on screen is amazing."
While most action franchises don't necessarily give fans a beginning, middle, and end in the romance department, "Jurassic World" really nails this concept — and Pratt agrees. "Our relationship is actually and wonderfully evolved in a way that it's not just about a guy getting a girl or whatever, as it was in the first movie," he noted. "It's really turned into a relationship and a couple that [has] to put the needs of their youngster before themselves and who desperately care about the well being of one another. It's an equal team."
"Jurassic World Dominion" is now playing in theaters.