Jeffrey Dean Morgan Wants This Fear The Walking Dead Star On His Negan Spin-Off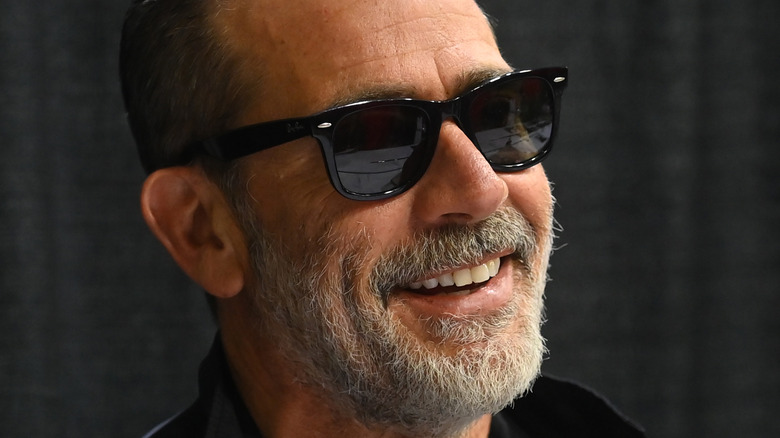 Paras Griffin/Getty Images
After Season 11, Part 3 of "The Walking Dead" airs later this year and brings the flagship AMC series to a close, fans will be turning their attention to the show's various spinoffs. After all, "The Walking Dead" universe keeps expanding and now includes the long-running "Fear the Walking Dead" series, "Dead in the Water," and a standalone show that follows Negan and Maggie, "Isle of the Dead." However, what if there was a way to combine two of those programs? Or at least set up some sort of crossover between them? Well, that's exactly what Jeffrey Dean Morgan has in mind.
As of right now, AMC is aiming for a 2023 release for "Isle of the Dead," and only a few names have been cast so far, including Morgan, Maggie actor Lauren Cohan, and "Friday Night Lights" star Gaius Charles. "Fear the Walking Dead" has already aired its Season 7 finale, with Season 8 expected to debut sometime in late 2022 or possibly early 2023 (via Distractify). If it's the latter, then it's not out of the realm of possibility for characters on either show to make appearances on the other. That's exactly what Morgan is looking to do, and he made a public plea to one particular "Fear the Walking Dead" star that recently exited the series.
Morgan invited Alycia Debnam-Carey to reprise her Alicia Clark role from Fear the Walking Dead
For those who aren't aware, Deadline has reported that longtime "Fear the Walking Dead" actor Alycia Debnam-Carey departed from the show last month following seven seasons as a cast member. While she already has a major part in Hulu's "Saint X" series lined up, per Variety, Jeffrey Dean Morgan has also extended an invitation for her to reprise her "Fear the Walking Dead" role as Alicia Clark in "Isle of the Dead."
"To the incredible @DebnamCarey. You kick a**. Period. On and off screen," Morgan tweeted on June 6. "Whatever is next? I'm here for it. Congrats on an incredible run...[The Walking Dead] world will miss you... and patiently await your return. How do you feel about New York?"
According to reports, "Isle of the Dead" will be a six-episode series that sees Negan and Maggie traveling to the Empire State, potentially searching for a zombie bio-weapon. "'Isle of the Dead' envisions the popular Maggie and Negan characters traveling into a post-apocalyptic Manhattan long ago cut off from the mainland," reads the official synopsis. "The crumbling city is filled with the dead and denizens who have made New York City their own world full of anarchy, danger, beauty, and terror."