20 Shows Like The Vampire Diaries Fans Can Binge-Watch Now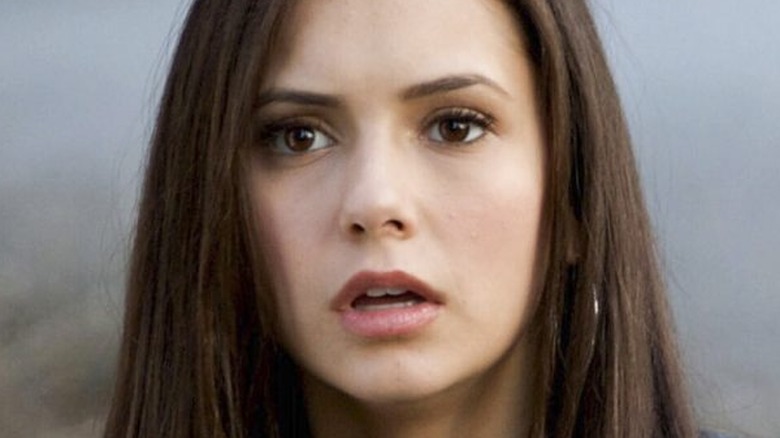 The CW
Things were simpler back in 2009. Our television screens and movie theaters were filled with vampires, and the most important question plaguing the teenagers of the world was whether you were "Team Edward" or "Team Jacob." Though Stephanie Meyer's "Twilight" saga is arguably the most popular vampire story of the 21st century, there was another series that showed up in the late aughts and took the world by storm — a little show by the name of "The Vampire Diaries." Instead of Team Edward or Team Jacob, the biggest controversy among "Vampire Diaries" fans was whether you thought our heroine Elena (Nina Dobrev) should be with Stefan (Paul Wesley) or his brother Damon (Ian Somerhalder).
Set in the small town of Mystic Falls, Virginia, "The Vampire Diaries" follows Elena Gilbert, a teen girl who's just lost both of her parents in a car accident. Elena falls in love with Stefan Salvatore — a brooding, seemingly kindhearted vampire who's riddled with guilt. Things become increasingly complicated with the arrival of Stefan's brother, Damon — a loose cannon with dangerous plans in mind. A love triangle soon develops, and Elena is introduced to the supernatural world that lurks just beneath the surface of her own.
A hugely popular show at the time, "The Vampire Diaries" wasn't the first of its kind, nor was it the last. There are plenty of other shows out there that combine high school drama with the supernatural, depict cross-species love stories, or illustrate the particular oddities of living in a small town. If you've already torn through all of "The Vampire Diaries" and need something new to satiate your thirst, then you've come to the right place. Keep reading to discover which shows you need to binge next.
First Kill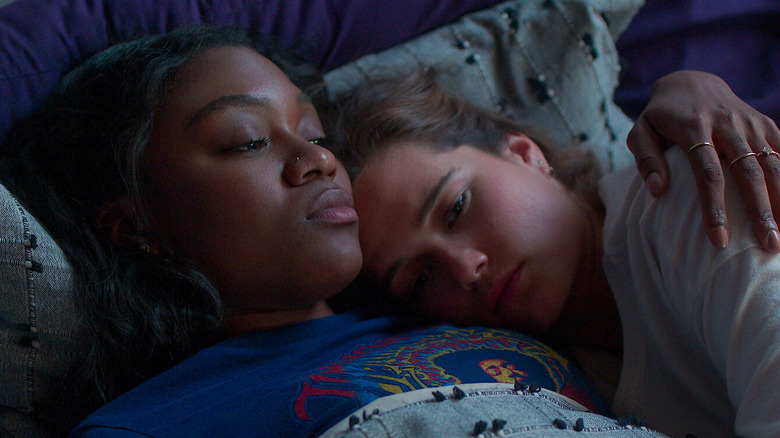 Netflix
It's clear that there's still a thirst for vampire content among TV fans, as it just doesn't stop coming. Netflix's "First Kill" is a more recent offering for teen vampire fans, and it's hard not to draw comparisons between it and "The Vampire Diaries." Though it's a Netflix production, it feels very CW in its style and tone. Whether that's a good thing or a bad thing depends on your opinion of the network, but if you're a fan of "The Vampire Diaries," we imagine this might spark your interest.
"First Kill" centers on two teenage girls: Juliette (Sarah Catherine Hook), the youngest in a line of "legacy" vampires, and Calliope (Imani Lewis), who comes from a long line of monster hunters. Though their families are predestined to hate each other, Juliette and Calliope wind up falling in love anyway. If the parallel between Romeo and Juliet wasn't obvious enough, there are multiple references to the play within the show.
While it can be cheesy at times and the CGI is less than stellar, it's hard not to become invested in the melodrama and the central love story of "First Kill," which is really quite sweet. The show's campier moments are hilarious, as long as you don't take them too seriously. For fans of star-crossed romances or lesbian teen vampires, this one was made just for you.
Veronica Mars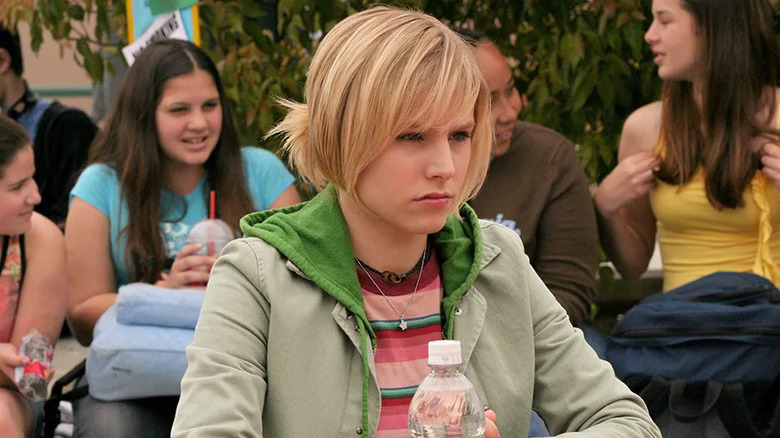 UPN
Elena Gilbert may seem like a normal girl, but viewers of "The Vampire Diaries" soon come to learn that's far from the case. Supernatural creatures are attracted to her like moths to a flame, and her connection to her look-a-like Katherine may be more than just coincidental. For Veronica Mars (Kristen Bell), the title character of the series of the same name, her connection to the more mysterious elements in her small town is much less accidental. The daughter of a private investigator (Enrico Colantoni), Veronica takes it upon herself to run her own detective agency out of her high school in Neptune, California.
While the mysteries Veronica becomes embroiled in aren't of the supernatural variety, fans of the "The Vampire Diaries" will likely appreciate her tenacity and the endless drama and controversy her high school provides. Like Elena, Veronica was once a popular girl who's become something of an outcast by the time the series begins. Like most shows set in a small town, the location of "Veronica Mars" is extremely important. You may not want to live in Neptune (or Mystic Falls, for that matter), but after watching the show for a few seasons, you'll begin to feel like you know it pretty well. Without a doubt one of the best teen shows of the 2000s, "Veronica Mars" should be at the top of your list if witty banter and intrigue are what you're into.
One Tree Hill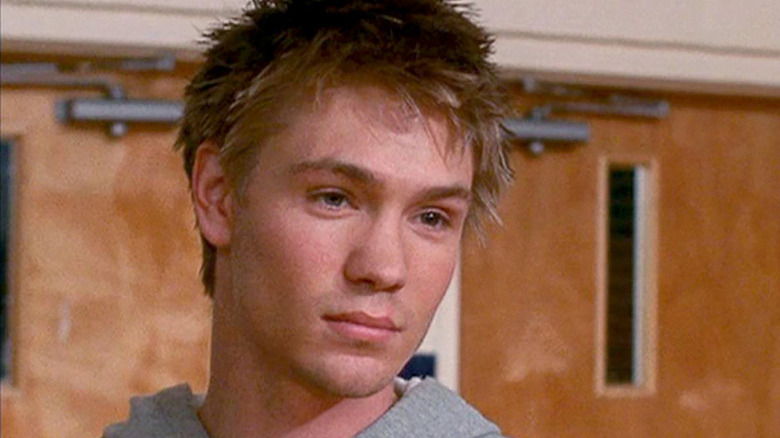 Warner Bros. Television Distribution
The 1990s and early 2000s were chock-full of dramas that followed beautiful teenagers navigating the brutal world of high school, but there's one show that stands out as being especially dramatic and (self) serious. Unlike "Gossip Girl" or "90210," "One Tree Hill" set its sights on the "average" residents of a small town in North Carolina. Of course, viewers quickly come to learn that their lives are anything but average, and even the most unassuming among them prove to have a high capacity for melodrama.
The cast of characters are as follows: Haley (Bethany Joy Lenz), the bookish nerd, Nathan (James Lafferty), the well-off jock with a horrible father, Lucas (Chad Michael Murray), Nathan's solitary, estranged half-brother, Peyton (Hilarie Burton), a cheerleader with a punk-rock spirit, and her best friend Brooke (Sophia Bush), a popular rich girl with absent parents. Just like in "The Vampire Diaries," a central love triangle is one of the defining storylines of the first few seasons, but it never gets any less dramatic after that.
"One Tree Hill" may not be quite as dark as "The Vampire Diaries" (literally or figuratively), but both shows share a sense of broodiness that will certainly appeal to the vampire-lovers among us. Lucas may not be one of the undead, but he does love quoting literature and making references to ravens, so he basically counts.
Roswell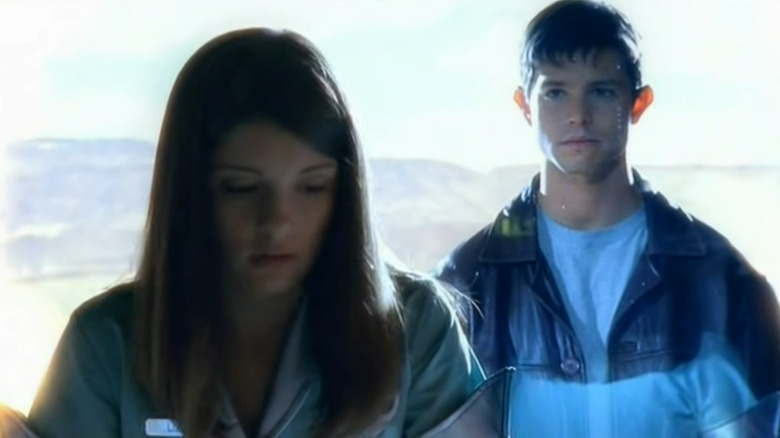 20th Television
"Roswell's" Liz Parker (Shiri Appleby) has a lot in common with Elena Gilbert. Born and raised in a small town, Liz is a high school student who unexpectedly finds herself surrounded by a group of supernatural teenagers. Unlike Elena, however, Liz comes into contact with aliens, not vampires.
Liz lives in Roswell, New Mexico — the site of the famous 1947 UFO crash. She works as a waitress at an alien-themed restaurant, and when her classmate Max (Jason Behr) saves her life, she learns his secret. Max, his sister Isabel (Katherine Heigl), and his best friend Michael (Brendan Fehr) are aliens — descendants of the extraterrestrials who crashed in 1947. Now that their closely-held secret is out, Max is forced to trust Liz, as he and his friends are being hunted by mysterious forces who want nothing more than to see them eliminated.
Liz is the archetypical girl-next-door, which makes her the perfect person to find herself suddenly involved with aliens. While Elena Gilbert sometimes struggles with her darker impulses (especially in Season 3 of "The Vampire Diaries"), Liz is a deeply good person with a heart of gold. If we're being honest, she'd be a pretty annoying character were she not played by Appleby, who imbues Liz with enough earnest charm that it's hard to really dislike her. If you're looking for a supernatural teen drama with a little more lightness to it, "Roswell" should be next on your list.
Chilling Adventures of Sabrina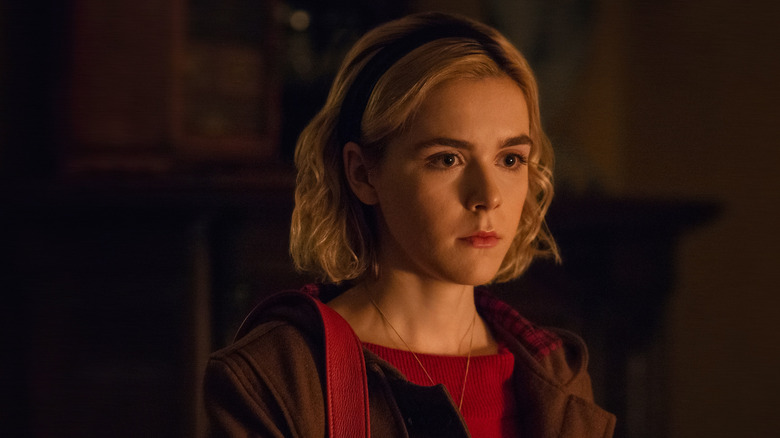 Netflix
Dark retellings of classic stories seem to be all the rage these days, and many of these remakes contain supernatural elements. One example of this trend is Netflix's "Chilling Adventures of Sabrina" — a new take on the story of Sabrina Spellman, who was first introduced in an Archie Comics series. The first iteration of Sabrina was "Sabrina The Teenage Witch," which was eventually adapted into a jovial TV sitcom starring Melissa Joan Hart in 1996. The Netflix series, which is based on the comic series of the same name, is a much darker take on Sabrina's world.
Like the previous iterations of the story, "Chilling Adventures of Sabrina" follows the titular character as she struggles to balance the two sides of her life: The human one and the magical one. A half-witch, Sabrina (Kiernan Shipka) is beginning to study the dark arts under the tutelage of her two aunts — Hilda (Lucy Davis) and Zelda (Miranda Otto) — while also trying to maintain her high school social life.
Sound familiar? Like Elena, Sabrina finds it difficult to balance the two sides of her life. High school is difficult enough without warlocks and demons thrown into the mix. Fans of "The Vampire Diaries" will likely enjoy the dark and brooding tone of "Chilling Adventures of Sabrina," which The Hollywood Reporter described as being "in the vein of 'Rosemary's Baby' and 'The Exorcist.'" Plus, if you're a fan of "Riverdale," the show technically takes place in the same universe. Time to get binging.
True Blood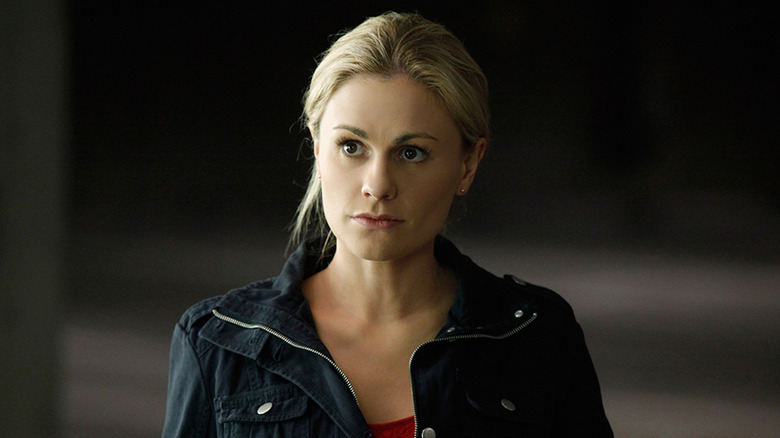 HBO
Though "The Vampire Diaries" certainly touches on some pretty adult themes, it begins as a teen show, and the tone of the series reflects that. If you feel like you've graduated from teen shows and want something a little more adult, "True Blood" may be just what the doctor ordered. The HBO series first premiered in 2008, following a young woman named Sookie Stackhouse (Anna Paquin) in the small town of Bon Temps, Louisiana. Though she initially comes off as a charming southern belle, Sookie's a bit of an outcast because of her unique ability — reading minds. Her reputation for being a weirdo isn't helped much when she meets and falls in love with Bill Compton (Stephen Moyer), a vampire who's decided to live out in the open now that "Tru Blood" –- a synthetic blood product -– is widely available.
Bon Temps is full of colorful characters, both human and otherwise. Many of the residents don't take kindly to Sookie's relationship with Bill, and she must contend with another suitor, the cunning Eric (Alexander Skarsgård), who happens to be the vampire sheriff of the area. Bill and Eric have a lot in common with Stefan and Damon: Bill and Stefan initially appear as the picture of charm and civility, while Eric and Damon come off as selfish and mean-spirited, but they all eventually reveal hidden depths. "True Blood" is undoubtedly one of HBO's best offerings, and it's a must-watch for anyone interested in exploring the world of the supernatural from a decidedly R-rated perspective.
Teen Wolf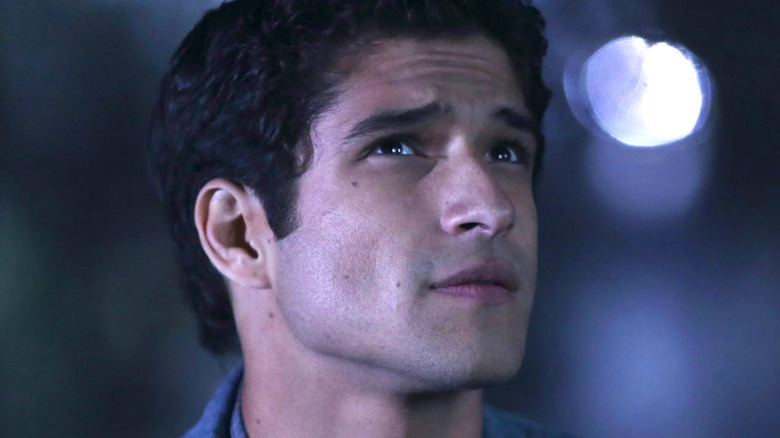 MTV
The MTV series "Teen Wolf" actually has a lot in common with "The Vampire Diaries," just with the vampires switched out for werewolves. The series follows Scott McCall (Tyler Posey), a California teen who's bitten by a werewolf right before his sophomore year of high school. Previously an average student without any athletic skills or many friends to speak of, Scott is transformed overnight, gaining newfound physical and sensory abilities, but also heightened aggression — especially around the full moon.
Because of his new abilities, Scott suddenly becomes popular, but he finds that his crush on classmate Allison Argent (Crystal Reed), is complicated by the fact that she comes from a long line of werewolf hunters. With the help of his friends, Scott tries to get a hold of his new double life while also dealing with the various supernatural creatures of Beacon Hills.
Werewolves don't feature as prominently in supernatural series as vampires do, and "Teen Wolf" is one of the better examples of a show that centers on our underrated furry friends. It has everything you could want in a supernatural teen drama: Humor, hijinks, life-and-death drama, a star-crossed romance, and an ever-expanding universe of supernatural beings. Time to start howling.
The Magicians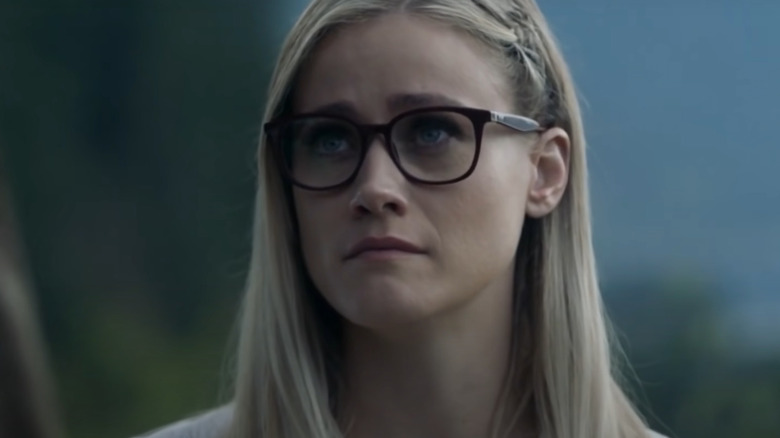 SyFy
If you're a fan of "The Vampire Diaries" as well as the "Harry Potter" series, we've got something that might be right up your alley. "The Magicians" is a SyFy series that first premiered in 2015. Based on the book of the same name by Lev Grossman, the show follows Quentin Coldwater (Jason Ralph), a graduate student at Brakebills University for Magical Pedagogy. While studying to become a magician, he becomes embroiled in a secret supernatural plot that threatens the fate of the world. The show also follows Quentin's longtime friend Julia Quicker (Stella Maeve), who takes a less formal approach to her own magical education.
"The Magicians" is a unique series because it does follow students, but not the high school or even college students we're used to. Because of this, it's a show that will likely appeal to those who are fans of teen shows or YA fantasy in general, but who are looking for something just slightly more grown-up. If you're upset about the lack of graduate school representation on television (who isn't?), then it might be time to add "The Magicians" to the queue.
Lost Girl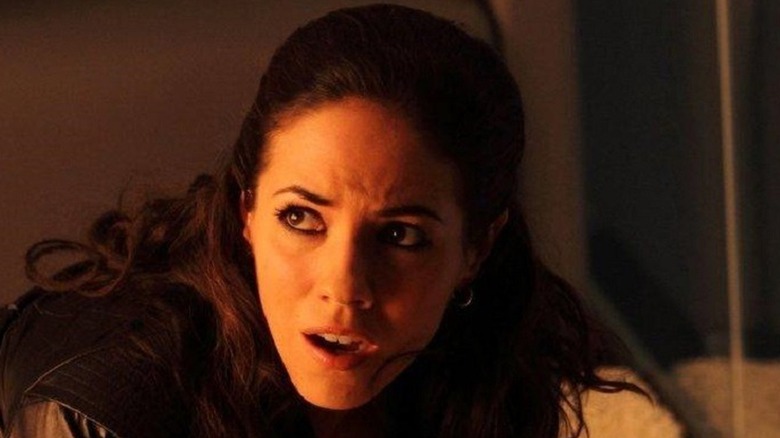 SyFy
If "The Vampire Diaries" is a little too PG for you in terms of the more erotic elements of the supernatural, we've got just the show. The Canadian series "Lost Girl" follows a woman named Bo (Anna Silk) — a succubus who uses her unique talents to help others. While learning to control her own desires and abilities, Bo struggles to understand her place within the world of the Fae, a group of magical creatures of which she is a part. Bo is joined by her best friend Kenzi (Ksenia Solo), a shapeshifter and detective named Dyson (Kris Holden-Ried), and a human doctor named Lauren (Zoie Palmer).
Bo struggles to balance her need to feed on the sexual energy of others with her desire for a romantic relationship — something she develops with both Dyson and Lauren, among others. If you're a fan of "Buffy the Vampire Slayer" or "Wynona Earp," you'll probably enjoy this one, and "Vampire Diaries" fans will likely be drawn to the series' darker elements and sense of existential angst. After all, how does a succubus fall in love?
It probably doesn't need to be said, but we'd advise against watching "Lost Girl" with children present, as sex is a central theme of the show. But, if you like your supernatural series with a little less cheerleading and a lot more leather, "Lost Girl" is your best bet.
The 100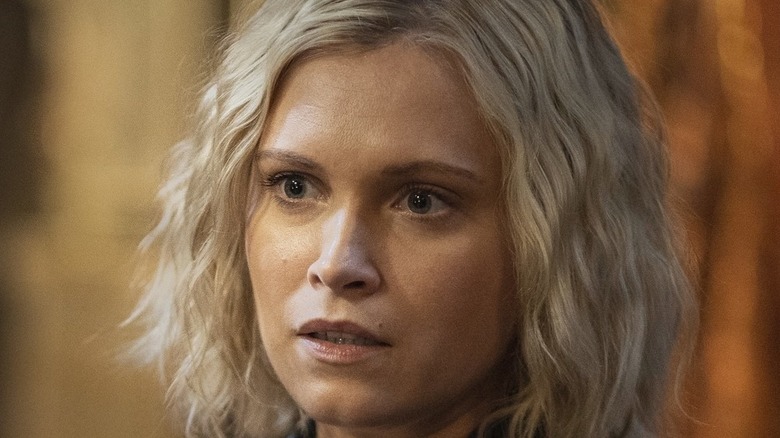 The CW
Though The CW has a reputation for producing shows that fall on the side of cheesy, there are some unexpectedly profound gems in their catalog. One such show is "The 100," which first premiered on the network in 2014. Set 100 years after a nuclear war has devastated the Earth, the series follows the remaining human survivors, who now live aboard a space station known as the Ark. With resources depleting, the Ark leaders decide to send 100 juvenile delinquents down to earth to see if it's habitable once again. Included in this group is our lead character, 18-year-old Clarke (Eliza Taylor).
The residents aboard the Ark assume that Earth is uninhabited, but the teens soon find out this is not the case. They encounter a number of different groups upon reaching the planet's surface, many of which prove to be quite dangerous in a variety of ways. Though most of the main characters are teenagers — at least initially — there isn't much time for typical high school drama, as everyone's constantly fighting for their survival. Clarke is forced to make some truly horrific decisions in order to ensure the survival of her people, and many lives are lost along the way. If you're looking for something easy, breezy, and light, then "The 100" is certainly not for you, but if post-apocalyptic turmoil is what you're after, then be sure to add it to your list.
Lucifer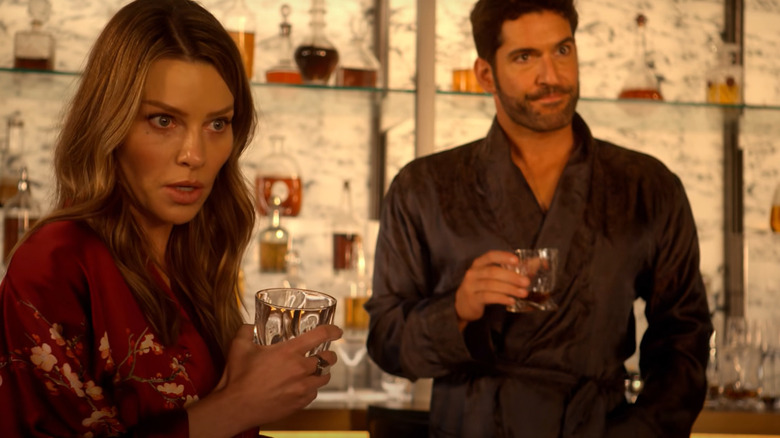 Netflix
While a number of characters in "The Vampire Diaries" are fairly earnest in their intentions, some of the fan favorites -– like Damon, Katherine, and Caroline -– have a more irreverent take on life. If you're interested in something supernatural but tired of the brooding vampire shtick, we've got just the thing: "Lucifer," which follows the Devil himself, Lucifer Morningstar (Tom Ellis). After getting tiring of looking after Hell, Lucifer decides to move to Los Angeles to start a new life with his demon aide Mazikeen (Lesley-Ann Brandt).
He lives a carefree, hedonistic life as the proprietor of his club, Lux, until he meets a detective named Chloe Decker (Lauren German). Perhaps because of her innate goodness, Chloe is the only person Lucifer has ever encountered who isn't susceptible to his devilish powers of manipulation, and he begins to question if he's more than just the personification of all things depraved.
Based on characters created by Neil Gaiman for DC Comics, "Lucifer" is witty, irreverent, and deeply profound. Lucifer's devil-may-care attitude (pardon the pun) makes his adventures with Chloe especially fun to watch, but he also can't quite shake the effect that the humans around him start having on him, and he's surprised to find himself evolving as a person. You may have heard of monsters living in plain sight (like Stefan and Damon with their magical rings), but the Devil living among us is another matter entirely. If a good-old-fashioned story of redemption is what you're looking for, then give "Lucifer" a shot.
Charmed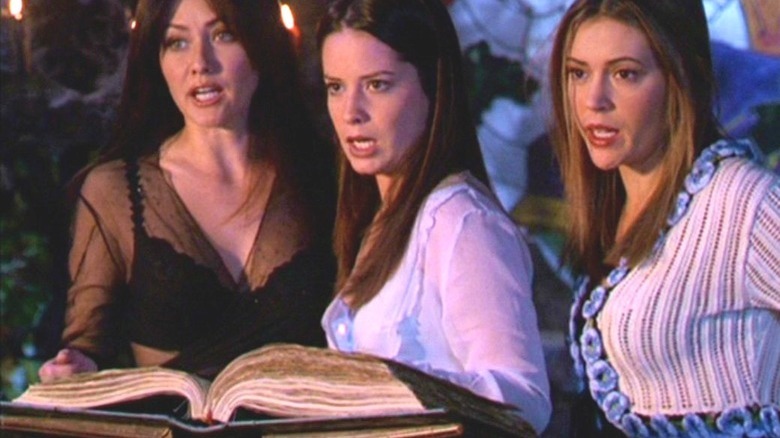 CBS Television Distribution
While vampires were initially the name of the game in "The Vampire Diaries," the world of the supernatural depicted in the show expands each season. For example, Elena's best friend Bonnie (Kat Graham) becomes an extremely powerful witch. If you have vampire fatigue and are looking for something witchier (and a little less broody) instead, "Charmed" might be right up your alley.
Along with "The X-Files," "Buffy The Vampire Slayer," and "Xena: Warrior Princess," The WB's "Charmed" was part of a fantastic lineage of supernatural and fantasy shows in the 1990s. While "Buffy" was categorized as a teen show and "The X-Files" had higher-concept aspirations, "Charmed" was somewhere in the middle. The series follows Prue (Shannen Doherty), Piper (Holly Marie Combs), and Phoebe (Alyssa Milano) Halliwell, three sister witches living in San Francisco. On the outside, they live seemingly normal lives and work human jobs, but in reality, they're the mythical Charmed Ones, and it's their duty to use their powers to protect the innocent.
"Charmed" is the perfect blend of supernatural drama and lighthearted humor, and it's really the sisters' relationships and their chemistry with one another that make the show sing. It often follows a monster-of-the-week format as famously defined by shows like "Buffy" and "The X-Files," but the familial bond between the Halliwells is what really holds it all together. Like Elena Gilbert, the Halliwells are orphans, but their connection to one another means they're never truly alone.
Buffy the Vampire Slayer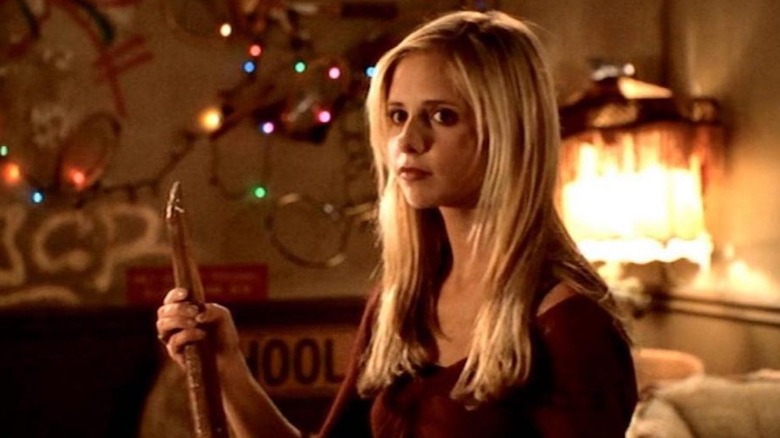 20th Television
As one of the most beloved fantasy shows of all time, we felt it wouldn't be right to leave "Buffy The Vampire Slayer" off this list. It's a teen show about vampires and supernatural creatures, after all, and it aired on The WB, which was the precursor to The CW. In fact, it's hard to imagine "The Vampire Diaries" existing without "Buffy." Sarah Michelle Gellar was even offered a role in "The Vampire Diaries," but she turned it down.
If "Buffy The Vampire Slayer" was before your time or just not on your radar, we'll give you a quick rundown. The series follows a 16-year-old girl named Buffy Summers (Sarah Michelle Gellar) who discovers that she's the Slayer — a chosen one imbued with superhuman strength and abilities in order to defeat vampires, demons, and other evils. Along with her "Watcher" Rupert Giles (Anthony Stewart Head) and her friends Willow (Alyson Hannigan) and Xander (Nicholas Brendon), Buffy fights monsters in her hometown of Sunnydale, California, which also happens to be located over the opening on the Hellmouth.
Similar to in "The Vampire Diaries," Buffy's greatest dilemma is her struggle to live a "normal" life while also being the Slayer. This struggle is reflected in the tone of the show itself, which brilliantly oscillates between high school dramedy and existential horror. There's also a classic good vampire/bad vampire love triangle that "Vampire Diaries" fans will certainly recognize. If you're a fan of "The Vampire Diaries" and somehow haven't watched "Buffy" yet, you should probably get to it.
Penny Dreadful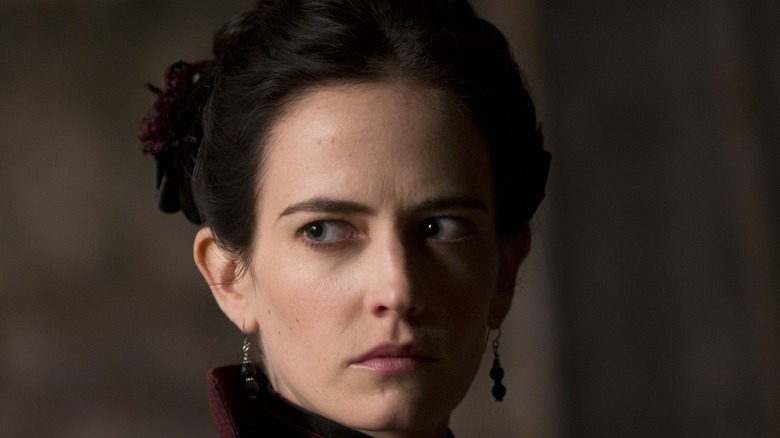 Showtime
"The Vampire Diaries" is a pretty dark show, both tonally and visually. If you're looking for another series that meets that criteria, our recommendation is the Showtime series "Penny Dreadful." Set in Victorian London, the series brings to life literary characters from the era along with other fantastical and terrifying creatures. Sir Malcolm (Timothy Dalton) is a guilt-ridden explorer who lost his daughter to the city's demonic set. He lives with Vanessa Ives (Eva Green), a clairvoyant with a dark side. Sir Malcolm recruits a charming American sharpshooter named Ethan Chandler (Josh Hartnett) to help locate his daughter, and together, the three begin to explore the horrifying things that lie just beneath the surface of their world.
Like most good shows of the supernatural variety, the fantastical elements of the series are stand-ins for very human questions and anxieties. Vanessa struggles with faith and the push and pull between light and dark, while Ethan struggles with what it means to be a good man. Along the way, they encounter people like Dr. Frankenstein and Dorian Gray, who struggle with similarly existential questions.
For fans of the more romantic aspects of "The Vampire Diaries," "Penny Dreadful" has that too, and the evolution of Vannesa and Ethan's relationship is incredible to watch, even if truly happy moments on the show are few and far between. If you're ready to let a little darkness into your life, queue "Penny Dreadful" right up.
Motherland: Fort Salem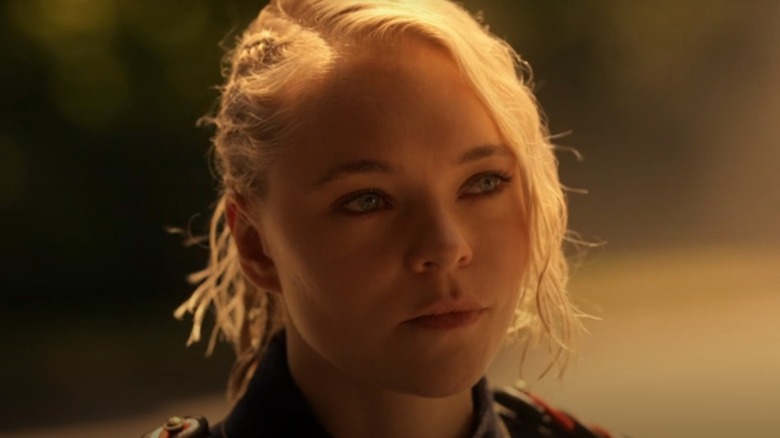 Freeform
If it's true that there's really an endless supply of stories within the vampire genre, the same could probably be said about witches. Anyone looking for a totally new take on the supernatural should check out the Freeform series "Motherland: Fort Salem." The show takes place in an alternate universe where instead of being burned at the Salem witch trials, American witches made a deal with the U.S. government to fight on their country's behalf. Set in the present day, the series follows a group of young witches –- Raelle Collar (Taylor Hickson), Abigail Bellweather (Ashley Nicole Williams), and Tally Craven (Jessica Sutton) –- who've just begun their basic training in the witch army.
Though society is a matriarchal one in this universe, that doesn't stop some from resisting the witch leadership. Raelle, Abigail, and Tally find their greatest enemy to be a group of witches known as the Spree, who use terrorist tactics to fight against army conscription. As a young adult supernatural series, the show has everything fans of the genre could want –- action, romance, interpersonal drama, and plenty of intrigue.
Once Upon a Time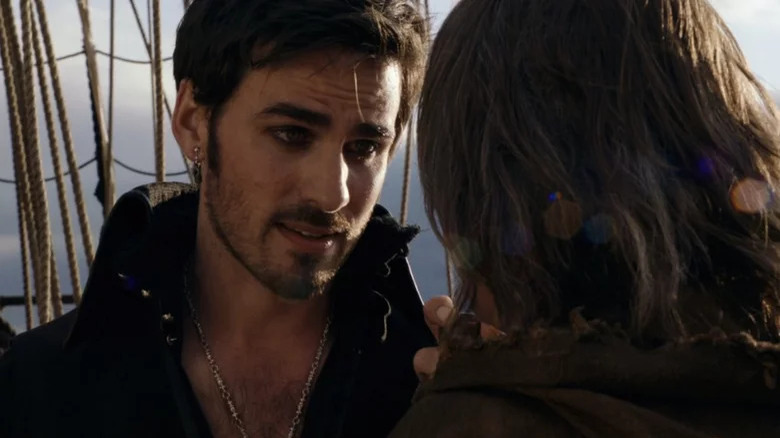 ABC
In broad terms, most shows of the supernatural variety depict what happens when the "normal" world and the fantastical one collide. In the ABC series "Once Upon a Time," that's quite literally the premise. The show follows Emma Swan (Jennifer Morrison), a woman living a comfortable life as a bail bonds collector. Everything changes when her son Henry (Jared S. Gilmore), who she gave up 10 years earlier, shows up out of the blue. Henry tells Emma that he believes she's the daughter of Snow White and Prince Charming, and that she was given up so she would be protected from the Evil Queen. As the story goes, the Evil Queen cast a curse that trapped fairytale characters in the modern world and froze them in time.
Emma doesn't believe Henry at first, but when she travels to his quaint town of Storybrooke, she starts to see his side of things. Storybrooke is filled with fairytale characters who don't know their true identities, and Emma discovers that the Evil Queen is much closer than she had thought. It's certainly a fantastical premise, but the talented cast (especially Morrison and Lana Parilla) pull it off. Like Mystic Falls, Storybrooke is a quaint town that hides its magic in plain sight. One might be tempted to choose Storybrooke over Mystic Falls from a safety standpoint, but, as Emma soon discovers, not all is well in the land of princesses and fairy tales.
Alias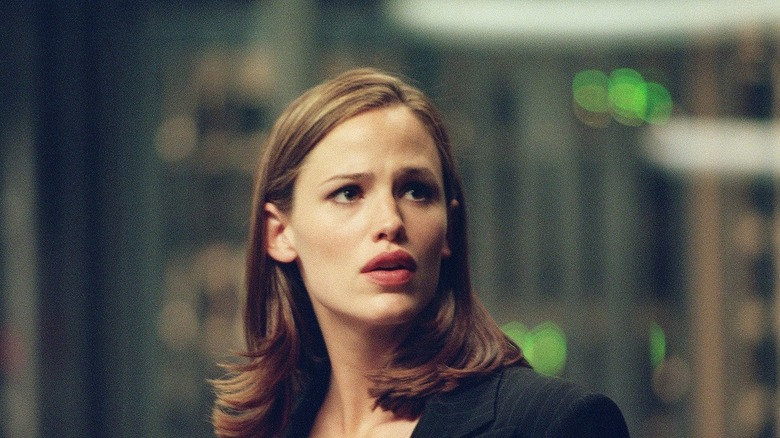 ABC
Jennifer Garner's seminal spy thriller "Alias" may not tackle the supernatural, but it has enough mystery, intrigue, and romance to garner a spot on this list. The 2001 series follows Sydney Bristow (Garner), an operative working as a double agent for both the CIA and a criminal organization known as SD-6. Throughout the show, Sydney struggles to keep her true profession from her friends and family, including Francie (Merrin Dungey) and Will (Bradley Cooper). Sydney's especially wary because her fiancé was murdered after discovering the real nature of her work.
"Alias" was part of a wave of television shows in the 1990s and early 2000s that depicted "strong female characters" in the lead roles — a lineage that "Vampire Diaries" is certainly indebted to. While the first couple of seasons of the show are primarily concerned with Syndey's struggle to lead a double life –- a dilemma common in supernatural series as well -– the later seasons deal more with problems on a macro scale as Sydney faces enemies both foreign and domestic. If you're in the mood for some butt-kicking of the human variety, or if you just like a show with a lot of really great wigs, then "Alias" should be next on your list.
iZombie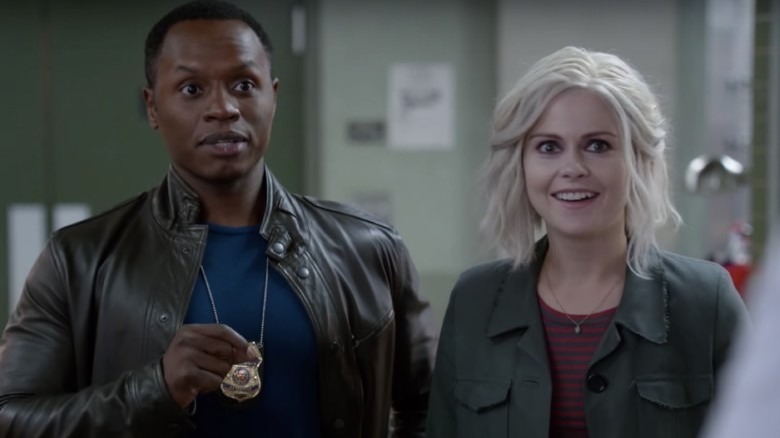 The CW
Zombies have been a popular topic of film and television for decades now, and the premise is usually the same: A group of survivors living in a post-apocalyptic world try to fight off the undead and avoid becoming one themselves. The CW series "iZombie," which premiered on The CW in 2015, takes a slightly different approach. The show follows Liv Moore (Rose McIver), a high-achieving medical resident who lives in Seattle. When Liv is turned into a zombie during a party one night, she comes up with a plan to hide her condition by working in the coroner's office and snacking on brains in order to stave off her newfound appetite. When she discovers that she temporarily gains access to the memories of those she eats, she uses her ability -– initially posing as a psychic –- to help the police solve murders.
"iZombie" is one of those supernatural shows that tries to balance the darkness of existential angst with the humor of its zany premise. While Liv finds she can get by due to her new job, the fact that the life she once lived is essentially over undergirds the whole series. Luckily, Liv meets Dr. Ravi Chakrabarti, a medical examiner who discovers Liv's condition and works to find a cure. It's certainly a unique twist on the zombie genre, and if you're looking for something that's both irreverent and bizarre, it might be your best bet.
A Discovery of Witches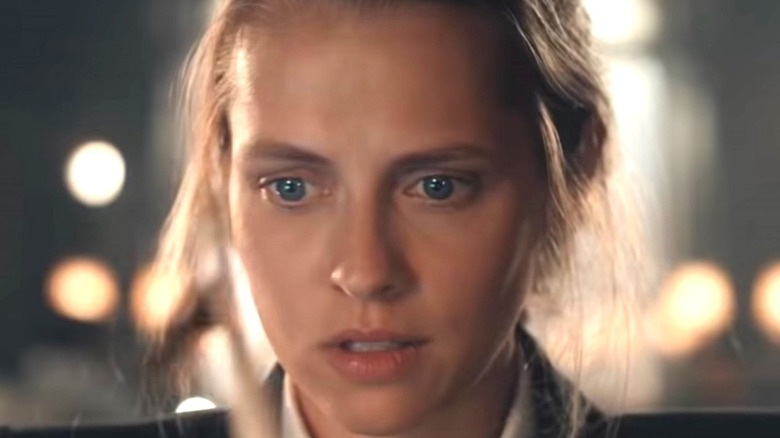 Sky One
Fans of "The Vampire Diaries" are likely fans of star-crossed romances, which is one of the reasons this next show makes the cut on this list. Based on the book of the same name, "A Discovery of Witches" follows Diana Bishop (Teresa Palmer) — a historian and witch who encounters an enchanted manuscript in an Oxford library. Though she's reluctant to re-enter the world of magic, her interest in the book pulls her in. Diana meets Matthew Clairmont (Matthew Goode), a geneticist and vampire who helps her decode the book and fight off the threats that arrive in its wake. Together, they form an unlikely bond and learn to protect themselves from the magical creatures they encounter.
You might be able to imagine where this one goes. A witch and a vampire are certainly not a typical pairing, but Diana and Matthew's dynamic chemistry makes it hard not to root for them as a couple. In addition to the fabulous performances of its lead actors, "A Discovery of Witches" also features some dazzling special effects that will remind audiences that this show definitely doesn't air on The CW. It's always a thrill to see a high-concept fantasy series like this get the big-budget treatment it deserves, and "A Discovery of Witches" certainly delivers on its premise. You know the drill –- queue it up!
Shadowhunters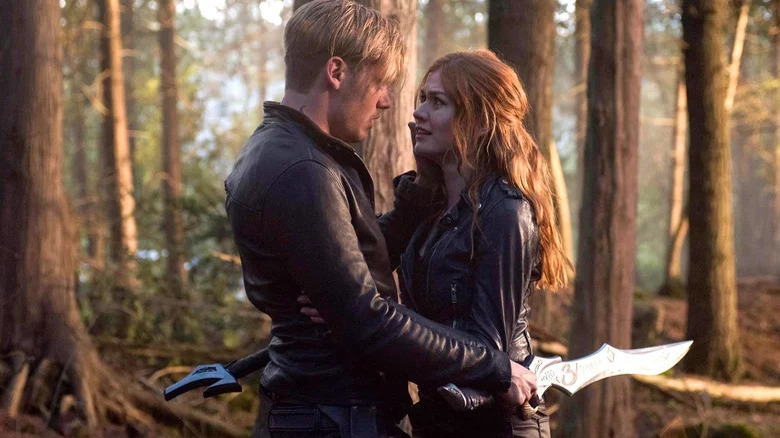 Freeform
This story may sound familiar: At an auspicious moment in her life, a teenage girl discovers something about herself that she never knew and must suddenly confront her destiny and discover her path in life. It's always a compelling premise for any supernatural series, and it also happens to describe the next show on this list pretty well. Based on the "Mortal Instruments" series by Cassandra Clare, "Shadowhunters" follows Clary Fray (Katherine McNamara), an 18-year-old girl who discovers she comes from a family of human-angel hybrids called Shadowhunters who hunt demons.
When Clary's mother is kidnapped, she's suddenly exposed to the world of the supernatural and must rely on the assistance of fellow Shadowhunters Jace (Dominic Sherwood), Isabelle (Matthew Daddario), and Isabelle (Emeraude Toubia) in order to survive her new circumstances. As one might expect, "Shadowhunters" also touches on the archetypal story of forbidden love — something "The Vampire Diaries" fans will likely appreciate. Even if you're not familiar with Cassandra Clare's best-selling novles, there's plenty for fantasy fans to sink their teeth into with this one. Time to get streaming.