The Ending Of Shadowhunters Explained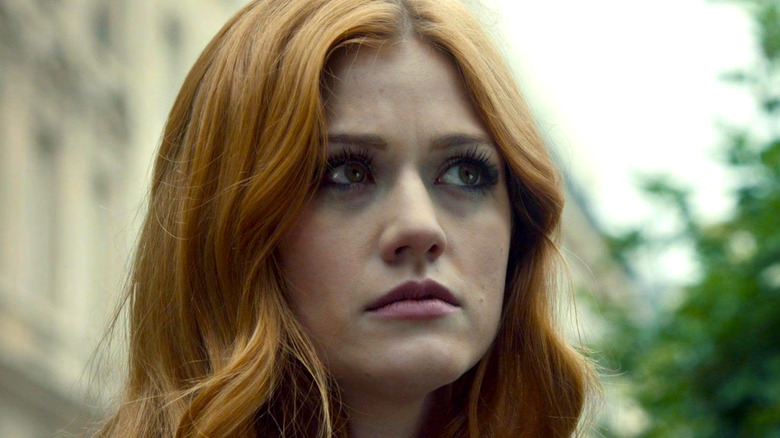 Freeform
Although Freeform's "Shadowhunters" aired its series finale in 2019, the show still lives on in the hearts of its devoted fans. Premiering in 2016, the TV show is an adaptation of the bestselling book series called "The Mortal Instruments" by author Cassandra Clare. Starring Katherine McNamara as Clary Fray, "Shadowhunters" is set in a world where half-angel, half-human warriors known as Shadowhunters fight off demons and protect both the regular, human world and the Shadow World, which consists of Shadowhunters and Downworlders, which are other creatures like vampires, werewolves, the fey, and more. 
Clary is a normal teenager living in New York City until one strange night when she goes to a club with her best friend Simon Lewis (Alberto Rosende). There she encounters a trio of leather-clad Shadowhunters fighting off a demon, but no one else can see them. This leads Clary to discover that she is actually a Shadowhunter as well, but her mother ran from that life before she was born. Now a teenager, Clary is pulled into the Shadow World as she uncovers a plot by the father she never knew, Valentine (Alan van Sprang), to destroy all Downworlders and take over. 
The Freeform series had a steady, loyal fanbase, which is why when news came of the show's cancellation in the midst of Season 3 airing, no one was more surprised than the creators and cast. Thankfully, Freeform allowed "Shadowhunters" a series finale to finish up the story, wrapping up romances and major plotlines, while still leaving it open for the small possibility to one day return. 
A surprise cancellation led to a rushed two-part series finale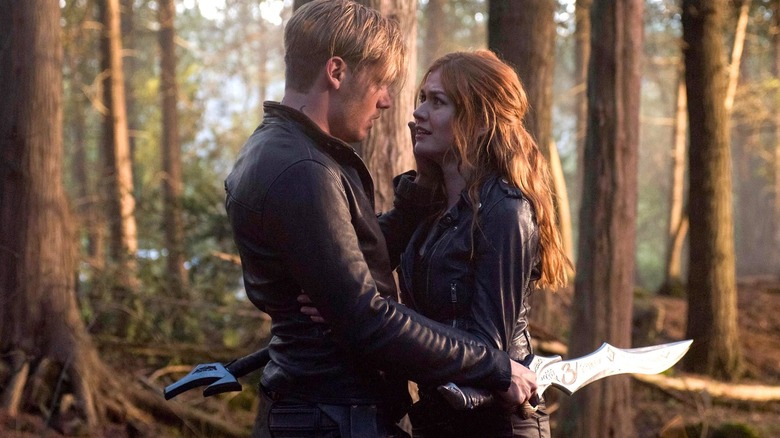 Freeform
Even before the series was cancelled, Freeform planned to air "Shadowhunters" Season 3 in two parts, meaning the final ten episodes weren't filmed yet when the news came out. In order to make story adjustments and write the two-part finale, the second half of Season 3 was pushed back and didn't premiere until a year after Season 3's first episode aired. 
In the two-part finale, Clary, her boyfriend and fellow Shadowhunter Jace (Dominic Sherwood), Shadowhunter siblings Alec (Matthew Daddario) and Isabelle (Emeraude Toubia), and Simon must all work together to rescue the warlock Magnus (Harry Shum Jr.) — who is also Alec's fiancé — from the demon realm called Edom. While there, they also must stop Clary's half-demon brother Jonathan (Luke Baines), who is working with evil forces to destroy the Shadow World. Clary knows that she is the only one who can stop him, and so even with the possibility that she might lose her life as a Shadowhunter if she goes after Jonathan, Clary does it anyway, destroying her brother and saving the Shadow World. 
Despite the success of her mission, Clary is turned into a human and forced out of the Shadow World, with her memories of the last few years with Jace and the others gone. In the final scene of "Shadowhunters," Clary is at an art show, having finally become the painter she always dreamed of being, when she spots a handsome young man with strange tattoos on his neck — Jace. Could this be her reintroduction to the world of Shadowhunters? Well, it's up to your interpretation. 
All the endgame couples get together... sort of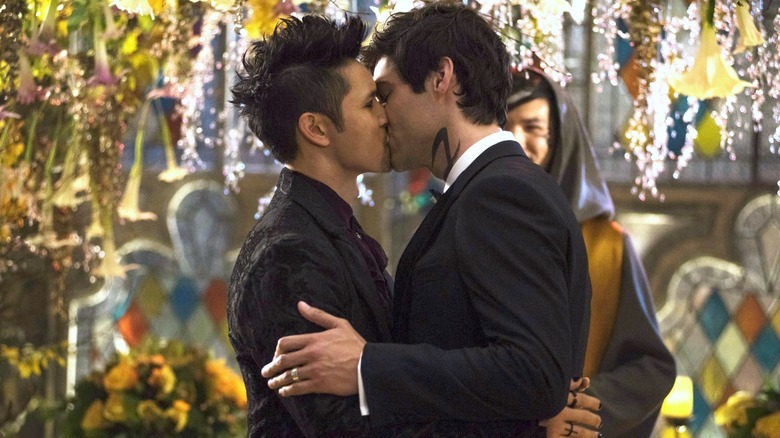 Freeform
Some fans were obviously disappointed with the ending of Jace and Clary's story and thought that the rest of the two-part finale felt a little rushed. But even so, the series does a good job of finally bringing together a few key relationships that are fan-favorites in both the TV show and the book series. This includes Magnus and Alec, whose upcoming wedding is put on hold when Magnus becomes stuck in Edom. Thankfully, the Shadowhunters successfully rescue him, and the couple finally gets married. Alec and Magnus have been together on-and-off since Season 1, going through their fair share of obstacles, but they thankfully get a happy ending. In the original book series, the couple goes on to adopt two sons named Max and Rafael. 
There's also Simon and Isabelle, who profess their feelings for one another and kiss in the finale. "Shadowhunters" showrunners Darren Swimmer and Todd Slavkin told Entertainment Weekly that they "were patiently building to this relationship that was going to have a lot of depth and go on for seasons," but the cancellation changed their plans. Two other minor characters, Helen Blackthorn (Sydney Meyer) and Aline Penhallow (Jacky Lai), are Shadowhunters who start dating on the show, and they appear to be talking about marriage in the finale. The couple is another fan-favorite from the books, and their storyline features more in the sequel trilogy, "The Dark Artifices."
There are a few big differences from the books to the TV series ending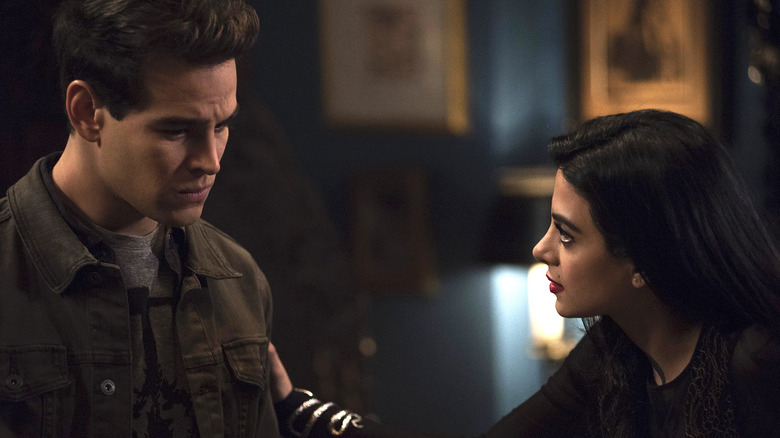 Freeform
A lot of the changes from book to television show actually relate to Simon. Turned into a vampire in Season 1, Simon is the awkward, sweet best friend of Clary who discovers that he is a Daylighter — a vampire who can walk in the sun without getting hurt — after drinking Jace's angelic blood. In the original novels, it's actually Simon, not Clary, who turns human and loses all of his memories. Like with Clary and Jace, Simon eventually reconnects with the group and is able to train and become a real Shadowhunter. It's a bit of a shame that Simon doesn't get this opportunity in the show, while instead another Downworlder named Luke (Isaiah Mustafa) takes a serum and turns back into a Shadowhunter. Even the vampire Raphael (David Castro) gets to become human in the finale, so what gives?
Another major difference is that the original "The Mortal Instruments" book series ends with Luke and a not-so-dead Jocelyn (Maxim Roy), Clary's mother, getting married. The "Shadowhunters" series made a bold choice early on in Season 2 to have Jocelyn die from a demon attack, while the character is still very much alive in the ongoing original book series. Luke stays a werewolf and the two live their lives separate from the Shadow World, although they help out in special circumstances when they are needed. As for the rest of the "Shadowhunters" finale, there are further differences here and there, like Isabelle leading the New York Institute instead of Jace and Clary, but they are minimal, less noticeable changes.  
What could've happened in a Shadowhunters Season 4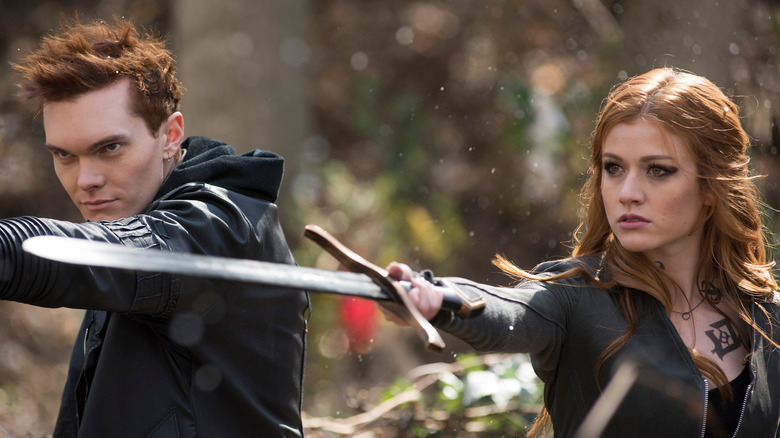 Freeform
The "Shadowhunters" showrunners and cast have discussed in various interviews what might've happened to the crew if the show wasn't cancelled by Freeform. Speaking with EW again, Swimmer and Slavkin revealed that they truly didn't see the cancellation coming, and that they planned to cover more of the book series in later seasons. Looking at more specific storylines, they stated that Helen and Aline's romance would be a bigger focus in Season 4, while they would've also introduced the characters of "The Dark Artifices" series, Helen's many Blackthorn siblings and Emma Carstairs who live at the Los Angeles Institute. Magnus and Alec's wedding was originally going to be more drawn out, while Alec's former fiancée Lydia (Stephanie Bennett) would've made an appearance. They tried to get her for the finale, but the actress's scheduling didn't work out. 
The story of Edom, Lilith, and Jonathan was also supposed to take longer, which makes sense as Jonathan is the main antagonist for Clary, Jace, and the others throughout all of the "The Mortal Instruments" books. The showrunners stated that the "relationship between Jonathan and the Seelie Queen was going to be a season ... [and Jonathan's] metamorphosis was going to take more time." But because of the time crunch, Jonathan kills the Seelie Queen in the finale before finally meeting his end at Clary's hands. As for the unclear ending for Clary and Jace? Fans should be happy to hear that their story would've been far from over, with the showrunners commenting that since "she can see those runes, welcome to the Shadow World and here we go again."