Why Motherland: Fort Salem Is So Important To Fans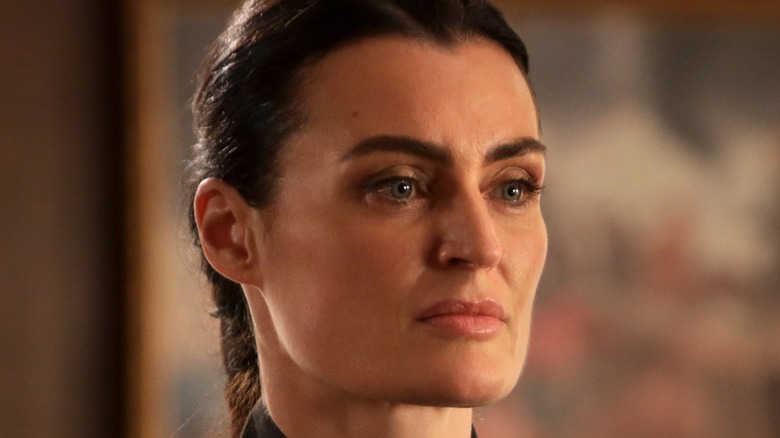 Freeform/Jeff Petry
"Motherland: Fort Salem" is not a show about your typical witches. Though the Freeform series demonstrates magical powers such as Necromancy and Scrying, the witches of "Fort Salem" are rooted deeply in American history. The series depicts a different reality after the Salem Witch Trials of the 1600s. Instead of mass executions, the original witch Sarah Alder (Lyne Renee) makes a deal with the American government. If the witches are spared, they will join the military and fight battles for their country.
Flash forward to the present day and that is exactly what happens. Raelle (Taylor Hickson), Tally (Jessica Sutton), and Abigail (Ashley Nicole Williams) are all witches in the same unit. They use their connection to one another and witchcraft to fight the terrifying terrorist organization The Spree, among many other foes. Unfortunately after 3 seasons, "Fort Salem" will be ending and many fans are sad to see it go. The representation of sisterhood with fascinating storylines connected with a lot of viewers. But there is one other reason why the series meant so much to so many people.
The queer romance is top notch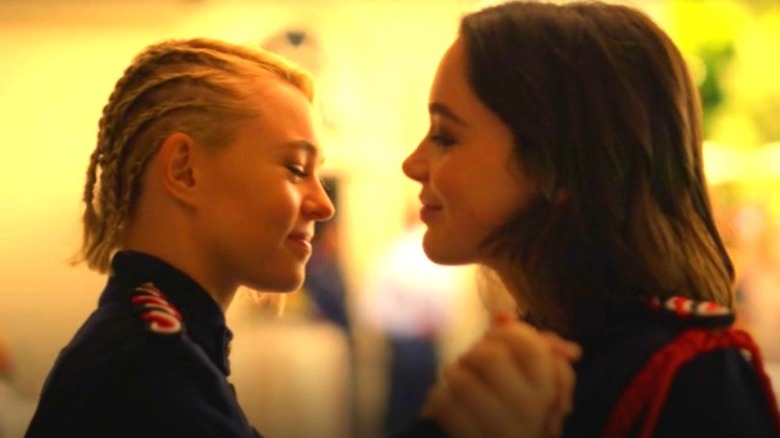 Freeform/Hulu
For many fans, "Motherland: Fort Salem" is the answer to years of feeling underrepresented. Audience members on Reddit have struggled to feel seen as LGBTQ+ viewers. "Where was 'our' speculative fiction? Where were the queer people?," asked Redditor u/Dqxtincttt. They go on to say that "Fort Salem" fits the bill. "Well, years later...Here. It. Is. The production quality is amazing. The acting is fantastic. The queer romance is juicy and complex and imperfect."
One of the most important examples of this representation is the relationship between Raelle and Scylla (Amalia Holm). Not only are they a queer couple, but have a compelling and at times devastating love story. Other fans were shocked about how they had missed out on a groundbreaking series. "How did I miss this show??!!" posted u/Fakheera. "I'm queer, into supernatural shows, sci-fi and dystopian futures, and this show is giving aaaall the good vibes."
The relationship feels real for specific reasons. Raelle's queerness is shown in a matter-of-fact way, the same way that heteronormative couples are demonstrated. She doesn't have a coming-out storyline or be hazed for being herself. Instead, her relationship trials start when she learns that her girlfriend is part of a terrorist organization. Scylla is tasked with infiltrating Fort Salem and uses her relationship with Raelle to do it. But the most dramatic aspect of the dynamic is when Scylla falls for Raelle in earnest. This relationship is given the respect it deserves.
Season 2 features a non-binary character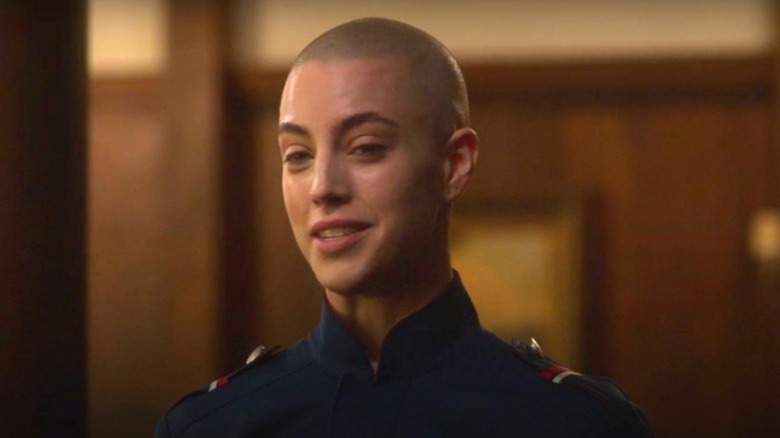 Freeform/Hulu
Non-binary roles in entertainment have been few and far between. Redditors were ecstatic to discover that new addition to Season 2, M (Ess Hodlmoser), was confirmed to be a non-binary character. "M. is non-binary character played by non-binary actor Ess Hödlmoser in Motherland Fort Salem. (They/Them pronouns). Representation Matters," posted u/TNGJ. M first appears as a coven leader at War College. This is important to the fandom to see a non-binary character who is well developed. "I adore M, what a total badass and super interesting character in general," posted u/CandyNJ.
Some fans even noted how the non-binary aspect of the character inspired some design choices on the show. "Ess had a post on insta about how much thought the costume designers put into making their uniform represent non-binary identity," noted u/Zaliika. These details make a big impact on fans for being able to see their experience, especially on a network geared towards a younger audience. The idea of representation is reinforced by creator Eliot Laurence who uses the ideas of witches to tell a personal story. He is queer himself and had always been intrigued by the idea (via Entertainment Weekly). Eliot identifies as a feminist and this perspective is essential to this story. The showrunner made a series that means something to people and creates a special experience.