When Does Every Episode Of Ms. Marvel Air?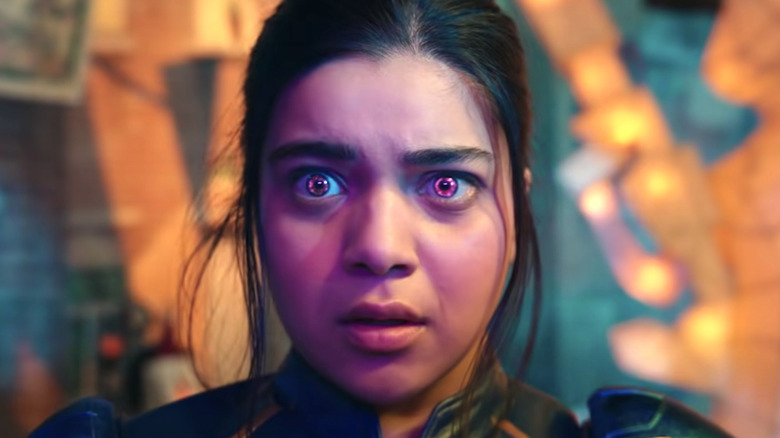 Marvel Studios/Disney+
You've probably heard by now, but there's yet another new hero making waves in the Marvel Cinematic Universe. Her name is Kamala Khan, and though she boasts some of the same powers as her idol, Captain Marvel (Brie Larson), she's unlike any hero the MCU has seen. That's largely because Kamala is Marvel Studios' first Muslim superhero (via BBC News), a fact that makes the latest Disney+ streaming series as culturally significant as it is unabashedly entertaining.
That series is, of course, "Ms. Marvel," which finds newcomer Iman Vellani portraying the teenage Kamala — a superhero-worshipping, fan fiction-writing high schooler who unexpectedly powers up to become the titular super. That power-up understandably complicates her already tricky day-to-day life as a Muslim teen in New Jersey. It also puts her on the path to teaming up with some of Earth's mightiest heroes, including her aforementioned idol, in "The Marvels."
We're still a way off from that team-up, however, since "Ms. Marvel" has only just begun its streaming run. And if you want to check the series out for yourself, here's when you can catch fresh episodes on Disney+.
New episodes of Ms. Marvel will be hitting Disney+ on a weekly basis
First off, you should know that the first episode of "Ms. Marvel" actually hit the platform last Wednesday, June 8. You should also know that the inaugural season of "Ms. Marvel" will span a mere six episodes (via GamesRadar+), so the show's season finale is already very much on the horizon.
As it is, that Wednesday premiere likely jammed up some viewing schedules since the debut of "Ms. Marvel" indeed arrived the same day as a fresh episode of "Obi-Wan Kenobi." With the Jedi Master's streaming adventure still unfolding, it seems that fans of both "Star Wars" and Marvel will be doubling up on the fun for a couple more weeks since new episodes of "Ms. Marvel" will continue to drop on Wednesdays.
Now, if you want to avoid watching back-to-back episodes of "Ms. Marvel" and "Obi-Wan Kenobi" every Wednesday night through the latter show's June 22 finale, you do have at least one viable option. That option may cost you a few hours of sleep, however, since it involves either staying up past midnight if you're on the West Coast or waking up at 5 a.m. if you're on the East Coast for the next couple of Wednesdays to watch either of the shows the second they go live on the platform. That sacrifice may prove too much for many, but some heroic fans will almost certainly find it one worth making.