Ms. Marvel's Iman Vellani Dishes On Her Hilarious First Time In The Iconic Costume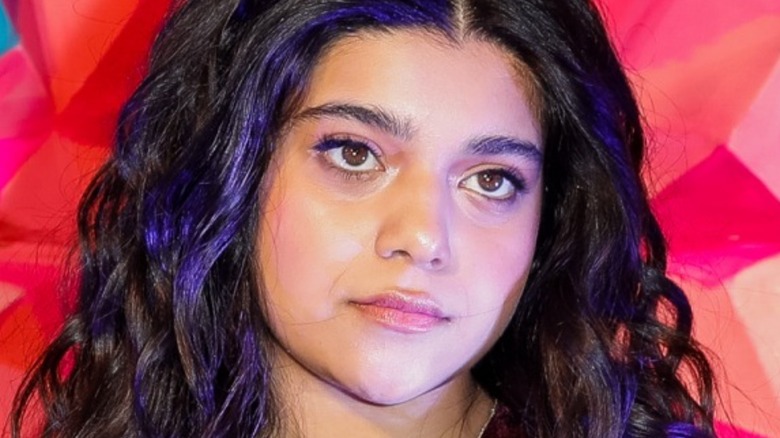 Tristan Fewings/Getty
Just like the actual universe, the Marvel Cinematic Universe is always expanding, both in film and on television. This year has already seen the release of the Oscar Isaac-led TV series "Moon Knight" and the Benedict Cumberbatch vehicle "Doctor Strange in the Multiverse of Madness." Up next on the schedule is another Disney+ series, "Ms. Marvel."
Unlike many other recent MCU characters who have long and elaborate backstories, Ms. Marvel is a relatively new addition to the canon. She made her Marvel Comics debut in 2013 and got her own standalone comic book series the following year. The TV series will star newcomer Iman Villani as the eponymous Ms. Marvel, who's quite a bit different than a typical Marvel superhero. Sure, she's the first ever Muslim-American superhero, but she's also Kamala Khan, a nerdy teenager from New Jersey who writes superhero fanfiction before discovering her superpowers. She even takes her name from one of the superhero aliases once used by Carol Danvers/Captain Marvel in the comics. Based on the trailer released back in March, the first season of "Ms. Marvel" will focus on Kamala discovering her inborn super powers, which are powered by a pair of cosmic bracelets that are likely inspired by the Nega Bands worn by some versions of Captain Marvel (via YouTube).
It's obviously a huge role for Villani. At today's "Ms. Marvel" reveal press conference, which Looper attended, she talked about what it was like to wear the iconic blue and red costume on set for the first time.
Donning the Ms. Marvel costume made it feel even more real for Iman Villani
"We did the first fitting in my trailer," Villani explained. "The lightning bolt was even made out of a piece of paper. We were cutting it while it was on my body, stapling it, stitching it while it was on me. So many people were in my trailer. Everyone wanted to see what was happening."
For those not lucky enough to be in Villani's trailer, the reveal had to wait until she made it to the set. To get there, she had to don a disguise. "I walked to set and I had my Sith Lord cape, and no one could see what was underneath," Villani said.
Villani also noted that Ms. Marvel wears one of the first dresses in the MCU, which "comes with its own set of problems." One challenge was figuring out how to make it not ride up on her whenever she moved.
While discussing the costume, ​​Marvel's Director of Content and Character development, Sana Amanat, explained what went into the design.
"What was really fun about this was adapting the comic book design into something that felt like a super suit, that felt very Marvel but still authentic to what the comic did and to her heritage," Amanat explained. "If you look at the detailing, there's a lot of cool textures in it that [costume designer Arjun Bhasin] incorporated that feel very South Asian in a very subtle way, and yet have that texture and weaving that superhero suits have. It's kind of wild. I think it's the first costume we've done in house."
You can check out Ms. Marvel's costume yourself when the show premieres on Disney+ on June 8, 2022.