Bruce Campbell Reacts To Love For Pizza Poppa In Doctor Strange In The Multiverse Of Madness - Exclusive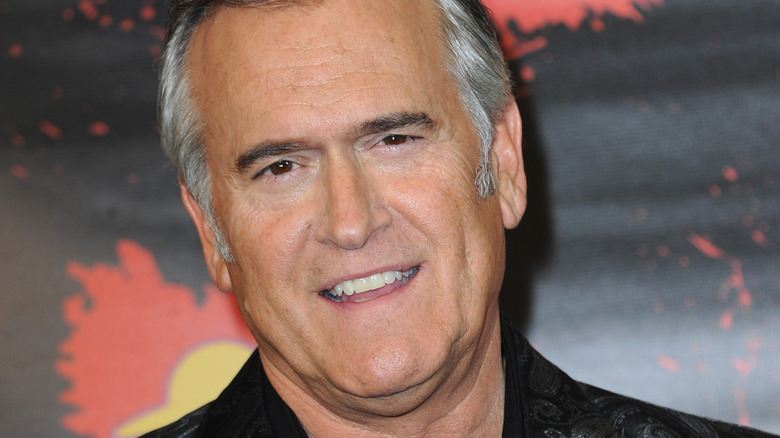 Albert L. Ortega/Getty Images
There's no question that one of the most memorable characters in the new Marvel Cinematic Universe chapter, "Doctor Strange in the Multiverse of Madness," is Pizza Poppa, a testy, wiseass street food vendor whom Dr. Stephen Strange (Benedict Cumberbatch) and America Chavez (Xochitl Gomez) encounter in the alternative universe metropolis of New York City, Earth-838.
For the role, director Sam Raimi enlisted the unique talents of his longtime friend and colleague Bruce Campbell, with a history together that dates back to their high school days in Michigan. Along with another Michigan friend, Rob Tapert, Raimi and Campbell created the 1981 horror film classic, "The Evil Dead," which spawned two sequels, the TV series "Ash vs. Evil Dead," and the new video game "Evil Dead: The Game."
However, Raimi and Campbell's collaborations aren't limited to the "Evil Dead" saga. Over the years, Campbell has made cameo appearances in several of Raimi's other films, including "Darkman," "Oz the Great and Powerful," and the director's original "Spider-Man" trilogy. And while Campbell's turns in each of Raimi's films are brief, they're always memorable; and the beloved actor's appearance as Pizza Poppa in the new "Doctor Strange" film is no different.
Pizza Poppa's punches mirror a classic scene in 'Evil Dead II'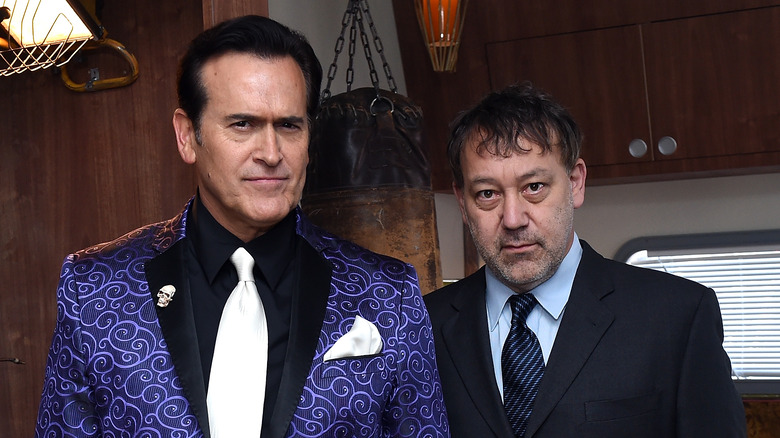 Nicholas Hunt/Getty Images
"Doctor Strange in the Multiverse of Madness" is unique for an MCU film in that it blends Raimi's superhero storytelling sensibilities with the sort of creative horror filmmaking that's most reminiscent of the director's iconic horror comedy "Evil Dead II." As such, "The Multiverse of the Madness" is populated with the sort of otherworldly demons you'd find in the "Evil Dead" universe, but perhaps more importantly, it includes a healthy dose of madcap, Three Stooges-inspired humor.
Oftentimes, that means Campbell is the recipient of the physical punishment his director friend dishes out. So, for "Evil Dead II," Raimi had Campbell's legendary character Ash Williams relentlessly punch himself out after his right hand becomes possessed by a demonic force. There's a bit of possession going on in "The Multiverse of Madness," too, as Dr. Strange casts a spell on Pizza Poppa to continually punch himself in the face as payback for his obnoxious behavior.
In an exclusive email interview with Looper, Campbell said that he knows he can't escape a Raimi role without taking his share of good-natured torture from the director, and added, "He knows what matters." Still, as one of Raimi's oldest friends, Campbell knows such slapstick scenes mean a lot to their fan base — which is important to the revered showbiz duo.
"Look, fans always like little zingers like that," Campbell said. "Sam and I have had a long history, and fans seem to appreciate that. Fans are cool like that."
A 'Classic' reunion
While there are homages to the "Evil Dead" saga featured throughout "The Multiverse of Madness," sharp-eyed Raimi and Campbell fans might have noticed that a major piece of the duo's screen history turned up in the new film, too. It's the director's trusty car, a 1973 Oldsmobile Delta 88 — AKA "The Classic" — that makes a cameo appearance in "The Multiverse of Madness," much like it does in Raimi's other films. Campbell, of course, has driven "The Classic" quite often, starting with "The Evil Dead" and continuing through "Evil Dead II," "Army of Darkness," and all three seasons of "Ash vs. Evil Dead" from 2015 to 2018.
"I hate that piece of s**t, but Sam makes sure to put it in every film he makes," Campbell quipped. "It's become inextricably linked with his legacy. I maintain that something special must have happened in that car — maybe in the back seat."
Also featuring the voices of "Ash vs. Evil Dead" stars Dana DeLorenzo and Ray Santiago, "Evil Dead: The Game" is new in stores and online from Boss Team Games and Saber Interactive.