Seth Rogen, Charlize Theron Comedy Flarsky Gets 2019 Release Date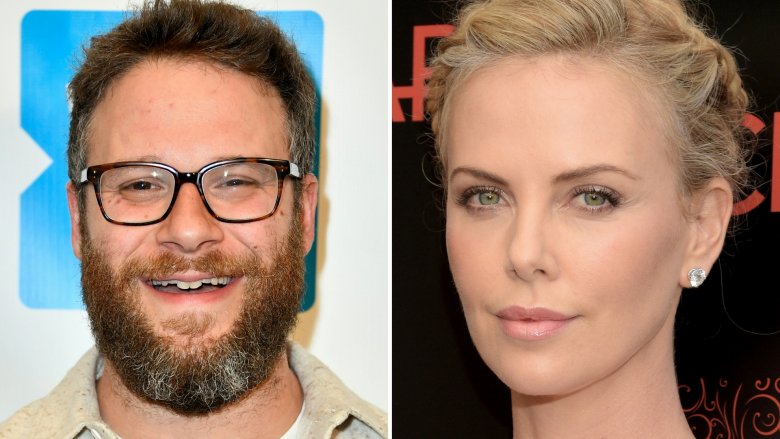 Getty Images
Seth Rogen and Charlize Theron are going to hit the big screen again in 2019. According to The Hollywood Reporter, Lionsgate and Summit have set a Feb. 8, 2019 release date for the duo's upcoming comedy Flarsky. The film's new release date puts it up against The LEGO Movie 2 and Sony's superhero flick Silver and Black.
The film stars Rogen as an out of work journalist named Fred Flarsky who, constantly dealing with his own bad luck and self-destructive ways, decides that he's going to finally go after his former childhood babysitter (and crush), played by Theron. The only problem? She has since become one of the most powerful and unattainable women in the world. The film is set to be directed by Warm Bodies' Jonathan Levine based on a Black List script by Dan Sterling (The Interview).
Rogen has a lot of projects set up both in front of and behind the camera. They include the Hulu sci-fi series Future Man, which he executive produces, and a Damon Wayans Jr.- starring artificial intelligence comedy for FX. Rogen is also working with the Lonely Island on a movie about a musical festival gone wrong (think Frye Festival), and he has roles in James Franco's upcoming Room biopic The Disaster Artist and in Disney's live-action The Lion King remake.
Theron, meanwhile, is set to make a guest appearance on Seth MacFarlane's Star Trek parody series The Orville. Her upcoming film roles include a part in the dark comedy Gringo, also starring David Oyelowo and Amanda Seyfried, and the title role in the comedy Tully, in which Theron plays a mother of three who forms a unique bond with her night nanny. Theron is also set to executive produce the upcoming Netflix drama Mindhunter.
Rogen is set to produce Flarsky alongside Evan Goldberg and James Weaver of Point Grey, with Alex McAtee overseeing. Theron will also produce through Denver and Delilah, alongside Beth Kono and A.J. Dix. Sterling will be an executive producer through Good Universe alongside Nathan Kahane and Joe Drake, while Erin Westerman will oversee for the company.
Production on Flarsky is set to begin in the fall.