Seth Rogen, The Lonely Island Making Music Festival Disaster Movie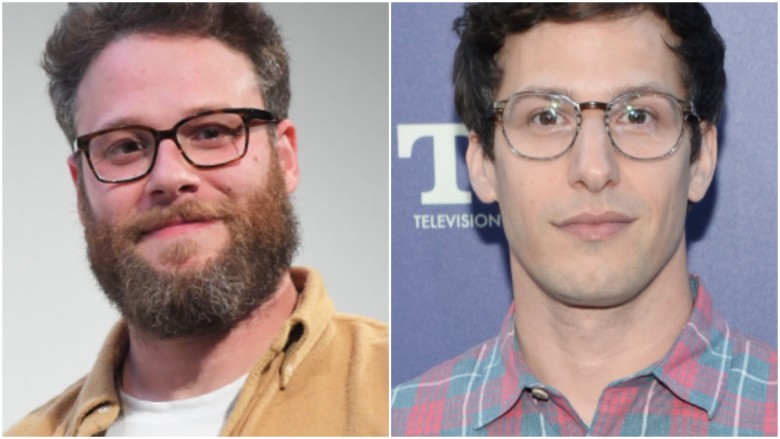 Getty Images
Funnyman Seth Rogen and comedy trio the Lonely Island are reportedly working on a film all about a music festival gone wrong.
This past week, the internet has had its eyes permanently fixed on the disastrous complications plaguing Fyre Festival, a supposed music gathering intended for the richest of the rich. Following inadequate food and water supplies, unsafe accommodations, and a lack of necessities like electricity, the festival quickly dissolved into all-out anarchy. New York Magazine even published an in-depth expose that details the extent to which the Ja Rule-backed Fyre Festival failed.
Sounds like something out of a parody film, right? Well, Rogen and the Lonely Island sure think so. Rogen recently revealed that he and the members of the Lonely Island (Brooklyn Nine-Nine star Andy Samberg, SNL alum Jorma Taccone, and comedy writer Akiva Schaffer) are currently working on a Fyre Festival-like comedy movie.
In the wake of the Fyre Festival chaos, Rogen tweeted, "This seems like a good time to mention the movie we are making with the Lonely Island about a music festival that goes horribly wrong." The Lonely Island Twitter account followed up with an expectedly tongue-in-cheek response: "For real, [we're] thinking about suing Fyre Festival for stealing our idea."
The minds behind this potential new movie are no stranger to the filmmaking process. The Lonely Island's lastest entry on the silver screen was their 2016 laugh-fest Popstar: Never Stop Never Stopping, and Rogen was recently cast as Pumbaa in Jon Favreau's live-action adaptation of The Lion King.
Further details on plot, cast members, and a release window for the collaboration have yet to be revealed. But if their comments hold the validity they appear to, fans will likely see the riotous music festival movie sometime in the near future.
As we hold out for more information, read up on the untold truth of Sausage Party, one of Rogen's recent films.