The Most Heartbreaking Scene In Ms. Marvel Episode 1 According To Fans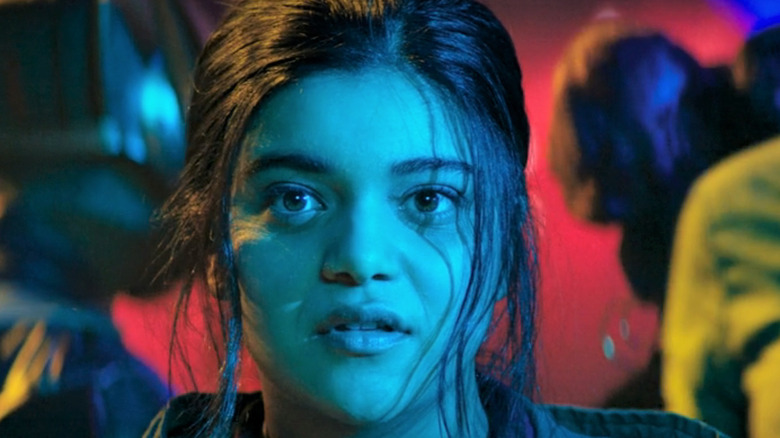 Marvel Studios/Disney+
"Ms. Marvel" is the latest young hero to blast into the Marvel Cinematic Universe, and fans are already passionately dissecting the first episode. The cosmic series stars first-time actor Iman Vellani as Kamala Khan, a Pakistani teenager from Jersey City who dreams of being a superhero, only to find out she has powers of her own.
Already, praise is being heaped upon the series for its loving depiction of Muslim families and teenage angst. Vellani has called Kamala Khan, "this Avengers-loving, fanfic-writing dork who just happens to be a Pakistani Muslim." Indeed, much of Episode 1 depicts the struggle Kamala faces as her superhero fantasies butt up against her family's traditional values. The episode centers around Kamala's obsession with attending "Avengers Con" and winning the Captain Marvel cosplay contest. Unfortunately, her parents disapprove, with her mom (Zenobia Shroff) telling her, "You're not going to dress up like all those other girls in skimpy outfits."
Ultimately, Kamala sneaks out and attends the convention anyway, unlocking her cosmic powers in the process. But amid all the conflict in the Khan family, one moment stood out to fans as the most heartbreaking of the entire episode, and they weren't shy about their disappointment.
Kamala broke her dad's heart and fans felt for him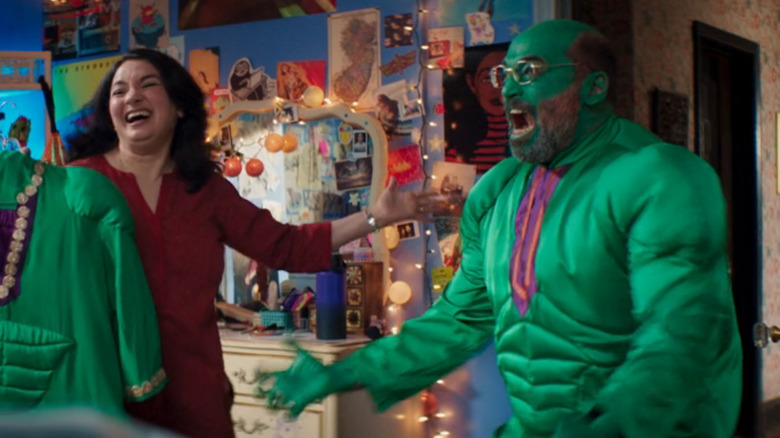 Marvel Studios/Disney+
After pleading with her parents to be allowed to go to Avengers Con, and after her brother Aamir (Saagar Shaikh) intervenes on her behalf, Kamala's mother finally agrees to let her go — on the condition that she be accompanied by her father Yusuf (Mohan Kapur). Additionally, she stipulates that Kamala must not dress as Captain Marvel, whose costume she believes to be inappropriate, but rather as the Hulk. For the occasion, she makes a Pakistani-themed Hulk costume for Kamala. Yusuf Khan also gets one, and even paints himself green to commit to the bit. However, Kamala rejects the offer, saying it would be humiliating to attend with her father and that she won't dress like the Hulk.
Her rejection upsets both parents, and even brings Yusuf to tears. Fans were equally saddened, taking to the Reddit discussion for the episode to sympathize with both Kamala and her parents alike. Many fans felt that both Kamala and her parents had valid perspectives but still felt bad at seeing her dad's enthusiasm blunted. u/ComebackShane wrote, "I felt so bad for the dad in that moment—they were trying to meet her halfway. But kids gonna kid, and no teen would want to be seen with their parent done up like that, no matter how rad it looked."
Some fans favored the parents' perspectives, even if they understood the perspective of a teenager like Kamala, with u/piebypie opining, "My heart broke for the parents. It seemed like such a cool blending of culture... But I can definitely imagine wanting to fit in and have independence." However, the most succinct comment of all came from u/bjkman, who simply wrote, "Kamala, I can't believe you talked to Dad Hulk like that!"