Why The First Episode Of Ms. Marvel Has Fans Crying Tears Of Joy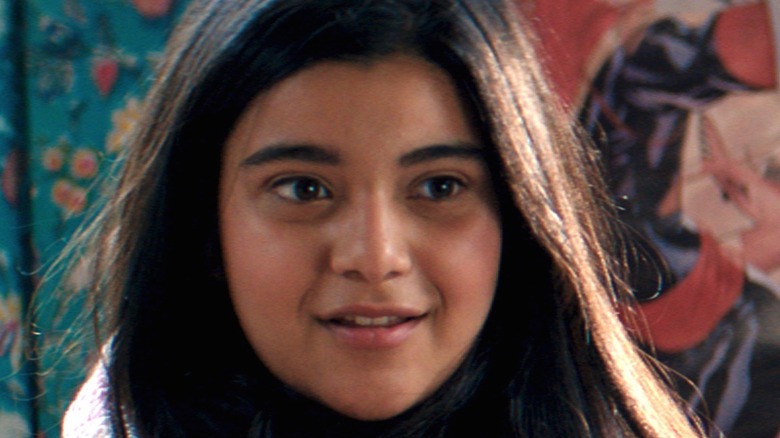 Marvel Studios/ Disney+
Kamala Khan (Iman Vellani) has to balance several aspects of her life. As a child of Pakistani immigrants, her family's culture and faith — not to mention their emphasis on tradition — are important motivators in their relationship and behaviors. These elements live in stark contrast to Kamala's daydreams and hopes for the future, which are totally dominated by her love of all things Avengers-related, and her special adoration for Captain Marvel (Brie Larson). Kamala's parents don't quite understand her superhero obsession, often admonishing her for her "head in the clouds" outlook on life.
On the very first episode of "Ms. Marvel," Kamala has her sights on AvengerCon, a convention celebrating the superhero team which has saved the world on multiple occasions. Kamala, and her best friend, Bruno Carrelli (Matt Lintz), create a cosplay costume inspired by Captain Marvel's heroics. They craft an elaborate plan to attend the fan gathering to win a Captain Marvel costume contest. When she asks her parents for permission and a ride to attend AvengerCon, her mother and father are critical, but they eventually relent and offer a compromise Kamala says is embarrassing. She reacts in typical teenager fashion, which clearly upsets her parents, and she disobeys their orders and goes anyways. In the process, she awakens a strange new superpower that seems to emanate from her heirloom bracelet.
With the groundwork clearly laid for the inevitable conflict between Kamala's family life and her emerging superhero life in Episode 1, titled "Generation Why," it's no surprise fans have not only had strong reactions but are sharing them on social media. In fact, some fans are crying tears of joy — but why?
Fans love the representation Kamala and her family bring to the MCU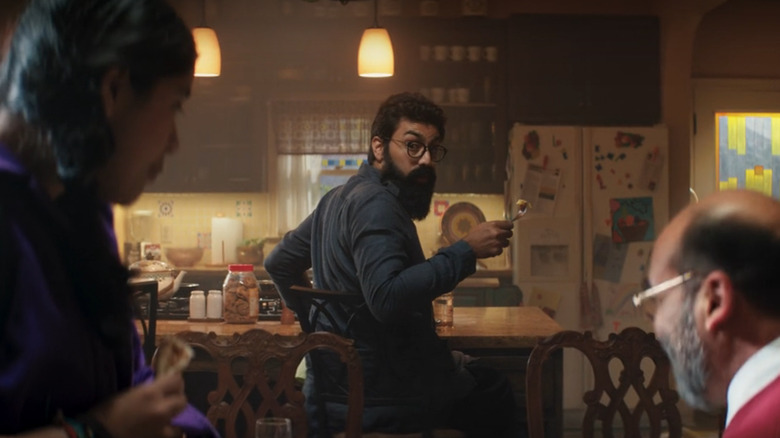 Marvel Studios/ Disney+
Initiating a conversation on Twitter, @hexxtechs posted four images of Urdu phrases from "Generation Why," and said, "As a Muslim Marvel fan, the first episode of 'Ms. Marvel' made my day" and ended the statement with a smiling face and a teardrop. Other fans were equally happy with the Muslim representation on Episode 1. User @tracopotostic replied, "As a South Asian, this was the most relatable thing from Marvel ever." Additionally, @Starignite7 responded that the way the Khans talk is exactly how their father talks, while fans like @egi_pradana, @Sahil_Dhingraaa, and @d3bew all made references to the Urdu phrases used in "Ms. Marvel."
Fans over on Reddit were also enthusiastic about the representation. Redditor u/BreadRoll4 said, "As a Pakistani, I couldn't help but rewind a bit every time they spoke Urdu because, for the first time ever, I thought, 'Oh my god, I understand this. I finally get to experience understanding a language other than English in an American show.'" U/Western-Pilot-3924 spoke about the interactions between Kamala and her family, writing, "Yup. That hit hard. I found their interactions relatable. I'm half Indian. This is exactly what Indian and Pakistani aunties are like. Gossips and household. That's all there is. The girl is a phenomenal actress." 
Fellow Reddit users u/ian_xvi, u/LeIcyFroggy, and u/Goose9719 all made similar comments regarding how "Ms. Marvel" nails the feeling of being related to or the children of immigrants and noted how great the show is shaping up to be. Needless to say, it seems as if several fans of "Ms. Marvel" are enjoying the accuracy of how an immigrant family is portrayed, as well as their cultural traditions.