Ms. Marvel Star Iman Vellani On Why It's Important That Kamala Is A Fanfic-Writing Dork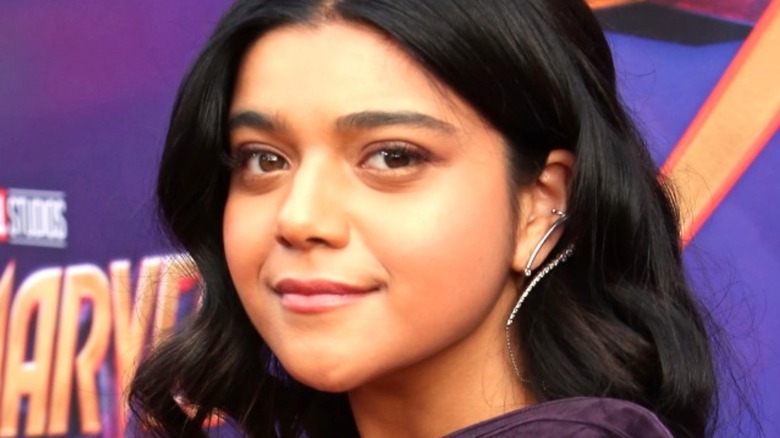 Jesse Grant/Getty
Since her introduction into the Marvel universe, Kamala Khan has broken barriers. First appearing in "Captain Marvel" Vol 7 #14 in 2013, Kamala would go on to lead her own series as the first Muslim Marvel superhero to headline a comic book. Creators Sana Amanat and G. Willow Wilson set out to create a type of superhero that did not have a history of being represented in comics before (via Elle). And it was only a matter of time before the character was brought into the Marvel Cinematic Universe. On June 8, fans will be able to see Kamala (Iman Vellani) in live-action when "Ms. Marvel" hits Disney+.
Unfortunately for diehard comic fans, it seems pretty blatant that Kamala's origins as an Inhuman are largely going to be swept under the rug. Instead, she will be activating her cosmic powers through a bangle heirloom featured in the trailer. Even though some of her backstory will be deviating from the comics, one important thing has remained the same: Kamala's passion and love for all things superheroes. Like in the comics, Kamala is seen at a convention honoring The Avengers along with many other fans. Kamala idolizes Captain Marvel (Brie Larson), which is an integral part of the character. In fact, Vellani herself spoke about how important Kamala's superhero stanning is to the character during a recent press event.
Kamala is a fan, just like us
Marvel has had the opportunity to represent high school students in films before, but never like this. Kamala Khan is a teenager out of Jersey City who loves The Avengers just as much as anyone. And Ms. Marvel herself, Iman Vellani, spoke to that concept during a press event that Looper attended. While discussing her character, Vellani was asked just what makes Kamala so special and she had the perfect answer.
"She's also a fan of every other hero within the MCU canon," Vellani explained. "That fascination and excitement is so shared with real-life Marvel fans. That's why we relate to her." Vellani went on to explain that while Kamala's religion and cultural identity are important to her, they are just one facet of her life, not her defining trait. Instead, the show focuses on how a real-life teen superhero fan would react if they got powers.
"It was just about this Avengers-loving, fanfic-writing dork who just happens to be a Pakistani Muslim," Vellani stated. Fan culture is paramount when it comes to these shows. Viewers of the series will be able to identify with Kamala because they are just like her. They are watching the show because they, too, are Marvel fans. Not only is it relatable, but it strikes at the heart of what Kamala is all about.