Colin Trevorrow Has A Brutally Honest Take On The Viability Of A Jurassic Park Reboot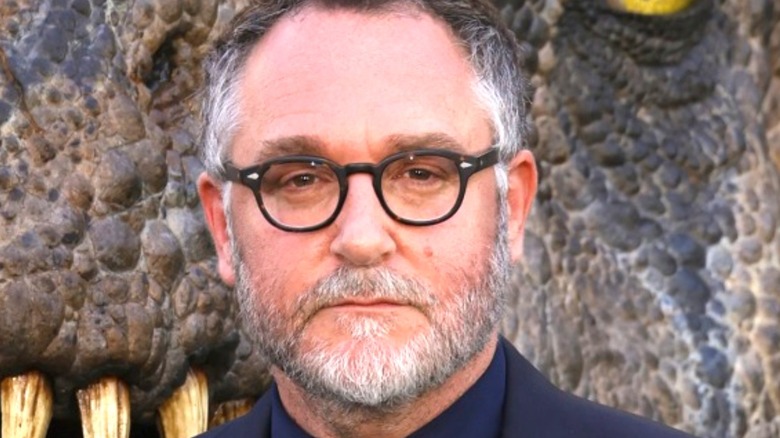 Frazer Harrison/Getty
When Universal first revived the "Jurassic Park" franchise with 2015's "Jurassic World," the legacy sequel was a massive hit, raking in $1.6 billion worldwide (via Box Office Mojo) and securing the future for two sequels. 2018's "Jurassic World: Fallen Kingdom" didn't quite live up to expectations, earning itself a disappointing 47% critic rating on Rotten Tomatoes — which is far from the praise that's often lavished on Steven Spielberg's original 1993 movie. But "Jurassic World Dominion" is set to end the new trilogy with a brand new dynamic with the dinosaurs. Thanks to the ending of "Fallen Kingdom," the prehistoric beings are roaming free across the world.
This time though, Sam Neill, Laura Dern, and Jeff Goldblum are all reprising their roles from the "Jurassic Park" trilogy, and the trailers for the sequel reveal them working with Owen Grady (Chris Pratt), Claire Dearing (Bryce Dallas Howard), and Maisie Lockwood (Isabella Sermon). Unsurprisingly, critics are already divided on whether the film is the worst in the franchise or an inventive approach to the typical formula of dinosaur chaos. Fans will just have to go see it for themselves to find out which camp they're in.
But since this is the last film in the "Jurassic World" trilogy, many are already wondering what's next for the franchise. Will Universal work on more sequels? Or should the studio simply reboot the property and start from scratch? Well, "Dominion" director Colin Trevorrow has a brutally honest take on the idea of a reboot.
Colin Trevorrow would weep for anyone trying to reboot Jurassic Park
Because of the global love for the "Jurassic Park" franchise as a whole, it seems like a safe bet that Universal isn't going to just let the series come to a halt with 2022's "Dominion." But for the moment, it's not clear what direction the studio is going to go in. When speaking to Collider ahead of the new movie's release, Colin Trevorrow explained that he doesn't think a reboot is a good idea for one very specific reason.
"One of the challenges of this franchise is that to reboot it, you have to remake 'Jurassic Park,'" Trevorrow said. "And I weep for whoever takes that on, because that is one of the greatest movies ever made." Choosing to remake the work of an Academy Award winner would be no easy task — that's not to say it can't be done, but it would be incredibly difficult. Of course, a complete and total reset of the franchise would also seem likely to prompt an uproar among the most devoted "Jurassic" fans.
Instead, Trevorrow thinks Universal should expand the franchise in new ways. "And so I think in a lot of ways, our only choice is to move forward and to expand," Trevorrow said. "Because going back there and redoing Spielberg and Crichton, best of luck." Now that the dinosaurs are well and truly out in the open, it certainly seems like fertile ground for smaller stories set within the universe. 
Maybe Trevorrow should pitch an anthology series of movies similar to his short film, "Battle at Big Rock." The 8-minute short focuses on a single family facing off against an Allosaurus, proving that small-scale stories work well in the "Jurassic World" universe.