Are The Obi-Wan Kenobi Character Posters Signaling A Major Plot Twist?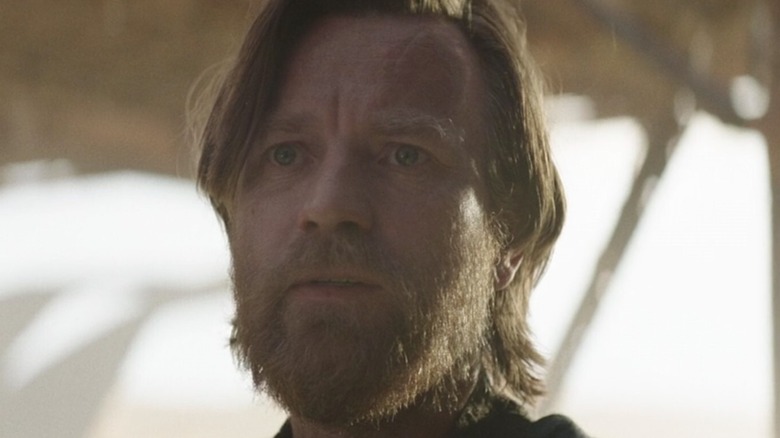 Lucasfilm/Disney+
The Disney+ "Obi-Wan Kenobi" series is currently in full swing, with the fourth episode of the "Star Wars" spin-off saga set to premiere on Wednesday, June 8. On "Part III," viewers were given the Darth Vader (Hayden Christensen) and Obi-Wan (Ewan McGregor) face-off they had long been hoping for following months of trailers and video teases. And, as expected, things didn't go so smoothly between the two after a decade apart. As "Obi-Wan Kenobi" winds down over the next few weeks, fans will be looking for any signs of a twist or plot turn that could alter the fates of the former Jedi Master and his former Padawan, as they seem destined to clash yet again at some point. It seems some fans may have already found a viable lead.
Over on Twitter, the official account for "Obi-Wan Kenobi" has been tweeting out content related to the show and its characters, including Obi-Wan, Vader, the Grand Inquisitor (Rupert Friend), Third Sister Reva (Moses Ingram), Fifth Brother (Sung Kang), and even some droids that have appeared. For the series premiere, the account gave fans the chance to unlock five lightsaber posters related to these major role players. The poster for Reva's lightsaber wound up revealing a possible character arc (or transformation) for the Imperial Inquisitor, with her actual name being used instead of her Inquisitorius title like the others (via The Direct). 
Now, another "Obi-Wan Kenobi" poster has been released for Reva that hints at a major plot twist involving her and the show's two main characters. 
Reva has Darth Vader in her sights in a new character poster
It's a detail that may be small, but "Star Wars" fans can't stop talking about it. "Kudos to the person who first noticed that it's Vader (and NOT Obi-Wan) in the eye of Reva's poster," wrote Twitter user @BlueMilkMama in a tweet that's been liked over 13,000 times at the time of reporting. The poster in question features the face of Moses Ingram's Reva character, with it being half-obscured by a silhouette of Tatooine's twin suns and Darth Vader (via Star Wars). The other Inquisitors, meanwhile, have the suns and the figure of Obi-Wan in their sights. Elsewhere, the "Obi-Wan Kenobi" account tweeted, "I am what you made me," along with the character posters. It would seem that, despite her persistence in trying to catch the elusive Jedi Master, Reva is more focused on Darth Vader — but to what end? Could she turn against the Empire before the end of the show?
Fan theories about Reva and her ultimate intentions have been swirling since her debut as the new "Star Wars" character. With very little known about her past, many have been looking to social media content and Easter eggs from the show to see if anything points to a possible origin story. One major theory is that Reva is a former Jedi Padawan who got displaced during Order 66 and is holding a lifelong grudge against Vader for what he did that day at the Jedi temple. The most recent "Obi-Wan Kenobi" poster and its "I am what you made me" line suggests that Vader is responsible for Reva's life being turned upside down. "I'm guessing she wants revenge for what happened," tweeted @GibsonGH, continuing, "Obi-Wan is just a means to getting closer to Vader."