The Ending Of Sons Of Anarchy Season 2 Explained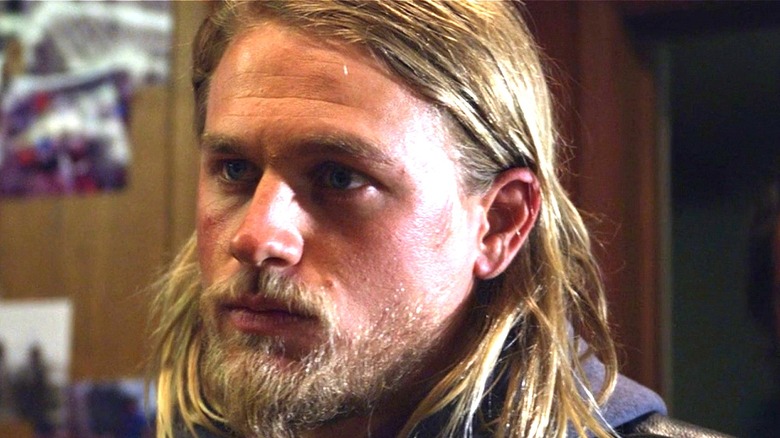 FX
Anyone who watched — or is rewatching — FX's "Sons of Anarchy" knows that the biker drama is a brutal and bloody family affair. Following the exploits of motorcycle club vice president Jax Teller (Charlie Hunnam), the series explores the cycle of violence as Jax tries to steer the club into more legitimate business practices. And for a time, that actually seems like it may be possible. Season 2 begins with Jax settling into a comfortable relationship with high school sweetheart Tara (Maggie Siff). But try as he might, Jax's life isn't smooth sailing for long. The season details the club's conflict with the League of American Nationalists and the return of ATF agent June Stahl (Ally Walker).
A larger-than-life villain in Season 1, Stahl becomes even more reprehensible the second time around. The architect behind setting up Opie (Ryan Hurst) as a rat in the first season, Stahl's methods become even more corrupt in Season 2. Her dogged pursuit of Jimmy O'Phelan (Titus Welliver) — AKA Jimmy O. — and the IRA puts her in direct opposition with SAMCRO. By the Season 2 finale, Stahl costs everything that the club holds dear, right down to the episode's final tragic moments.
Gemma tries to get closure the only way she knows how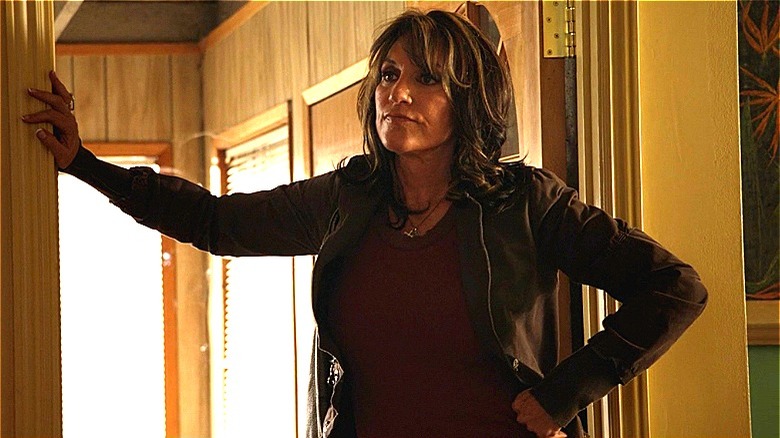 FX
"Sons of Anarchy" is nothing without the queen and matriarch of the club, Gemma (Katey Sagal). Her strength of will and devotion to her family makes her the heart and soul of SAMCRO. Unfortunately, it also makes her a target by the League of American Nationalists. One night on the road, a woman stops Gemma to tell her that her baby's choking. But instead of a baby, Gemma is lured into an attack by the gang of white supremacists. They assault her in order to send a message to SAMCRO. This traumatic event is devastating and influences events for the rest of the season.
Gemma discovers that the woman on the road was Polly (Sarah Jones), the daughter of Ethan Zobelle (Adam Arkin), who leads the League of American Nationalists. Though eventually, Gemma gets her revenge against the woman who orchestrated her attack, it comes at a cost. In the final episode, Gemma follows Polly into a house where a confrontation ensues. Gemma shoots Polly, and for a moment, she is given the closure she so desperately needed. But as satisfying as Polly's end is, the feeling is short-lived. Gemma is only one of Stahl's victims of circumstance in the final episode of the season.
If you or anyone you know has been a victim of sexual assault, help is available. Visit the Rape, Abuse & Incest National Network website or contact RAINN's National Helpline at 1-800-656-HOPE (4673).
Stahl's actions cost the Sons everything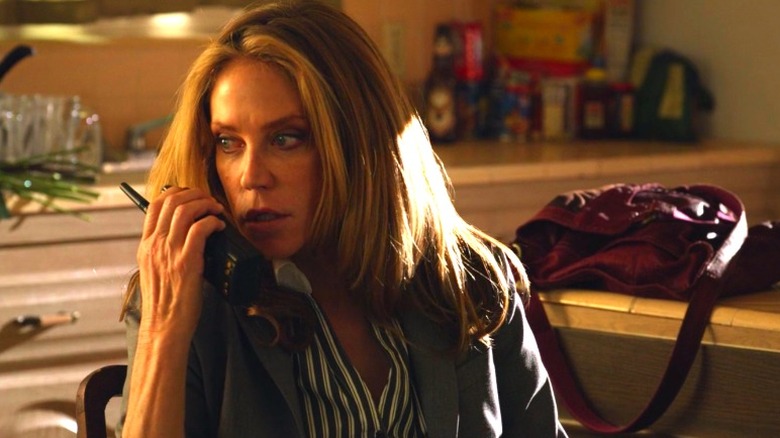 FX
True to form, Stahl continues to ruin the lives of the Sons of Anarchy with a few simple moves. Though unbeknownst to Gemma, Stahl had also been in the house when she killed Polly. The house in question belonged to Edmond Hayes (Callard Harris), a member of the True IRA. Stahl had been using him to get to True IRA leader Jimmy O. But before Gemma even gets there, Stahl kills him in a shootout. This is not only bad for her case against the True IRA but puts her in hot water for the unnecessary murder.
However, when Gemma enters the house, it is a miracle for Stahl. Gemma's additional murder fixes all of Stahl's problems for her. When she first reveals herself to Gemma, she makes it seem like she's going to let the biker queen go. Instead, she tosses Gemma the gun she killed Edmond with. With Gemma's prints on the gun, she can take the fall for Edmond as well as Polly. Stahl's tenacity and willingness to win by any means necessary allows her to literally get away with murder. Gemma goes on the lam with Wayne Unser (Dayton Callie), but that is not even the last crime Stahl commits against the Sons. Whether she knows it or not, Stahl is responsible for one of the saddest moments of the episode.
Cameron's grief results in many casualties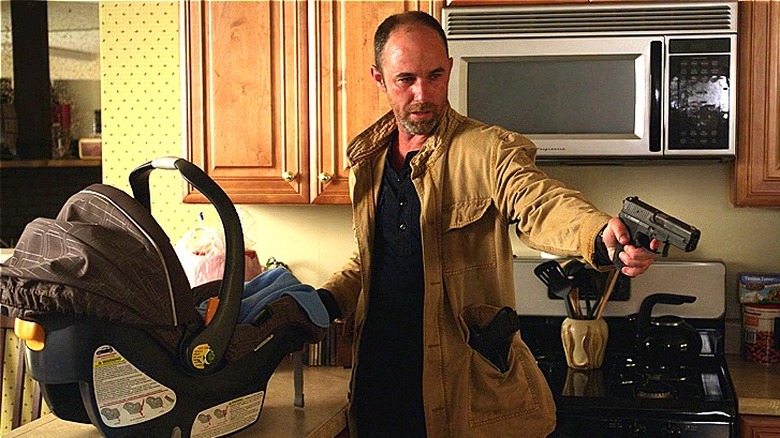 FX
Stahl's over-inflated ego is one of her main flaws. So invested in her own ends, she never realizes how her actions impact others. One of the biggest examples of this is her murder of Edmond. Although she gets away with that specific crime, it still causes waves for other people. After Stahl frames Gemma for the murder, she reports it over her radio so the authorities can pursue her. But they weren't the only ones listening. Edmond's father Cameron (Jamie McShane) also has a scanner and hears a report that Gemma is wanted for his son's murder.
Overcome with grief, he goes to Jax's house where Tara and Half-Sack (Johnny Lewis) are waiting. Wanting payment for the death of his son, Cameron almost kills Tara. But when he sees Abel, he decides that a son for a son is his payment. In a mad struggle, Half-Sack tries to stop Cameron but is stabbed in the process. In one fell swoop, Stahl decimated an entire family without even trying. Jax and the rest of the Sons embark on a hot pursuit to catch up with Cameron. But just when it seems that they are about to get Abel back, Cameron boards his boat and speeds away. If that were the only loss of the season, that would be one thing. But one more loose end is left untied.
Even the worst of the worst gets away in the end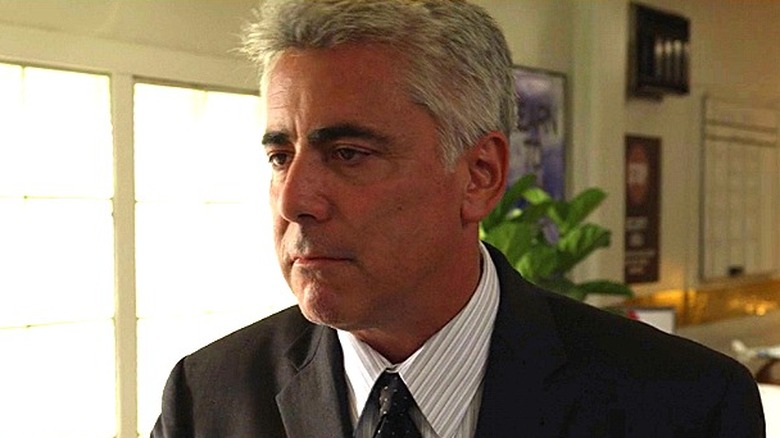 FX
After a season-long battle with the League of American Nationalists, it seems as though SAMCRO will finally come out on top. Jax dispenses with AJ Weston (Henry Rollins), one of the most hard-lined white supremacists. Polly is punished for her role in Gemma's attack. But the one person who deserves punishment is the one person who doesn't get it. From the beginning, Ethan Zobelle has used his power and influence to spread messages of hate throughout Charming.
Finally, at the end of the season, Jax and the club corner him at a deli as he tries to leave the country. Everything seems to be working in their favor. Even law and order Deputy Chief David Hale (Taylor Sheridan) turns a blind eye to Zobelle's pleas for help. But while many aspects work in the club's favor, Zobelle gets away in a twist of fate. While they have him cornered, Tara calls Jax to warn him about Gemma. While on the phone, Jax hears Cameron take Tara hostage. He knows that something is wrong and he chooses family over vengeance. 
Though Zobelle was responsible for so much pain in Season 2, he gets away with it because Jax prioritized his family when the chips were down. Even after the news of the death of Polly, he makes it to a plane and heads back to Budapest. In a season full of loss, the salt in the wound is knowing that one of the worst white supremacists gets away with it.