The Tragic Death Of Sons Of Anarchy Actor Johnny Lewis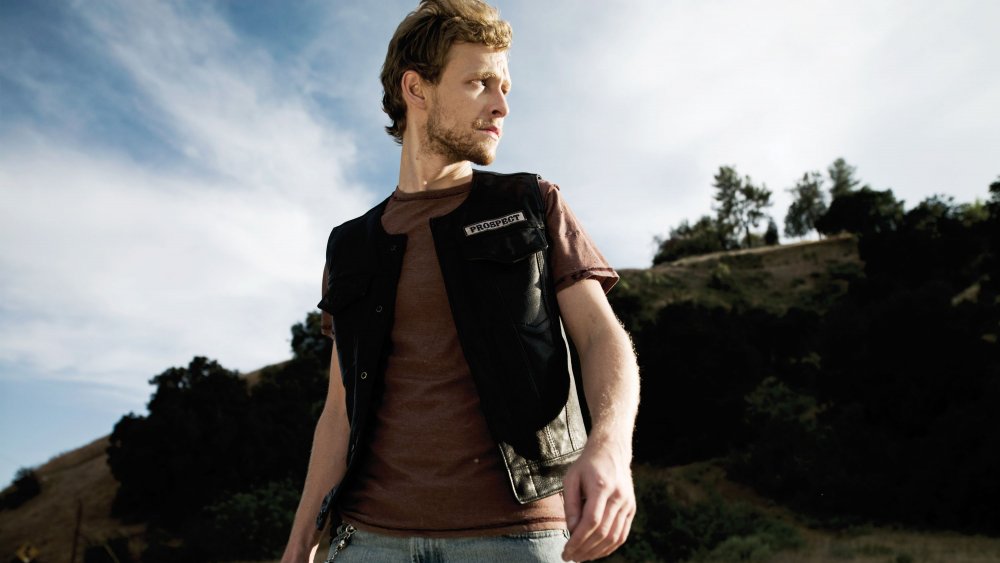 FX
FX's Sons of Anarchy has seen quite a few characters killed off throughout the show's seven seasons. Some of the victims were inconsequential, while others were passionately loved by fans. Thanks to] his comical hazing and surprising fisticuffs skills, Kip "Half-Sack" Epps, played by Johnny Lewis, fell into the latter category.
The character wasn't supposed to die like he did, but Lewis wasn't happy being on the show. At least, that's what show creator Kurt Sutter told Alan Sepinwall in a 2009 interview, stating that Lewis,"Wanted out of his contract." So, the couple talked it out and came up with a noble way for Half-Sack to bite the dust in the season 2 finale, and they absolutely nailed it. If you don't remember, Half-Sack was stabbed to death while saving a young Abel Teller from a murderous IRA member.
Lewis' was the first main character to be killed on the show, but Sutter admitted that he'd gladly "work with him again in a heartbeat." Unfortunately, he'll never get the chance. Lewis died in 2012, and his death was nothing if not tragic.
Leading up to Johnny Lewis' death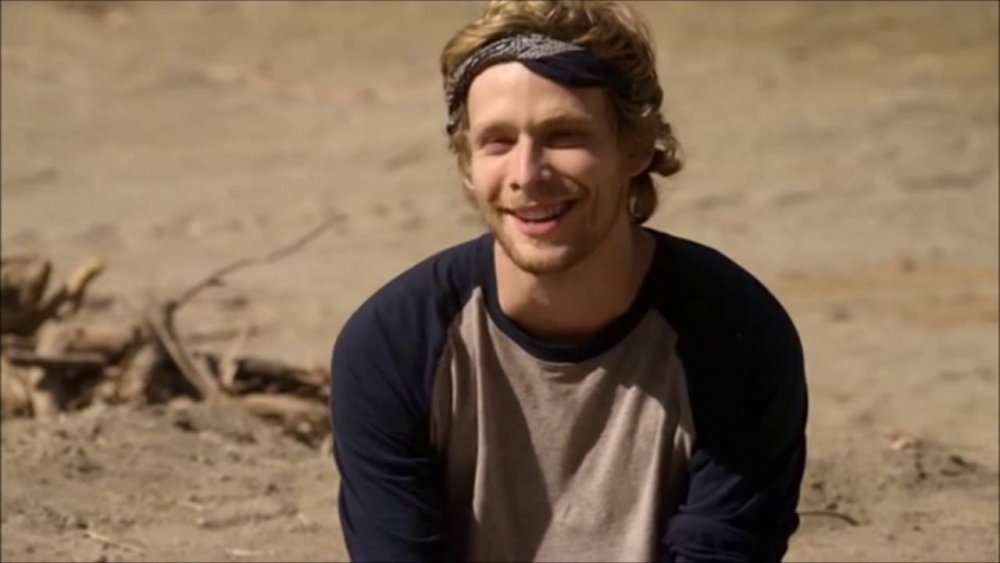 FX
The story of Johnny Lewis' death reads like an event that could've happened on Sons of Anarchy. It has all the elements: Drama, tragedy, alleged violence, and gore. Plus, it truly was an unfortunate situation. To preface the event, Lewis' attorney reported that the actor had been suffering from mental health issues that surfaced only shortly before his death, according to CBS. A probation report found by the news outlet corroborates this and claims that Lewis may have had a drug problem. "[Lewis] suffers from some form of chemical dependency, mental health issue and a lack of permanent housing," the report reads. "Given this, [Lewis] will continue to be a threat to any community he may reside." Sources also told the LA Times that Lewis may have been on a hallucinogenic drug known as "C2-1" at the time everything went down, though the autopsy would show otherwise.
It's clear that the "Half-Sack" actor was in a downward spiral the months leading up to his demise. He'd been arrested several times for various things since January of that year. Just a few days before his death, according to PEOPLE, Lewis was released from jail following a stint for burglary and assault with a deadly weapon. The actor had the majority of his sentence written off as "time served," but things weren't exactly looking up for old Half-Sack.
Johnny Lewis' tragic end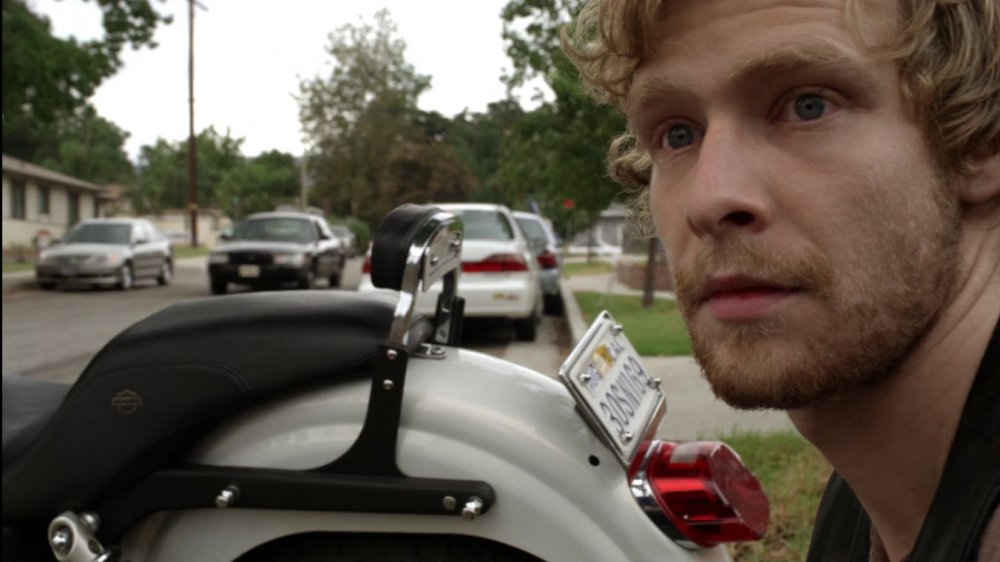 FX
On September 26, 2012, police were responding to a call they received about a woman screaming when they rolled up to Lewis' building. The officers were told by witnesses at the scene that the Sons of Anarchy actor had just fought with two men. As for Lewis, 26, he was lying dead in the driveway. The actor had apparently fallen from the top of the building to his death, according to PEOPLE.
When the police scoped out the residence, they found the body of his 81-year-old landlady inside. She'd been beaten to death. Detectives believe that it was Lewis who killed the woman, and decided not to look for another suspect. The upstairs of the building looked like it had been ripped apart. The police also found the body of a cat that had been beaten to death. The scene was just about as dark and tragic as it could get.
In response to Lewis' death, according to CBS, Sons of Anarchy show creator Kurt Sutter tweeted: "It was a tragic end for an extremely talented guy, who unfortunately had lost his way. I wish I could say that I was shocked by the events last night, but I was not. I am deeply sorry that an innocent life had to be thrown into his destructive path."