The Transformation Of Hayden Panettiere From Childhood To Nashville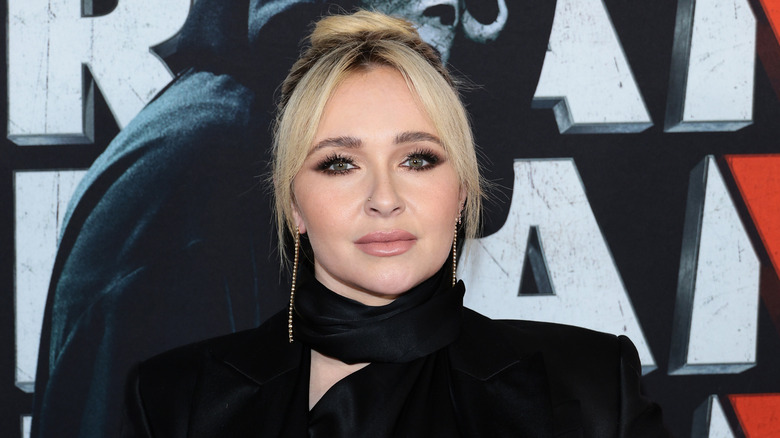 Dimitrios Kambouris/Getty Images
Born on August 21, 1989, Hayden Panettiere got her acting start early. According to her official bio, she started appearing in national commercials when she was 11 months old. Panettiere's acting chops grew along with her celebrity, and she spent much of her formative years in the public eye. In 2013, Panettiere spoke with the hosts of "BBC Breakfast" about how she managed to avoid the pitfalls of child stardom. She had this to say about her young adult years in Hollywood: "As long as you have people who are willing to tell you the truth and are not afraid to tell you the truth ... It makes a world of difference."
Thanks to her roles in "Bring It On: All or Nothing" and "Heroes," Panettiere quickly became typecast as an all-American cheerleader, but she endured her share of personal struggles in real life. E! News reports that in 2020, Panettiere was granted a restraining order against her ex-boyfriend, Brian Hickerson. She later opened up to fans on her Instagram account about Hickerson's abuse, stating that "I am coming forward with the truth about what happened to me with the hope that my story will empower others in abusive relationships to get the help they need and deserve." After a four-year break from acting, Panettiere is mounting a return. Let's take a look at some of Hayden Panettiere's achievements, both on and off-screen.
Early years on soap operas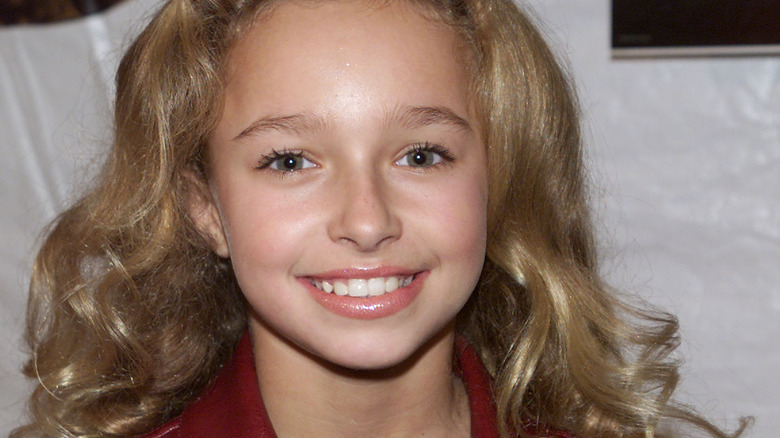 Evan Agostini/Getty Images
When Hayden Panettiere was just 5 years old, she was cast as a main character on "One Life to Live." Although Panettiere's role did not have her playing her own evil twin, she managed to exude cuteness and the doors to Hollywood swung widely open in the years that followed. Panettiere acted on "One Life to Live" from 1994 to 1997 before leaving the show to star on another soap opera, "Guiding Light."
In 2017, on "The Late Show with Stephen Colbert," Panettiere recalled her time on "Guiding Light" and the adult-like, crazy storylines involving her character, Lizzie Spaulding. According to Entertainment Weekly, Panettiere, who was 7 years old when she began her portrayal of Lizzie, told Colbert, "They threw me down a well ... I got leukemia, not once but twice. I was kidnapped ... I shot my mom's boyfriend." All that sounds like quite the heavy subject matter for an actress not yet in middle school, but Panettiere can laugh about it now. She went on to discuss how landing such a meaty part at a young age gave her confidence. 
Ally McBeal's surprise daughter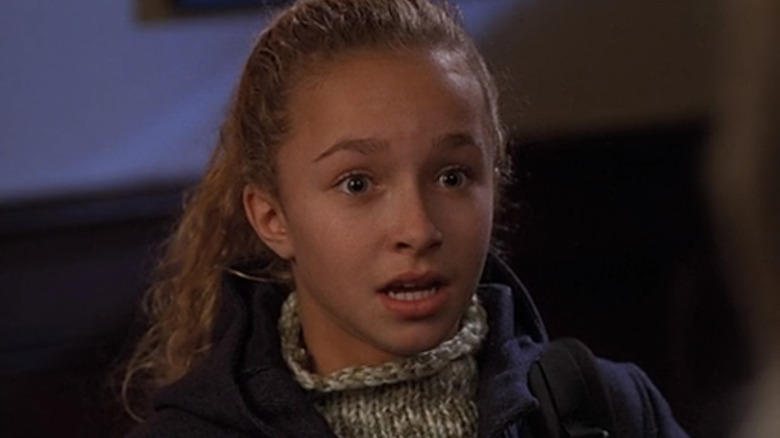 Fox/Hulu
At 12 years old, Hayden Panettiere joined the Fox TV dramedy, "Ally McBeal," a show often described as a groundbreaking pop culture darling. The series gave birth to one of the first memes of the internet – the creepy dancing baby, which is now an NFT — and inspired water cooler conversations across America. "Ally McBeal" showcases the life of a deeply neurotic but lovable Boston attorney and a diverse cast of her co-workers and friends. Starring Calista Flockhart in the title role, the show ran from 1997 to 2002 and started winning awards as early as its debut season.
For the final season of "Ally McBeal," Panettiere played Maddie Harrington, Ally's 10-year-old daughter. Maddie was conceived from eggs Ally donated to a fertility clinic and shows up on her biological mom's doorstep. Panettiere portrayed the character with a layered emotional gamut that feels authentic for a 10-year-old embarking on a new familial journey. Although "Ally McBeal" did not return for a sixth season, Panettiere's short stint on the show cemented her as a star on the rise.
A dip into animation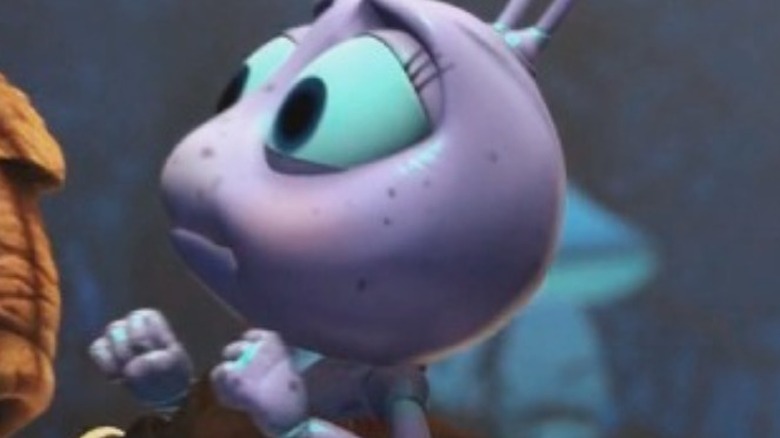 Pixar
Hayden Panettiere's first silver screen role came in the form of a small part in 1998's "The Object of My Affection" starring Jennifer Aniston and Paul Rudd. However, it was her performance in the animated film, "A Bug's Life," released later that year, that truly allowed Panettiere to shine. The second Pixar film from John Lasseter, who also helmed the ship of "Toy Story," "A Bug's Life" had high expectations to meet. "A Bug's Life" also had the misfortune of making its cinematic debut six weeks after the eerily similar "Antz." On the bright side, "A Bug's Life" performed extremely well in home video sales.
The 9-year-old Panettiere starred alongside comedy A-listers like Denis Leary, Dave Foley, and Julia Louis-Dreyfus. Panettiere voiced the character Dot, an ant princess and the youngest daughter of Louis-Dreyfuss' Atta, queen of the ant colony. Dot hero worships Foley's character, Flik, and longs to grow up due to her general annoyance with her small stature. Panettiere brought an endearing sweetness to Dot, who learns to accept and embrace herself -– quirks, smallness, and all.
Working alongside big screen titans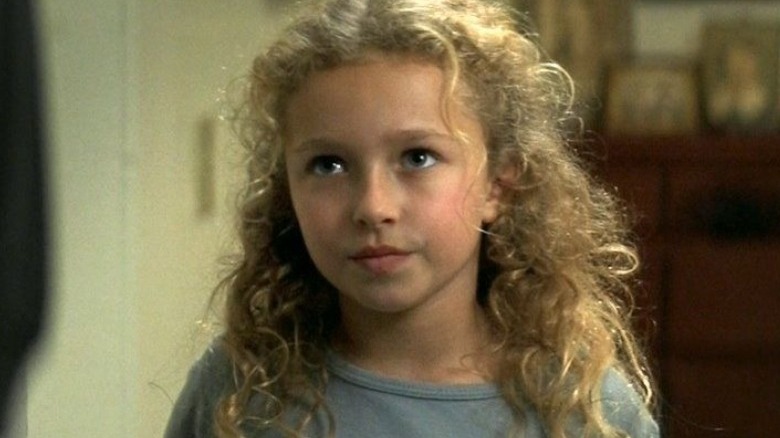 Buena Vista Pictures
Hayden Panettiere didn't have to wait long after "A Bug's Life" before landing another part in a successful film. In 2000, she was cast as Sheryl Yoast in the stellar football film, "Remember the Titans," starring Denzel Washington. Based on the true story of Herman Boone — the first Black head coach at Alexandria City High School (fka T.C. Williams High School) in Alexandria, Virginia — "Remember the Titans" deals with the deep issues plaguing the post-Jim Crow rural South of the 1970s. The inspirational tale follows a high school football team but digs far beneath the surface of normal teen genre tropes. Panettiere played the daughter of the team's former head coach, Bill Yoast, who befriends Herman after being demoted to assistant coach, much to his young daughter's initial chagrin.
Although she was only 10 when she played Sheryl Yoast, Panettiere had the chance to share the screen with teenage up-and-comers like Kate Bosworth and Ryan Gosling. Bosworth told People Magazine that she felt like a "big sister" to Panettiere while on set. As for Panettiere's thoughts on the film, in 2020 she told the Washington Post, "They used to show 'Remember the Titans' in [my] history class when they were teaching about racism. It always made me cringe to be put on the spot like that, but if I had to choose any of the movies I've been in to watch, it would be 'Remember the Titans.'"
Bringing it on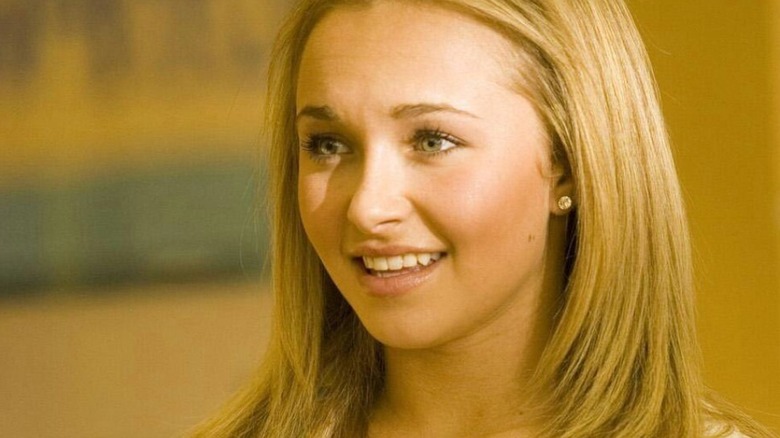 Universal Studios
Six years after "Remember the Titans," Hayden Panettiere starred in the football-adjacent movie, "Bring It On: All or Nothing" — the third cheerleader comedy in the series started by 2000's "Bring it On." In the third offering, Panettiere played the lead part of Britney Allen, a teenage girl with "it all."  In this instance, "it all" means she's a head cheerleader with a hunky star quarterback boyfriend, but everything changes when her dad loses his job. Britney has to move from her cushy all-white neighborhood to the less white and cushy Crenshaw Heights, where she must find a way to fit in and reluctantly tries out for the cheer squad.
The film isn't of award-winning caliber and received discouraging reviews, but "Bring It on: All or Nothing" proved that the 16-year-old Panettiere could carry a movie. The actress added layers to Britney — a role that certainly could have come across as one-dimensional. During her stint in the "Bring It On" franchise, Panettiere played a believable cheerleader audiences can root for, and pretty much laid a foundation for her first career-defining role. 
Saving the cheerleader and saving the world
In 2006, Hayden Panettiere returned to the small screen to play a different cheerleader — Claire Bennet on the NBC hit, "Heroes." The Tim Kring-created superhero drama turned out to be her breakthrough performance. The show centers around ordinary people who suddenly discover they possess extraordinary abilities, and — according to a mysterious prophecy — the world's fate hinges on Claire Bennet. The role allowed Panettiere to show off her acting chops, but it also thrust her into the limelight of Hollywood life. Panettiere had to navigate through the public scrutiny that comes hand-in-hand with television success.
After a highly praised first season, the popularity of "Heroes" waned as the storylines veered off of the tracks. Unfortunately, the second season of the show was shot during the 2007 to 2008 WGA strike, and the difference in quality was immediately apparent. Kring even issued a public apology for the show's changes. Nonetheless, Panettiere continued to shine in her role. The actress expressed a passion for "Heroes" long after many fans had given up. As Season 4 of "Heroes" was airing in 2019, she told CinemaBlend, "It's just exciting and it's smart and I don't think it belittles the audience." Ultimately, "Heroes" failed to recapture the magic of its first season and was canceled in 2010 after its fourth season.
Dated a fellow TV star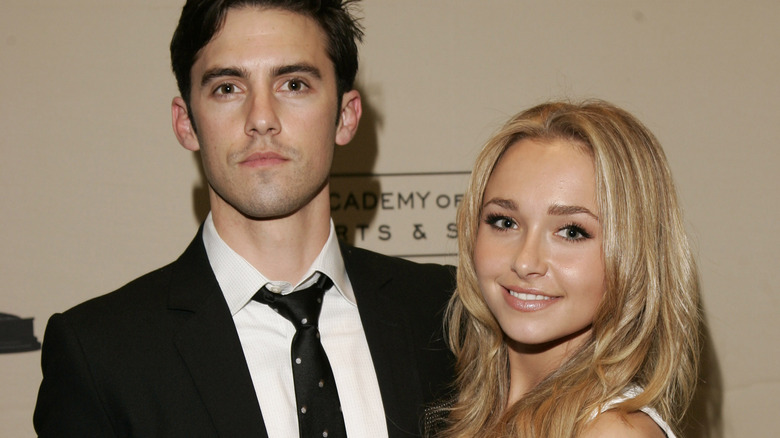 Mathew Imaging/Getty Images
Hayden Panettiere's push into the limelight with the success of "Heroes" was solidified in 2007 when she began dating fellow cast member, Milo Ventimiglia, who played Peter Petrelli. In the past, Ventimiglia dated his "Gilmore Girls" co-star Alexis Bledel, and Panettiere was just entering adulthood when she arrived on the set of "Heroes." When the pair first went public with their relationship, Panettiere was only 18 years old, and Ventimiglia was 30. The significant age difference made for gossip column fodder and media scrutiny.
The pair dated until 2009. A decade after their relationship began, Ventimiglia talked to Mr. Porter about the detrimental impact making the relationship public had on the pair. He said he'd never have another public relationship, but that "You learn from it. You learn a better way of doing things." Panettiere hasn't publicly badmouthed her former beau and continued to work with Ventimiglia on "Heroes" post-breakup. Meanwhile, both she and Ventimiglia moved on in their respective dating lives.
Screaming her way into franchise horror
After the cancellation of "Heroes," Hayden Panettiere quickly moved back to the silver screen. Following in the footsteps of past teenage television stars like Jennifer Love Hewitt and Neve Campbell, Panettiere took on the scream queen mantle. She starred as Kirby Reed in the fourth installment of the "Scream" franchise. Panettiere's character is best friends with Sidney Prescott's cousin, giving her an indirect connection to the story of the first movie that pans out to be more significant as the plot of "Scream 4" unspools.
Released in 2011, "Scream 4" stands as the lowest-grossing film in the franchise, earning just over $38 million at the box office. However, Kirby's survival skills made Panettiere an instant fan favorite. It's a testament to Panettiere's portrayal that she managed to win over fans with a sense of loyalty to the original film. Although Kirby's fate is left unclear at the end of "Scream 4," Panettiere didn't reprise her role in the fifth movie, 2022's "Scream." While "Scream 4" is technically considered a commercial failure and a creative mixed bag, it obviously has its advocates.
Hanging with Miss Cooper
20th Century Studios
In 2009, Panettiere played another cheerleader — the title character in director Chris Columbus' teenage comedy, "I Love You, Beth Cooper," a story with more than hints of John Hughes' teen films of the 1980s. Panettiere discussed the film with Cinema.com and was effusive in her praise of Columbus, who's best known for directing the 1990 mega-hit, "Home Alone." "Chris Columbus is incredible," Panettiere said. He's one of the nicest human beings I've ever had the pleasure of working with. He's so talented and he has no ego ... I hope this is not our last film together."
However, the critics were quick to pan the film. Time Out called the performances "hammy," and Slant Magazine even gave "I Love You, Beth Cooper" a half-star rating. Audiences weren't much kinder, leaving scathing reviews on Rotten Tomatoes. The film flopped at the box office, earning just under $16.5 million globally. After the "Beth Cooper" debacle and the cancellation of "Heroes," Panettiere hung up her pom poms and moved on to other roles.
Advocated for whales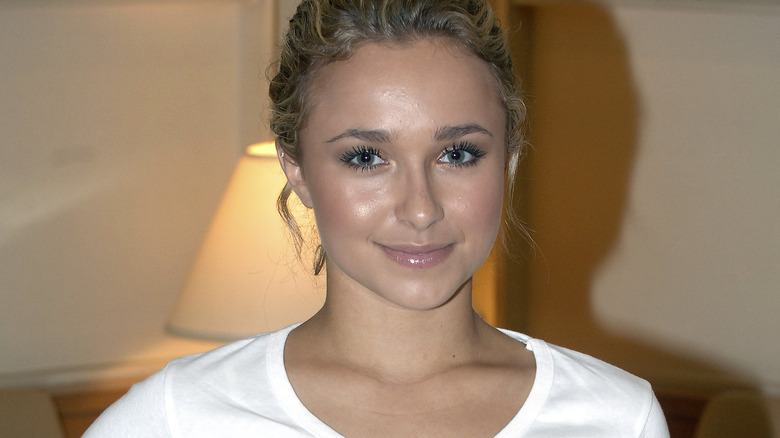 Peter Carrette Archive/Getty Images
For Hayden Panettiere, whales aren't a cause du jour; the actress has been an advocate for the endangered mammals since 2005. Panettiere serves as a celebrity spokesperson for the Whaleman Foundation and has also traveled with director Louie Psihoyos to Taiji, Japan for the Oscar Award-winning 2009 documentary, "The Cove," where they filmed the heartbreaking whale slaughter scenes. In interviews, Panettiere focuses on the achievable goals of the Whaleman Foundation. She told Condé Nast Traveler, "I wouldn't waste my time going straight for the jugular — I'm not going to preach to people to not eat meat. The Whaleman Foundation's goals are achievable, and they make sense."
Panettiere advocates for both whales and dolphins, lobbying Congress and appearing at fundraisers for protections against climate change, pollution, and whaling practices. Panettiere's passion for the cause is evident, as she takes part in many events to save the whales.
Suffered from postpartum depression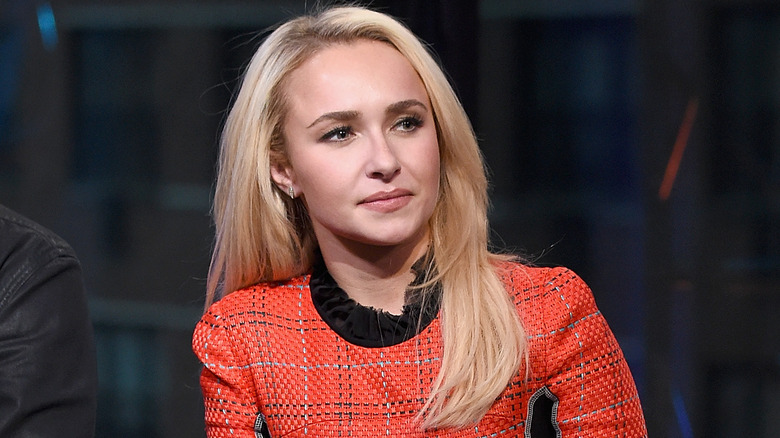 Jamie Mccarthy/Getty Images
In 2014, Hayden Panettiere gave birth to a daughter, Kaya Evdokia Klitschko – the only child from her relationship with Ukrainian national and heavyweight champion boxer, Wladimir Klitschko. Panettiere and Klitschko ended their nine-year relationship in 2018, and their daughter now lives with her father where they resided in Ukraine until the February 2022 Russian invasion. The actress still maintains a good relationship with her daughter and shares co-parenting responsibility with Klitschko, but all parties decided it was best for the 7-year-old to spend some time with her father.
After giving birth, Panettiere struggled with severe postpartum depression and decided to take her experience public. In 2015, People Magazine reported that Panettiere had checked herself into a postpartum treatment facility as she still dealt with symptoms 10 months after giving birth. In the midst of her struggle with postpartum depression, Panettiere's alcohol and drug usage increased, eventually causing her to enter a treatment facility in 2021.
By sharing her own experience, Panettiere wanted to de-stigmatize the condition for others. While opening up about her postpartum depression, Panettiere told "Good Morning America," "...You know, women are so resilient and that's the incredible thing about them. And I think I'm all the stronger for it. I think I'm a better mom for it because you never take that connection for granted."
If you or someone you know needs help with mental health, please contact the Crisis Text Line by texting HOME to 741741, call the National Alliance on Mental Illness helpline at 1-800-950-NAMI (6264), or visit the National Institute of Mental Health website.
A second stint of TV stardom
If Hayden Panettiere's role as Claire Bennet on "Heroes" launched her into a new level of fame, her turn as Juliette Barnes on the country music epic, "Nashville," kept her there. Panettiere's first fully grown-up role kept her belting out tunes and playing out sudsy, dramatic storylines from 2012 to 2018. The show spent its first four seasons on ABC before it was canceled and ended its run with fifth and sixth seasons on CMT.
"Nashville" centers on the country-pop singer Juliette and her rise to the top while often showcasing the bitter rivalry between the up-and-coming star and fading legendary singer Rayna Jaymes, played by Connie Britton. After a high spoiler event at the end of Season 5, "Nashville" lost its clear sense of tension and met its second cancellation not long after. 
Nevertheless, Panettiere proved her talent went beyond acting by singing her character's tracks on the series. In 2012, Panettiere's single "Telescope," — which is a Juliette Barnes track on "Nashville" — landed on the Billboard Country Music Chart. In a 2012 interview (via Oregon Live), the actress described the feeling when she heard the news. "I just bugged out. I couldn't believe it," she said. "There are no words to describe how special and exciting that moment is. And nerve-wracking, too, very nerve-wracking." After "Nashville" wrapped up in 2018, Panettiere took a break from acting. She didn't take a job in Hollywood from 2018 to 2022.
A return to the Scream-iverse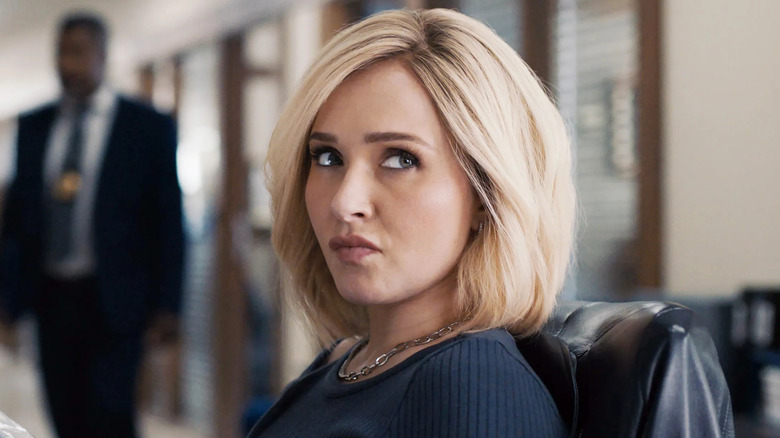 As Kirby Reed in "Scream 4," Hayden Panettiere faced down Ghostface and was left to die when she was stabbed by the killer, Charlie (Rory Culkin), after freeing him from some misleading restraints. A dozen years later, the character of Kirby Reed is back for 2023's "Scream VI," thanks to a contingency she requested – that Kirby's fate be left unstated — when filming "Scream 4."
Kirby was always a wisecracking character who had a love of scary movies, so she fits in well with the legacy characters of the franchise, and in "Scream VI" she holds her own against the barbs of none other than Gale Weathers (Courtney Cox) herself. Kirby barely survived her first encounter with Ghostface, telling Tara (Jenna Ortega) she actually died for four minutes, but now she's in the FBI and says she takes a particular interest in Ghostface cases.
As with every "Scream" film, there are misdirections and red herrings galore, never making it easy to discern who the actual killer or killers are. It's one of the franchise's core strengths as the films have taken the horror genre as a whole and turned it inside out, going meta on top of meta and reinventing its own tropes. Of course, this means that Kirby's actions are as under suspicion as anyone else's, and absolutely nothing is off-limits.
Healing wounds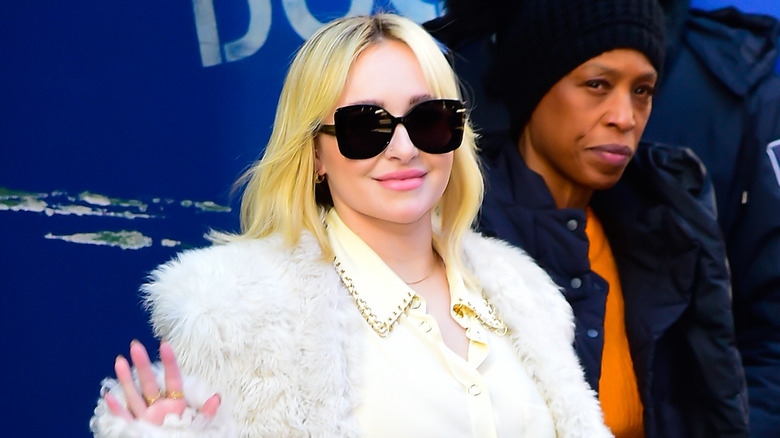 Raymond Hall/Getty Images
In 2021, as Hayden Panettiere was battling alcoholism and opioid addiction, her longtime on-and-off boyfriend, Brian Hickerson, pleaded no contest to assaulting her and spent 45 days in jail. According to the The New York Times, however, following the two both becoming sober independently of one another, they reconnected.
Panettiere says the two still have feelings but that their continued friendship is "contingent on him continuing on this road of recovery." She's well aware of how some may perceive her decision to see him again, but is adamant that she "did not do any of this lightly." Knowing that they were both heavily into their addictions at the time of the incidents in question, Panettiere's aware many mistakes were made and while she doesn't condone them, she also doesn't want her life to be defined by them. "A big part of my therapy has been living in forgiveness," she told Women's Health in 2023.
If you or someone you know is dealing with domestic abuse, you can call the National Domestic Violence Hotline at 1−800−799−7233. You can also find more information, resources, and support at their website.