Saturday Night Live Adds Three New Cast Members For Season 43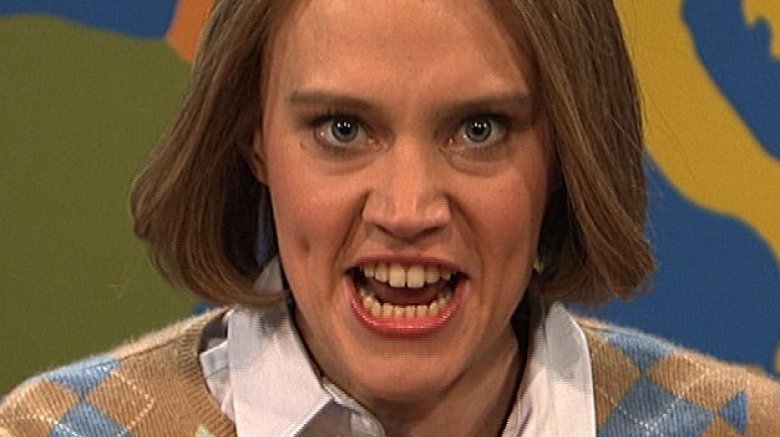 Here's something to get Kate-McKinnon-pulling-a-goofy-face excited about. 
Per The Hollywood Reporter, NBC's Saturday Night Live has officially added a trio of fresh faces to its cast, enlisting Chris Redd, Heidi Gardner, and Luke Null as featured players for its forthcoming 43rd season. 
The newcomers will fill the voids left by Bobby Moynihan (who departed from the long-running sketch comedy series after nine seasons), Vanessa Bayer (who exited after seven), and Sasheer Zamata (who said her goodbyes after four), all of whom announced their breakaways after the season 42 finale. 
An actor, comedian, and writer known for his performance as Hunter in the unexpected smash mockumentary Popstar: Never Stop Never Stopping—in which he starred alongside Saturday Night Live alums including Andy Samberg, Joan Cusack, Bill Hader, Tim Meadows, and Maya Rudolph—Redd was featured in Comedy Central's Stand-Up Presents series. He has experience in sketch and improvisational comedy, and has also appeared in Netflix's Kathy Bates-led marijuana comedy Disjointed. 
Gardner is a member of the Los Angeles-based improvisational and sketch comedy troupe the Groundlings, and has racked up credits in writing and voicing multiple roles in the Bryan Cranston-produced animated comedy series SuperMansion on Crackle. She'll next appear in a supporting role in the feature film Life of the Party, written and led by Melissa McCarthy, whose work as Sean Spicer on Saturday Night Live landed her an Emmy win earlier this month.  
For Null's part, he is an Illinois-based musical and improvisational comedian coming straight out of iO Chicago, the improv theater and training center in the heart of the Windy City. Viewers may recognize him from his work in the 2011 film The Heart: The Final Pulse. 
In addition to these cast members, Saturday Night Live has also introduced a handful of new writers for season 43, including Steven Castillo (Becoming Red), Andrew Dismukes (Call Me Brother), Claire Friedman (F*** These Guys), Sam Jay (Take My Wife), Erik Marino (Weeds), Nimesh Patel (The 2017 White House Correspondents Dinner), and Gary Richardson (The Characters). 
The show's creatives are still riding the wave of their nine collective Emmy wins. Lorne Michaels, creator and producer of Saturday Night Live, spoke with THR after the series' massive Emmy showing. "Going into the season, I knew I wanted to get it right. We thought it would be the biggest election of our lifetime and we wanted to be in the middle of it," he said. "We lived week to week and it was one of those years where the cast just rose to any challenge; the writing staff did; and the design team did... This is a group that was united and all of one mind and everybody sacrificed and supported each other. That's the best you ever get when you do the kind of show like this." 
Saturday Night Live is set to return for its 43rd season on September 30, with Ryan Gosling attached as host and rap artist Jay-Z on board as the musical guest. Wonder Woman star Gal Gadot and musical guest Sam Smith will head up the October 7 episode, with The Big Sick and Silicon Valley actor Kumail Nanjiani hosting with pop rock musician P!nk backing him up on October 14. The Michaels-produced sketch series will also continue airing episodes live coast-to-coast at 11:30 p.m. Eastern, 10:30 p.m. Central, 9:30 p.m. Mountain, and 8:30 p.m. Pacific throughout the entire season.
For now, take a look at the untold truth of Saturday Night Live.