What The Waterboy Cast Looks Like Today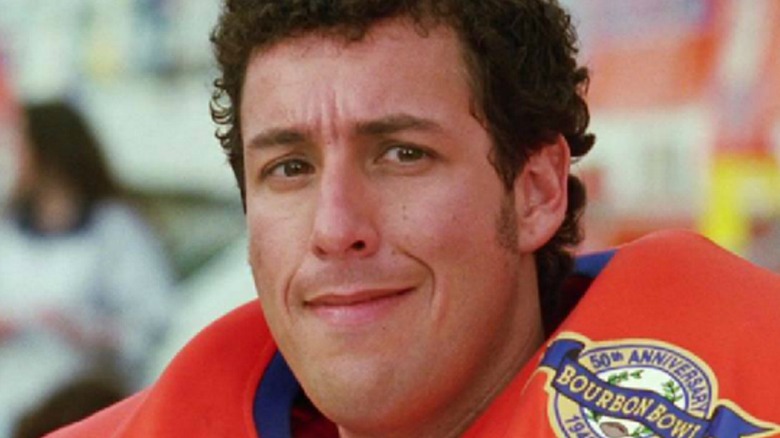 Buena Vista Pictures
By the late 1990s, Adam Sandler had already transitioned from "Saturday Night Live" star to full-on movie star thanks to hits like "Happy Gilmore" and "Billy Madison," but 1998 would prove to be the year that took his stardom to another level. Sandler starred in two high-profile comedies that year, which showcased different sides of his comedic talent. One was "The Wedding Singer," a retro romantic comedy, and the other was "The Waterboy," an endlessly silly underdog story. 
Sandler stars in the film as Bobby Boucher, a meek young man who only wants to serve football teams the best possible water when they're thirsty, but his pent-up frustrations eventually make him the perfect vehicle for college football dominance. With the help of his teammates, a down-on-his-luck coach, and a local girl with a crush on him, Bobby sets out to lead his team to college football glory. "The Waterboy" was a box office hit, and the next in an ever-growing line of concept comedies that allowed Sandler to build characters from the ground up with a supporting cast of a bona fide stars and a stock company made up of his own best friends. So, from an Oscar winner to Sandler's own assistant, here's what the cast of "The Waterboy" looks like now. 
Adam Sandler - Bobby Boucher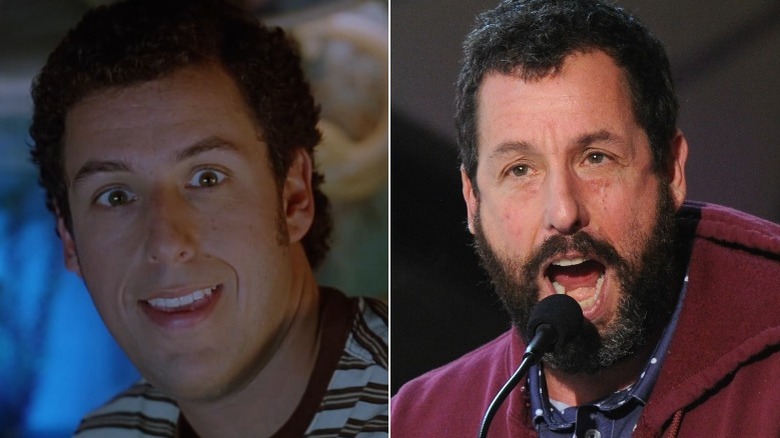 Albert L. Ortega/Getty
By the time of "The Waterboy," Adam Sandler was already a major comedy star, launched to nationwide fame by five years on "Saturday Night Live" in the first half of the early 1990s. In the back half of the decade, he became a movie star thanks to films like "Billy Madison" and "Happy Gilmore," and playing the role of mild-mannered Waterboy-turned-ferocious linebacker Bobby Boucher only added to that stardom. Bobby is a character that allowed Sandler to develop yet another fun voice and set of mannerisms for a film, while also giving him an underdog story that brought fans to theaters.
Of course, it didn't stop there. "The Waterboy" was followed by another hit, "Big Daddy," a year later, and Sandler has basically never looked back. He's spent the entirety of the 21st century as one of the biggest comedy stars in the world, making films like "Funny People," "50 First Dates," "Click," "Hubie Halloween," and even returning to stand-up comedy with his Netflix special "100% Fresh" in 2018. He's also gotten the chance to show off his dramatic talents with "Punch-Drunk Love" and "Uncut Gems," which got him some of the best reviews of his career. He'll next be seen in the Netflix basketball drama "Hustle" and a sequel to his romantic comedy film "Murder Mystery."
Kathy Bates - Helen Mama Boucher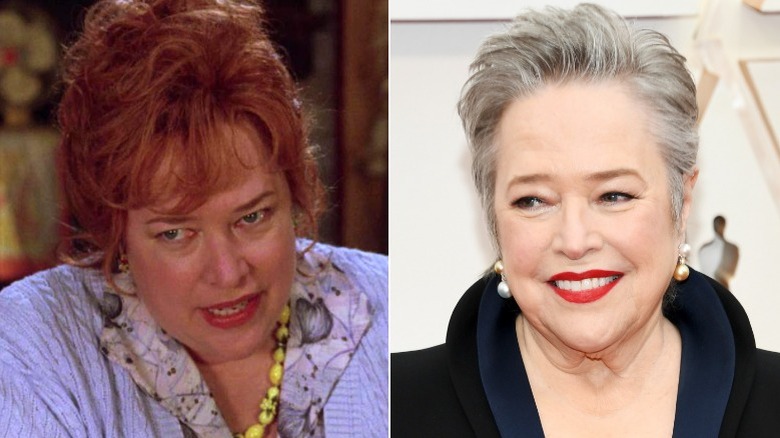 Kevin Mazur/Getty
Kathy Bates launched her screen acting career in the 1970s, and by the 1990s she was one of the most respected and acclaimed character actresses working in Hollywood, having won the Oscar in 1991 for her work in Stephen King's "Misery" and starred in films like "Dolores Claiborne," "Primary Colors," and "Fried Green Tomatoes." As Bobby's beloved Mama Boucher, Bates used her ability to be an imposing figure to cast a domineering yet loving shadow over her son's life, which makes his evolution from soft-spoken mama's boy to self-sufficient man all the more satisfying. And of course, it gave her the chance to push her comedic skills in new directions, showing the range for which she's become known.
Bates has continued her run as a versatile, always-welcome actress well into the 21st century, with TV credits including "Six Feet Under," "The Office," "Harry's Law," and several seasons of "American Horror Story." On film, she's continued to work on high-profile projects like "About Schmidt," "On the Basis of Sex," and "Richard Jewell," for which she received her fourth Academy Award nomination. She'll next be seen in several films, including "Are You There God? It's Me, Margaret," "The Miracle Club," and "Thelma."
Henry Winkler - Coach Klein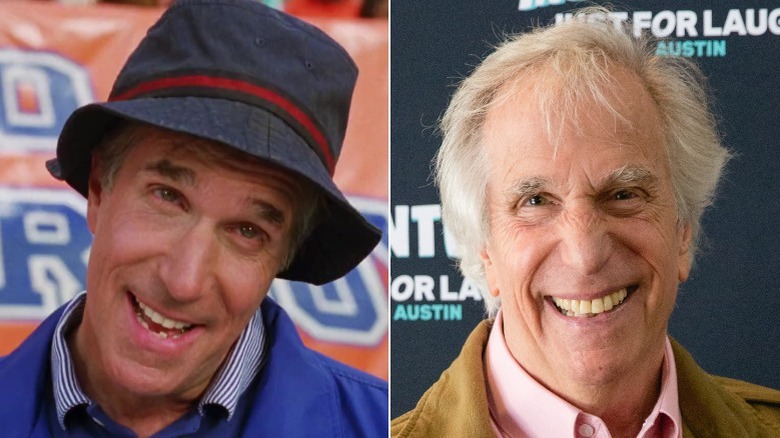 Rick Kern/Getty
For the first two decades of his career, Henry Winkler was larging known for one role: the coolest man around, Arthur "Fonzie" Fonzerelli from the beloved sitcom "Happy Days." He played the character for a decade on both the main series and several spin-off shows, so it's understandable that it became his major acting legacy. But that started to change in the 1990s, as Winkler took on more and more roles that showed his range and abilities as an older actor. One of those roles was the sweet-natured and timid Coach Klein in "The Waterboy." As a college football coach who's been intimidated into losing his magic, Winkler got his own major arc alongside Sandler's Bobby Boucher, and proved he has comedic chops well beyond The Fonz.
Since then, Winkler's range as an actor has only continued to grow. He's done sitcoms like "Out of Practice," "Arrested Development," and "Parks and Recreation," voice acting on shows like "Monsters at Work," and feature films like "Scream" and "The French Dispatch," all showcasing a different side of his talent. He's perhaps best known to modern audiences for his role as Gene Cousineau on the dark comedy series "Barry," for which he won a Primetime Emmy Award.
Fairuza Balk - Vicki Vallencourt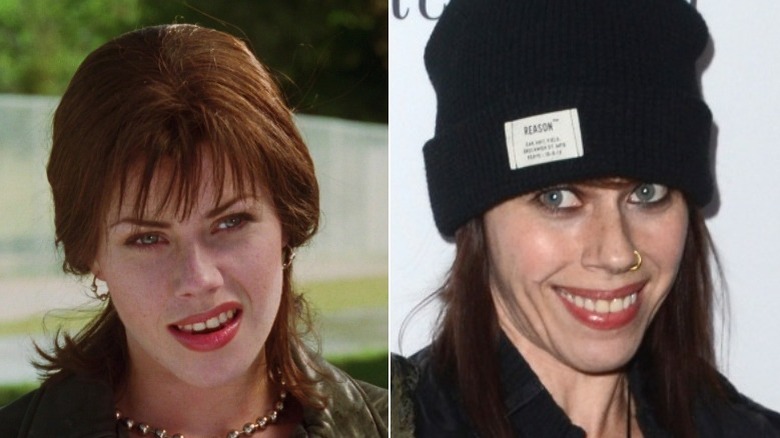 Kathy Hutchins/Shutterstock
Fairuza Balk's acting career began as a child star in the 1980s, when she turned in memorable performances in "The Best Christmas Pageant Ever," "The Worst Witch," and the cult classic dark fantasy sequel "Return to Oz." The 1990s brought more iconic roles to Balk as an adult, including work in "The Craft," "Things to Do in Denver When You're Dead," and "American History X." In "The Waterboy," Balk got to show off some of the hard edges she applied to various characters in dramatic films and give it a comedic twist as Vicki Vallencourt, the rebellious love interest of Bobby Boucher who helps open his eyes to the wider world.
So, what's Fairuza Balk been up to? Her acting output slowed a little bit at the turn of the century, but she's still working and turning in great performances. Her post-"Waterboy" credits include "Almost Famous," "Deuces Wild," "Humboldt County," Showtime's drama series "Ray Donovan," and an appearance in "The Craft: Legacy." Her most recent work includes the drama series "Paradise City" and the animated series "Close Enough."
Peter Dante - Gee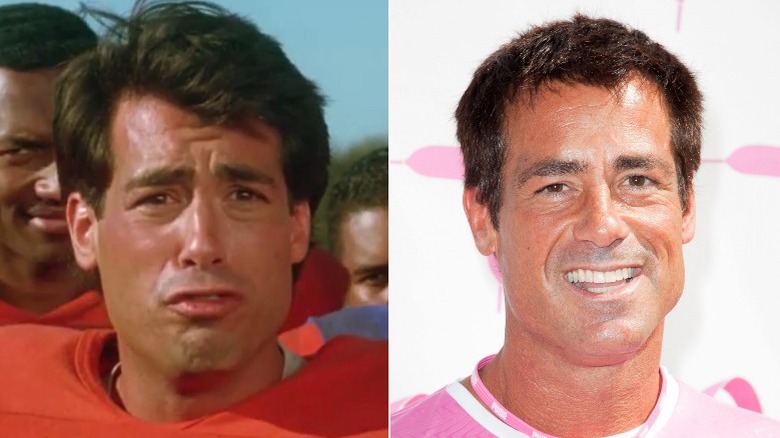 Imeh Akpanudosen/Getty
As his career took off as a movie star in the late 1990s, Sandler began to build a company of actors that basically allowed him to keep casting his friends in movie after movie. Peter Dante is one of those friends, and in 1998 alone he appeared in two Sandler films: "The Wedding Singer" and "The Waterboy." In the latter, he definitely landed the larger role, playing Gee, the quarterback of the embattled South Central Louisiana State Mud Dogs. It is Gee who inadvertently first unlocks Bobby Boucher's magical quarterback-sacking ability, and the two eventually grow to respect each other.
After "The Waterboy," Dante continued to appear in Sandler's films for nearly two more decades, with roles in "Big Daddy," "Mr. Deeds," "Little Nicky," "50 First Dates," "I Now Pronounce You Chuck and Larry," the Happy Madison Productions film "Grandma's Boy," and much more. His last Sandler film appearance was in "Grown Ups 2," and his output has slowed since, but Dante is still working. He appeared in the 2021 film "The Pizza Joint," and will soon appear in a new film titled "Road to Whenever."
Lawrence Gilliard Jr. - Derek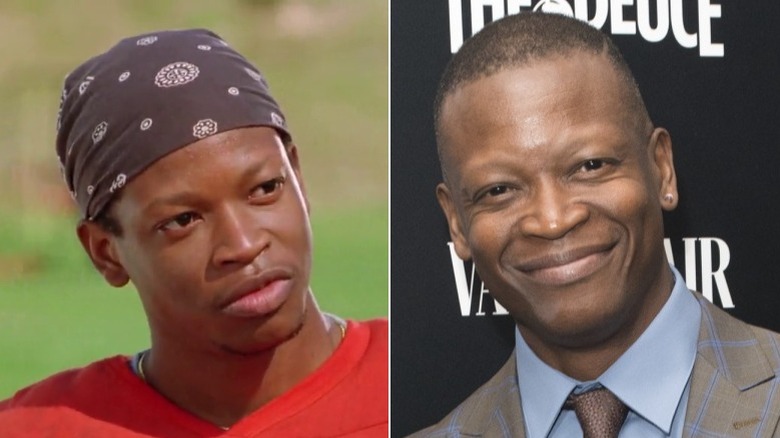 Debra L Rothenberg/Getty
Lawrence Gilliard Jr. began building an impressive acting resume in the early 1990s, eventually landing roles on TV series like "George" and in films like "Trees Lounge." In "The Waterboy," he played the Mud Dogs' kicker, Derek, who begins the film as the first and only friend Bobby Boucher has on the team. It was a chance for Gilliard to flex his comedic muscles and show his talents to Sandler's wide audience.
Gilliard followed it up with more impressive roles, including a part in Martin Scorsese's "Gangs of New York," and the pivotal role of D'Angelo Barksdale in the early seasons of the critically acclaimed HBO crime drama "The Wire." Other, more recent credits include work on "Army Wives," "The Walking Dead," "Graceland," and "The Deuce." He's most recently been seen in the critically acclaimed drama "One Night in Miami" and in the Starz series "Power: Book III," and he'll next appear in several films, including "St. Sebastian" and "Heart of a Lion."
Blake Clark - Farmer Fran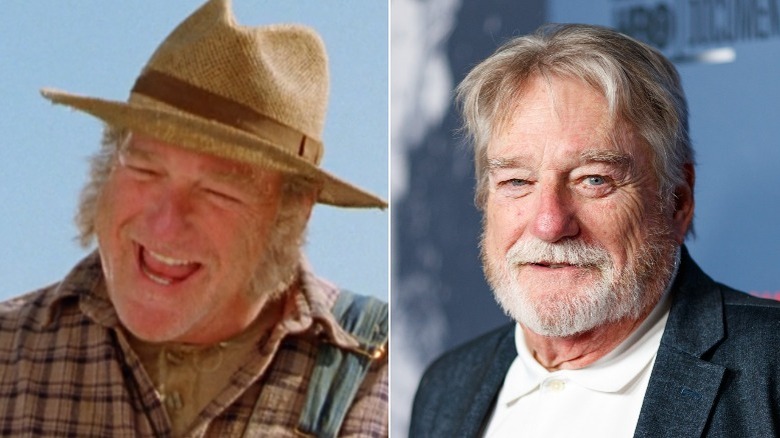 Christopher Polk/Getty & undefined
Another Sandler movie mainstay, Blake Clark began to carve out a career as a stand-up comic and actor in the 1980s, appearing on TV series like "Hot Flashes" and "Remington Steele" and in films like "St. Elmo's Fire." In the 1990s, he became a recognizable guest star on several hit sitcoms, including a long-running role as Harry on "Home Improvement" and as Chet Hunter on "Boy Meets World." With "The Waterboy," he joined the Sandler crew as Farmer Fran, an apparent assistant coach for the Mud Dogs whose Cajun accent is so thick no one can really understand him.
Clark has continued to work with Sandler ever since, appearing in films ranging from "Little Nicky" to "Click" to "Grown Ups" and, most recently, "Hubie Halloween." He's also an accomplished voice actor, with credits including Sandler's own animated film "Eight Crazy Nights" and his work as the voice of Slinky Dog in the third and fourth "Toy Story" films, replacing departed actor Jim Varney. Most recently, he's appeared in the TV series "Hacks" and "United States of Al."
Jonathan Loughran - Lyle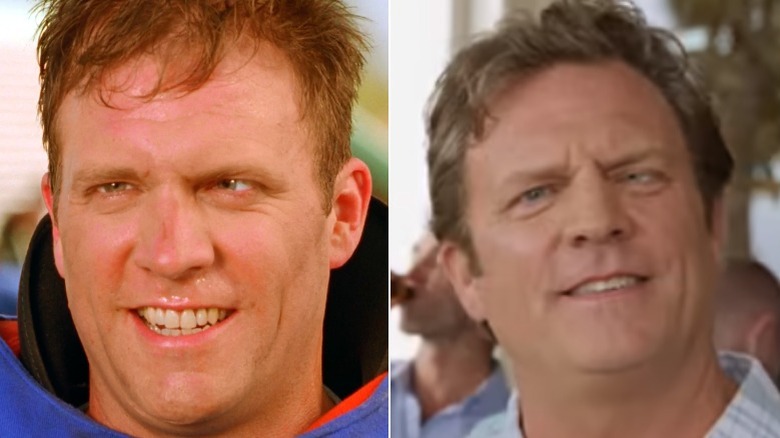 Buena Vista Pictures/Netflix
Jonathan Loughran is arguably more tied to Adam Sandler than any other member of the Happy Madison group. He's not only one of Sandler's closest co-stars and friends, but he's also worked as his assistant for decades, cementing their relationship and ensuring that he keeps popping up in films from Sandler and other Happy Madison stars.
After appearing in Sandler's film "Bulletproof" in 1996, Loughran took a larger role in "The Waterboy" as Lyle Robideaux, a formidable but somewhat dimwitted member of the Mud Dogs defensive squad who bonds with Bobby as the team starts winning more and more. He has continued appearing in Happy Madison productions films ever since, with roles in "Little Nicky," "50 First Dates" "Grandma's Boy," "Bedtime Stories," "Grown Ups," "Blended" and many more. He's also branched out into other films, working with director Quentin Tarantino on "Kill Bill" and "Death Proof." His most recent credit was 2020's "The Wrong Missy."
Clint Howard - Paco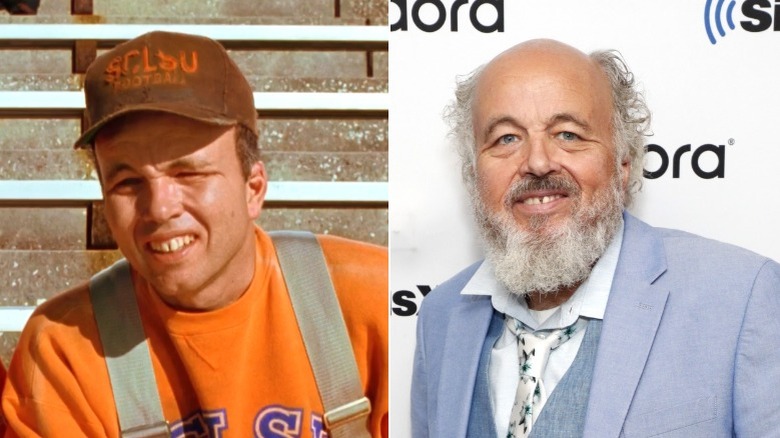 Astrid Stawiarz/Getty
Clint Howard was born into a Hollywood dynasty. The son of actors Rance and Jean Howard and the brother of actor and director Ron Howard, he's been acting since he was a small boy appearing alongside his brother on "The Andy Griffith Show." In the nearly 60 years since, he's racked up dozens of acting credits in both comedies and dramas, and has become known for his frequent appearances in his brother's films, including "Apollo 13," "How the Grinch Stole Christmas," and "Solo: A Star Wars Story."
In "The Waterboy," Howard played Paco, a simple farmer who loves watching the Mud Dogs and expresses his support for Bobby and his efforts to stay in college during a pivotal scene in the film. Howard has virtually never slowed down his acting output in the years since the film, continuing to land both large and small roles in films and TV series in all genres. His most recent work includes the films "3 From Hell," "La Flamme Rouge," and "Beyond Paranormal," and the TV series "Pam & Tommy." He'll next be seen in the upcoming film "The Old Way."
Allen Covert - Walter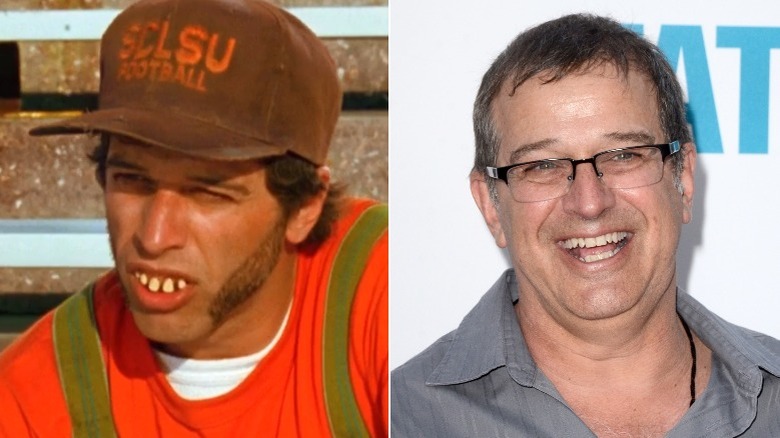 Kathy Hutchins/Shutterstock
Another key member of the Happy Madison stock company, Allen Covert began working in small acting roles in the late 1980s before joining Sandler in "Happy Gilmore" in 1996. In "The Waterboy," he played Walter, a redneck Mud Dogs fan who can be seen arguing with Clint Howard's Paco in the stands during games, sporting a massive set of fake teeth. The same year in "The Wedding Singer," he took on a more sizable role as Robbie's best friend Sammy, cementing his place within Sandler's group of friends and collaborators.
Covert has taken an increasingly large role within Happy Madison in the years since "The Waterboy." Beginning with "Big Daddy," he became an associate producer on Sandler's films, and by "Eight Crazy Nights" he'd graduated up to producer, a role he's continued to hold on films ranging from "Pixels" to "Hubie Halloween." While he continues to make cameo appearances in Sandler films, he's perhaps best known as an actor for starring in the 2006 Happy Madison comedy "Grandma's Boy," which he also co-wrote.
Rob Schneider - Townie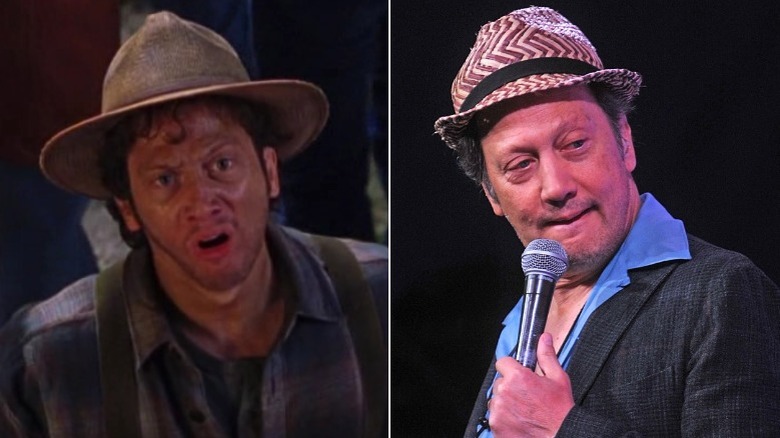 Bobby Bank/Getty
Like Adam Sandler, Rob Schneider's big break came when he joined the cast of "Saturday Night Live" in 1990. For the next four years, he built his reputation as a character comedian on the show, and eventually, that translated to bigger roles in films and TV series, including "Home Alone 2: Lost in New York," "Judge Dredd," and "Down Periscope."
By the late 1990s, Sandler was bringing his friend and former "SNL" co-star along for the ride with a series of roles that allowed Schneider to show up, do a funny voice, and leave a lasting impression. The first of their films together was "The Waterboy," in which Schneider played a dirty guy from town who used his catchphrase, "You can do it!" to punctuate various comedic moments.
Though he's worked on other projects since, including his own comedies "Deuce Bigalow: Male Gigolo," "The Animal," and "The Hot Chick," Schneider is perhaps still best known today for his frequent collaborations with Sandler. Since "The Waterboy," he's made appearances in everything from "Big Daddy" to "50 First Dates" to "The Longest Yard." He most recently appeared with Sandler in "Hubie Halloween," and his latest film was a collaboration with Sandlers' pal Kevin James in "Home Team."
Jerry Reed - Red Beaulieu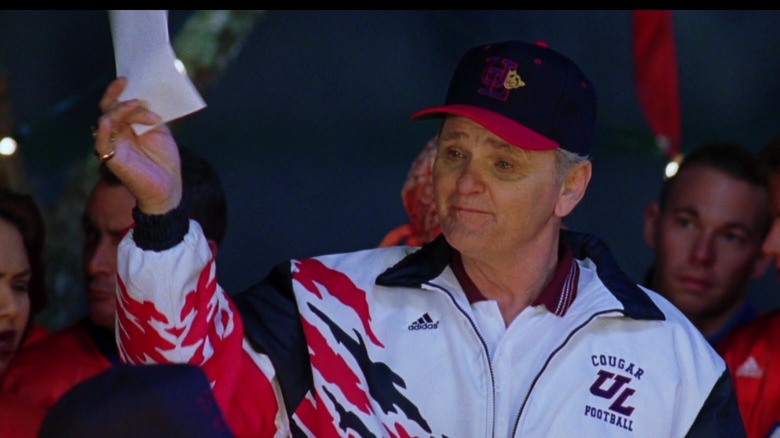 Buena Vista Pictures
Before he was an actor, Jerry Reed was a successful singer-songwriter who won Grammy and CMA Awards for his output, which included hits like "Guitar Man," "Alabama Wild Man," and "When You're Hot, You're Hot." He began acting in films and TV series in the 1970s, and became best known for his work as Cledus alongside Burt Reynolds in the legendary car chase film "Smokey and the Bandit," for which he also composed the theme song, "East Bound and Down." He continued acting throughout the 1970s and 1980s, appearing in films like "Concrete Cowboys" and its subsequent TV spin-off, along with two "Smokey and the Bandit" sequels.
Music remained Reed's first love, though, and while his acting output slowed by the 1990s, he continued releasing albums for the rest of his life. "The Waterboy" marked his final film role, as Bobby's former boss and Coach Klein's arch-rival, Red Beaulieu. Reed died in 2008 at the age of 71.