The Untold Truth Of Kathy Bates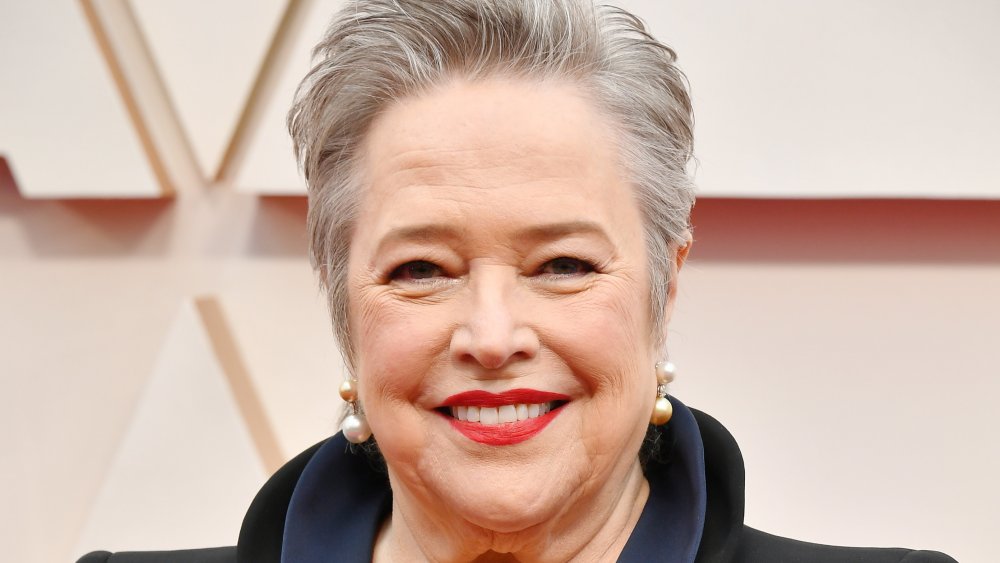 Amy Sussman/Getty Images
Kathy Bates is a legendary actor with a wide variety of roles under her belt. But while this well-respected veteran talent has made a name for herself, there's a lot about her that isn't discussed as much as her most famous work. From Misery to American Horror Story, there's no doubt she's a force to be reckoned with on stage and screen — but behind the scenes, she's faced more than her fair share of struggles, first to get her career started and then to keep it going. 
In addition to professional ups and downs, Bates has also faced mental and physical health issues, including multiple bouts with different kinds of cancer. Kathy Bates is a truly remarkable woman who almost didn't get a shot in the entertainment industry for superficial reasons, but despite some early setbacks, she's continued to persevere and produce a high level of work across many forms of entertainment. Here's a look at some lesser-known facts about Kathy Bates.
Kathy Bates' early day jobs in New York City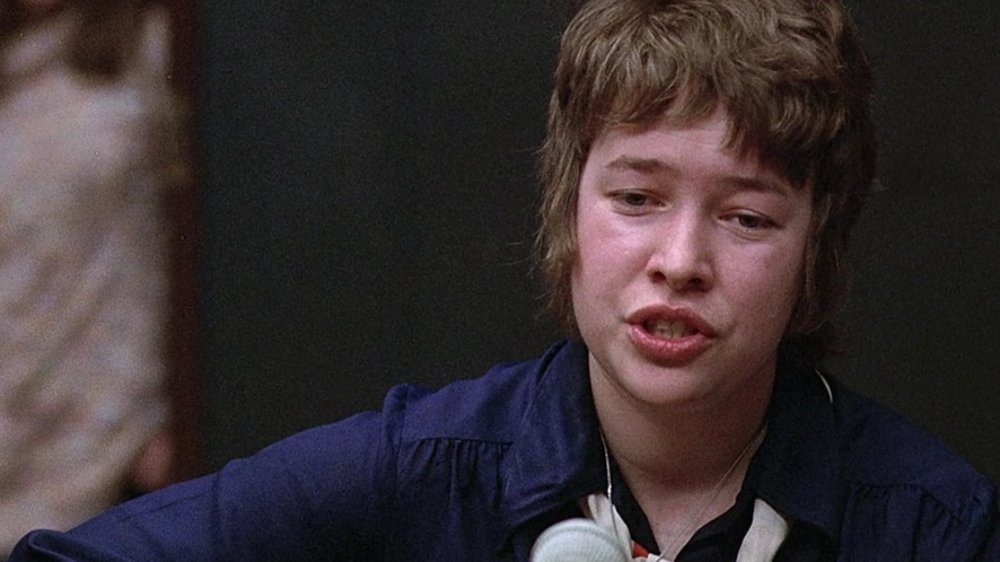 Kathy Bates is originally from the south, but to pursue her acting dream, she moved to New York City in 1970. Unfortunately, it was slow going at first. She had a small role in a feature film in 1971, and eventually moved into the theater, but in order to make ends meet at first, she worked as a cashier at the Museum of Modern Art. 
Bates ended up leaving New York temporarily after struggling to get roles, but returned before long and started making a name for herself on the stage, ultimately earning a Tony Award nomination in 1983 for her role in 'night, Mother. Prior to that, she landed a role opposite Dustin Hoffman in the 1978 film Straight Time, but for the most part, Bates' early years in New York found her working in the theater and occasionally booking television roles on shows such as the long-running daytime drama All My Children.
Kathy Bates' mental health struggles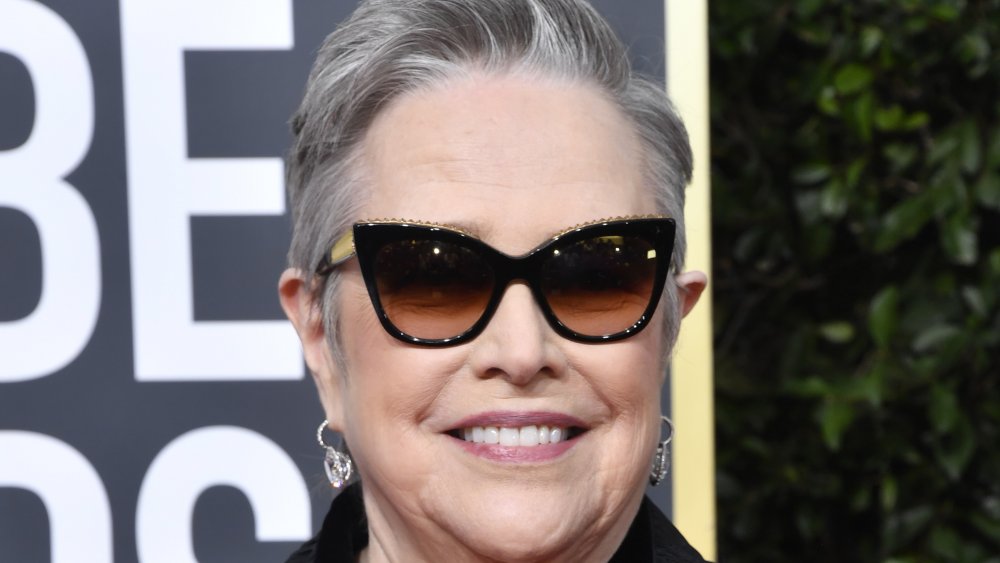 Frazer Harrison/Getty Images
The role that earned Kathy Bates her Tony nomination in 'night, Mother was one of a suicidal woman arguing with her mother over her intent to commit suicide for the length of the entire play. In this profile of Bates published around the release of Misery in 1991, she talks frankly about her own struggles with depression that help to inform her performances in roles like this one. 
She connects with the very human element of a mental health struggle both from a perspective of having experienced it herself as well as just a general feeling of empathy for others. While not everyone would have looked at Annie Wilkes in Misery and been able to see a relatable character, Bates did, and it made her performance as Annie that much richer and more nuanced (and thus terrifying). She has even spoken in the past about the difficulty she has with sometimes connecting with her roles too much, to the detriment of her own mental health, and how therapy has been a powerful tool in combating this problem.
For Kathy Bates, rehearsal is key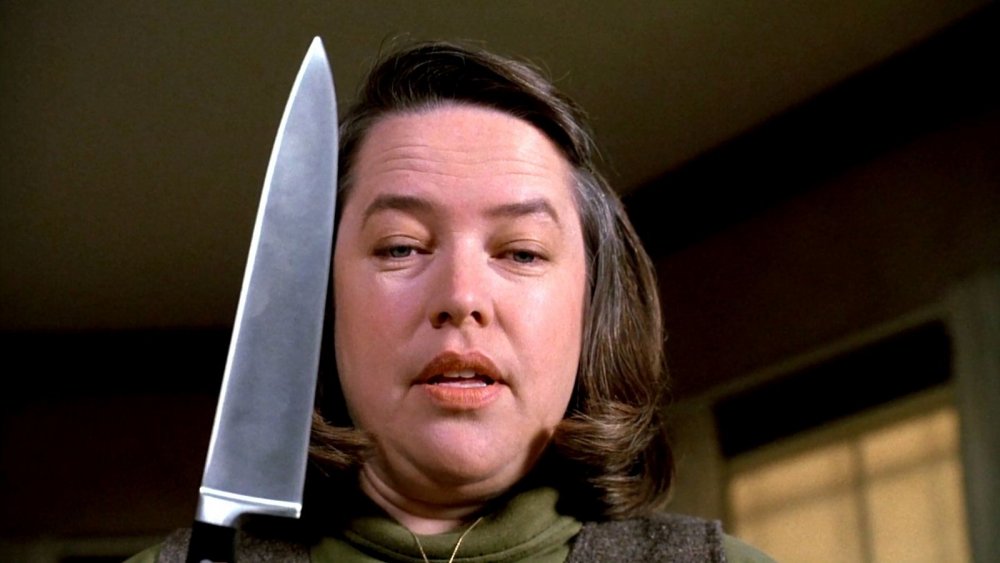 Kathy Bates is an actor who approaches her roles very professionally. Likely due to her work in the theater, she believes in the power of rehearsing to really involve herself in each role, which is not necessarily how all actors work. She isn't a method actor who immerses herself entirely for the whole length of a project, but rather fills in the backstory of her characters through analyzing who they are and what they want with rehearsal. 
For instance, Bates and director Rob Reiner decided that Annie Wilkes in Misery had been sexually abused by her father as a child, which was not in any of the source material — neither the Stephen King book nor the screenplay — because she felt it informed the actions of the character, and given the way Annie was portrayed years later in the television series Castle Rock by actor Lizzy Caplan, it's entirely likely that reading of Annie has carried through to other media. Bates also has stated that she pulls from real life to create emotional reactions, but after a while of doing difficult roles found that it was best to rely less on personal memories to evoke those reactions and rather try to use her rehearsal and efforts to understand the character to create those reactions.
Kathy Bates' Tony Award nomination inspired a move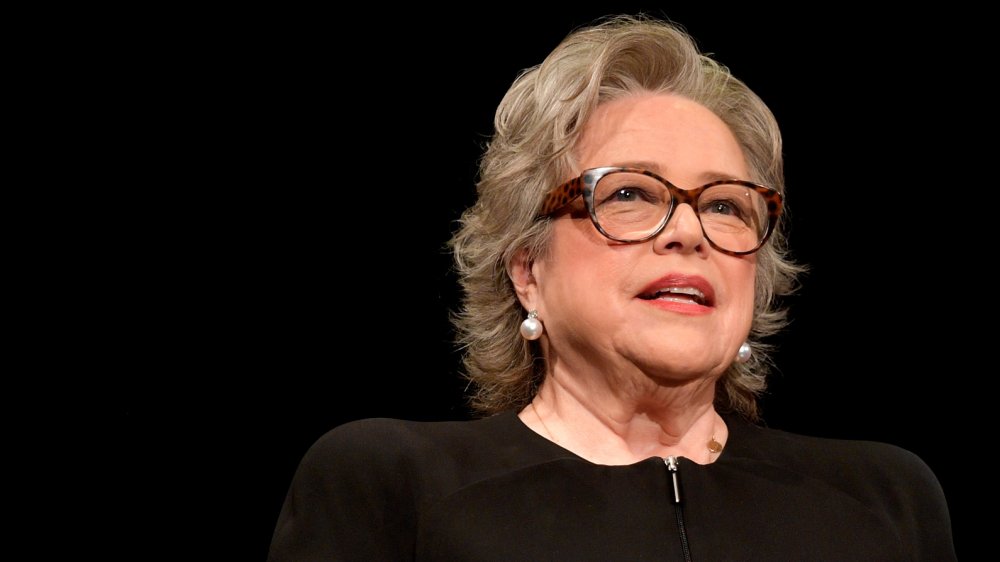 Matt Winkelmeyer/Getty Images
Bates' first award nomination came via the Tony Awards for Best Leading Actress in a Play in 1983, after her run in 'night, Mother. The character of Jessie couldn't have been easy to play, but Bates remained in the cast for an 11-month stint. It was this role that inspired Bates to move from New York City to Los Angeles — even after her critically acclaimed run in 'night, Mother, when the film version was made, the role of Jessie went to Sissy Spacek, and Bates realized that if she wanted to really make it as a movie actor, she would need to be on the west coast. Since previously she hadn't had much luck at landing film roles, she wanted to be more accessible for casting, and New York isn't quite the mecca for film that Los Angeles is. Moving to L.A. really did change her career, and while there have been times in the decades since that her career has ebbed and flowed, for the most part, it's certainly been a successful move.
Kathy Bates' acclaim for Misery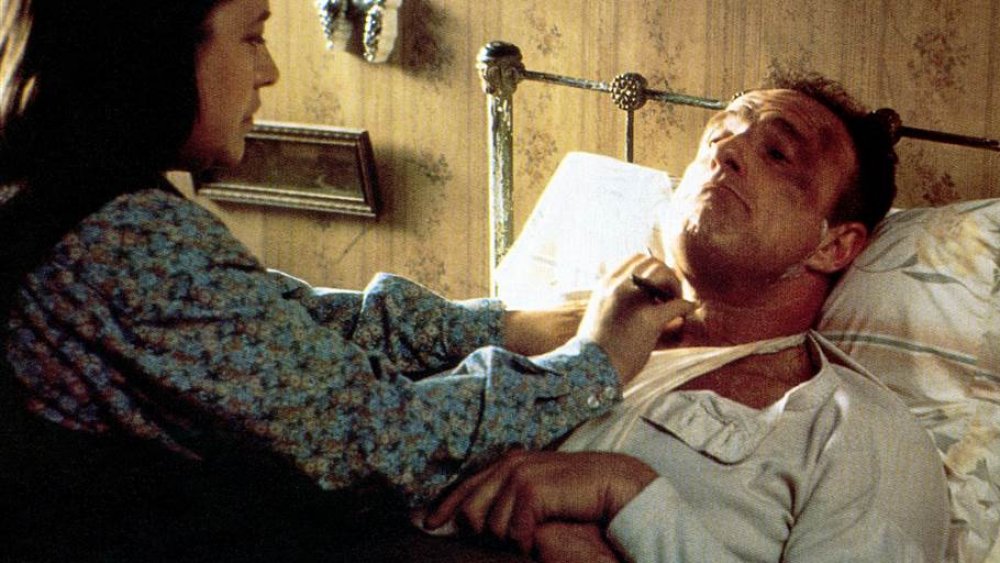 When the American Film Institute put together its list of the 100 greatest villains in film, Bates' Annie Wilkes from Misery ranked 17th — and 6th out of all female villains. While Annie is not a stable character and it would've been easy for another actor to make her one-dimensional or cartoonish during her violent captivity of the injured writer Paul Sheldon, Bates infuses her with humanity. 
Made unsettlingly identifiable due to the way Bates works and her attention to detail, Annie is certainly a villain but she isn't one that can easily be dismissed as unrealistic or completely evil. At the time Stephen King wrote Misery — and the time that the movie was made — not everyone was so empathetic to issues relating to mental illness, which makes the care Bates took in portraying Annie that much more admirable. It's that very human nature that makes Annie so realistic and, thus, frightening — this is not a completely unfathomable situation, but rather something that could actually happen. AFI's list is an honor, but it's also simple recognition of the truth — Kathy Bates' portrayal of Annie Wilkes is as chilling as it is emotionally haunting.
Kathy Bates' directorial work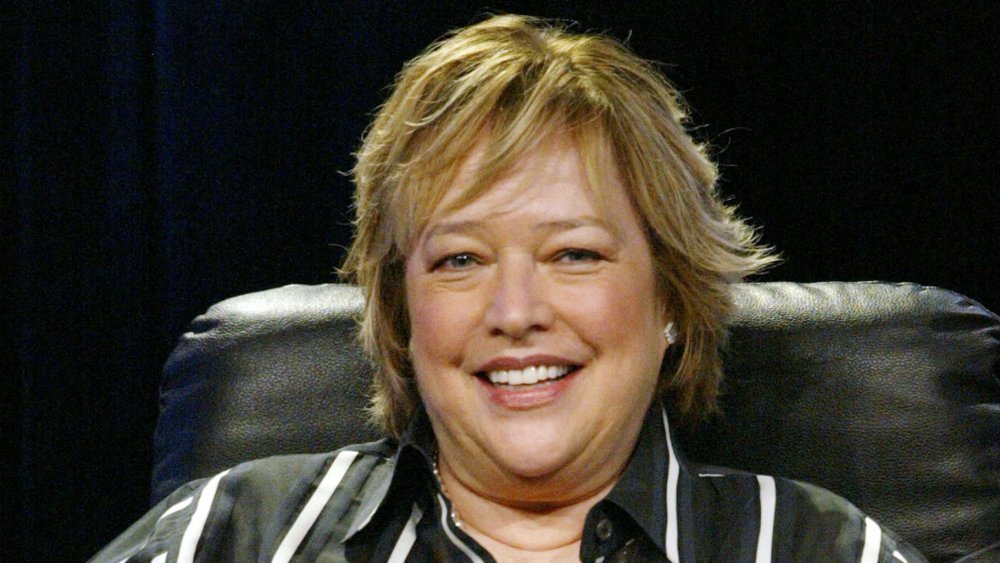 Frederick M. Brown/Getty Images
Kathy Bates has had her hand in a variety of aspects of entertainment, including working as an actor in the theater, in film, and on television, but she's also worked as a director. Beginning in 1995 with her directorial debut on the episode "Talking With" for the show Great Performances, she's since gone on to direct episodes of Homicide: Life on the Street, NYPD Blue, and Everwood, as well as multiple episodes of Six Feet Under, a pilot for a TV series of Fargo (previous to the 2014 Fargo show) and a 2006 TV movie called Ambulance Girl that she also starred in. 
Ambulance Girl features a character, portrayed by Bates, that lives with depression, once again showing her care for portraying mental illness onscreen. While she hasn't directed since 2006, it's clear that her passion for acting is just one component of her many-faceted approach to building a career. It isn't just about being in front of the camera.
So many awards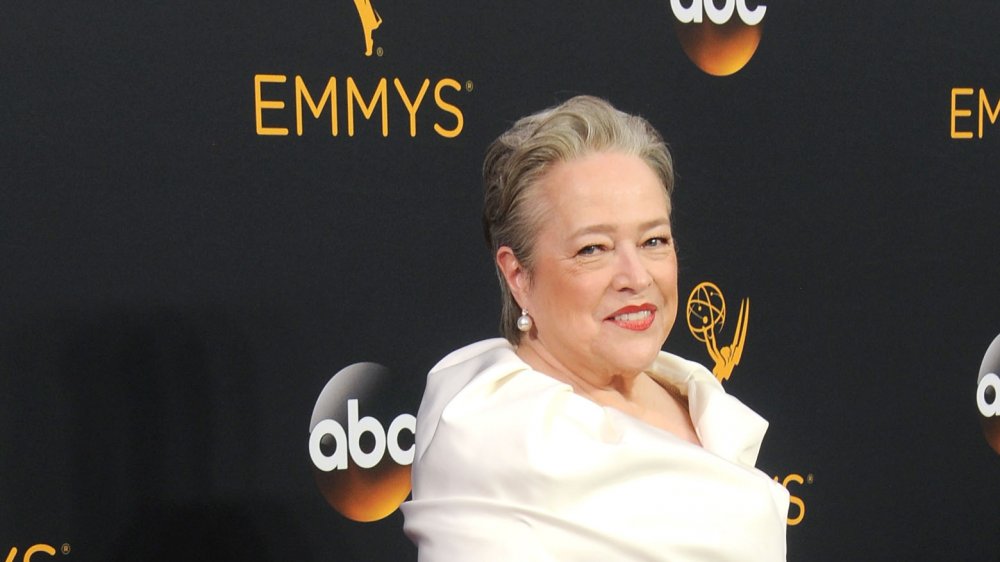 Barry King/Getty Images
Kathy Bates has been nominated for a variety of awards more than 100 times over the course of her career, and the number of awards she's won include an Oscar, two Emmys, and a pair of Golden Globes. 
The Oscar, for Misery, made history as the first time an actor has won an Academy Award for a role in a Stephen King movie. Many of her Emmy nominations and one of her Emmy wins have come courtesy of her work on American Horror Story, a franchise in which she's appeared across multiple seasons as different characters. Her Golden Globe wins were for Misery and the 1997 film The Late Shift, while her role in Fried Green Tomatoes earned her numerous nominations, including a BAFTA, a Golden Globe, and even an American Comedy Award, although she didn't actually win any of them. She has also been nominated for awards for her directorial work — and she has a star on the Hollywood Walk of Fame. For an actor that's been admirably frank about her struggles to break in and continue working, it's wonderful to see all that hard work pay off.
Stephen King collaborations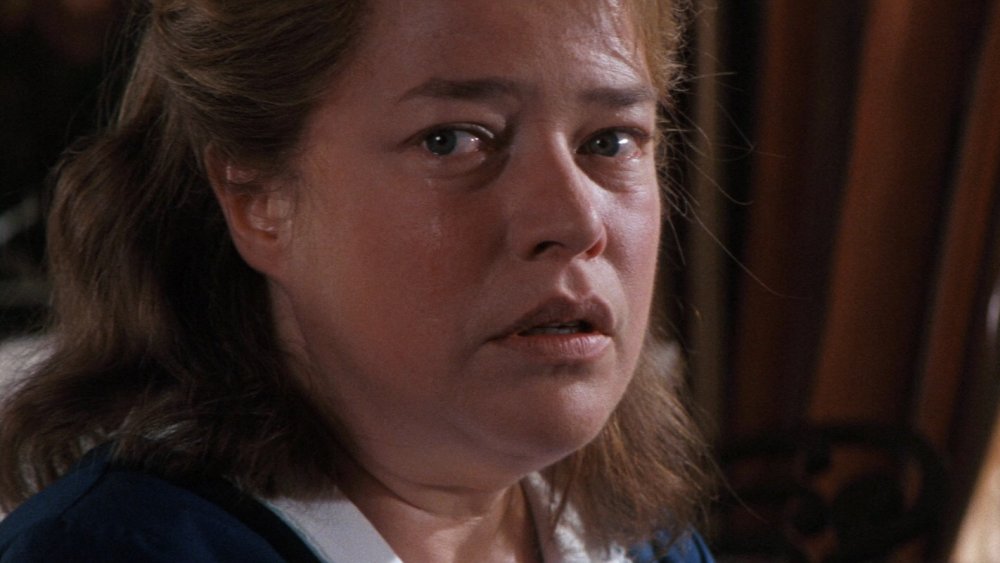 Kathy Bates has been involved in more than one Stephen King adaptation. Aside from Misery, she played the title role in the film adaptation of Dolores Claiborne and also had a cameo in the 1994 TV movie adaptation of The Stand as a radio DJ. Another of her King collaborations — and arguably the most lesser-known — came through her voice work on the audiobook version of the story "Chattery Teeth," from the collection Nightmares & Dreamscapes. 
Although it's been a while since Bates has worked on a King project, it's obvious that she's been drawn back to the author's bestselling works on more than one occasion since Misery established her as a star. Even now, she continues to show an interest in the horror genre with projects such as American Horror Story, so it's entirely possible we haven't seen the last of Bates in King adaptations. She definitely has a soft spot for comedy and a real knack for drama, but it's clear that Bates enjoys working on darker material as well.
Kathy Bates beats cancer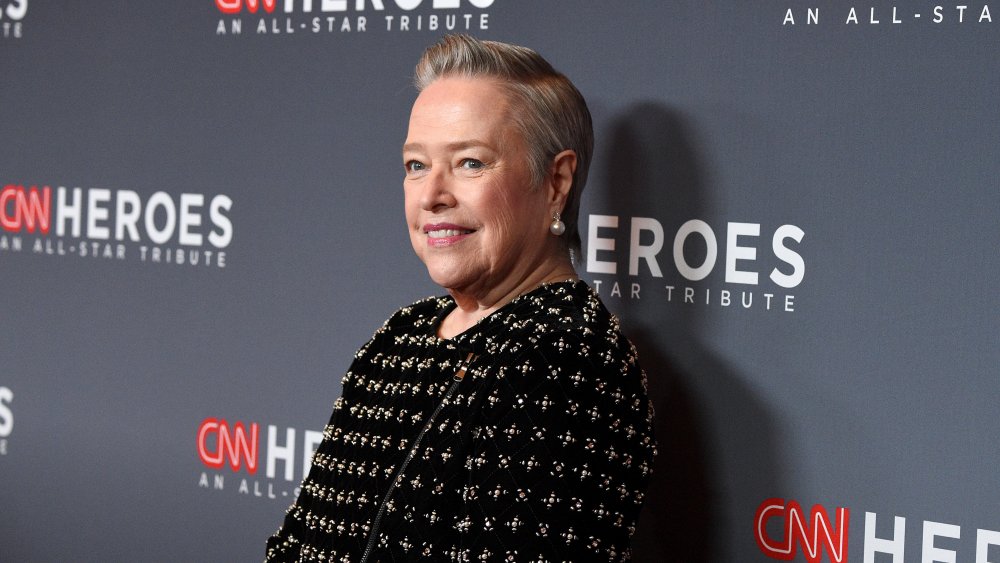 Kevin Mazur/Getty Images
In 2003, Kathy Bates was diagnosed with ovarian cancer, and while she was successful in her battle against it, in 2012, she was diagnosed with breast cancer as well. Due to her cancer, she suffers from lymphedema, which is a condition caused by the damage or removal of lymph nodes due to cancer; it manifests as swelling in the arms and legs. The breast cancer diagnosis caused Bates to opt for a double mastectomy and also required the removal of 19 lymph nodes. 
Remarkably, she worked throughout her various diagnoses and treatments, and a look at her filmography shows not even so much as a year off without a project. Bates has become an advocate regarding cancer, including working with various charities (like Ovarian National Cancer Alliance and Stand Up to Cancer) and even speaking with the United States government about increasing research into cures for the disease. Faced with personal horror, Kathy Bates turned it into a motivator to help others.
Kathy Bates misses the stage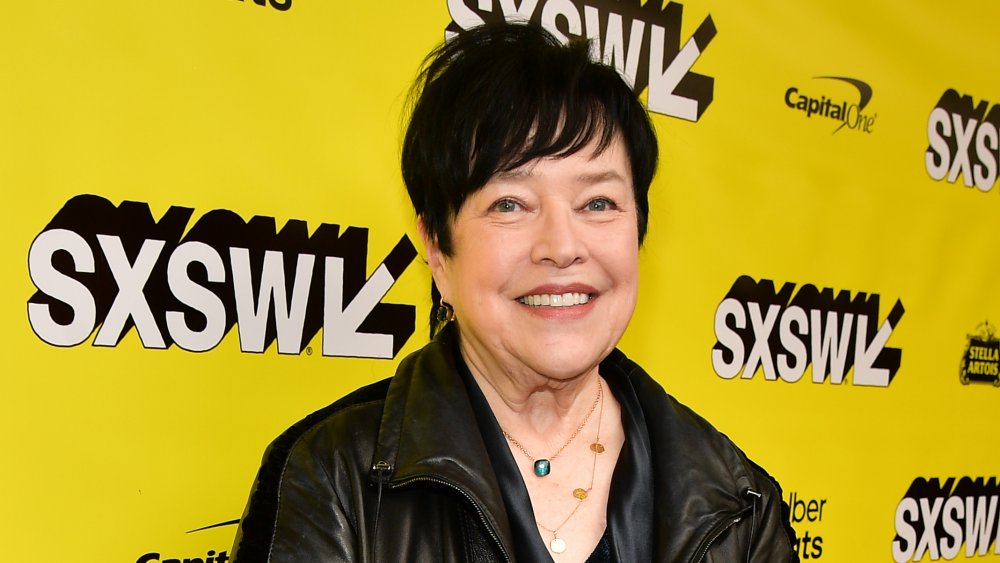 Matt Winkelmeyer/Getty Images
Kathy Bates intended to return to the stage earlier in her career, but other than a 2006 table reading on stage for Master Class, she's stuck to the screen over the last few decades — prior to that 2006 appearance, her last theater work happened in 1988. It's entirely possible that the grueling schedule of a theater production became too daunting as Bates' film career took off, but it would seem that she still has a special place in her heart for the theater and it would be wonderful to see her return at some point. As she's said herself, she enjoys the way plays are put together and rehearsed, a process that has informed the way she conducts herself and performs in films and on television. 
Regardless of the medium, Bates has enjoyed a consistently high-quality career for decades — whatever she chooses to do next, and wherever she does it, it's bound to be worth a watch.