The Most Bizarre Hayden Panettiere Show According To Panettiere Herself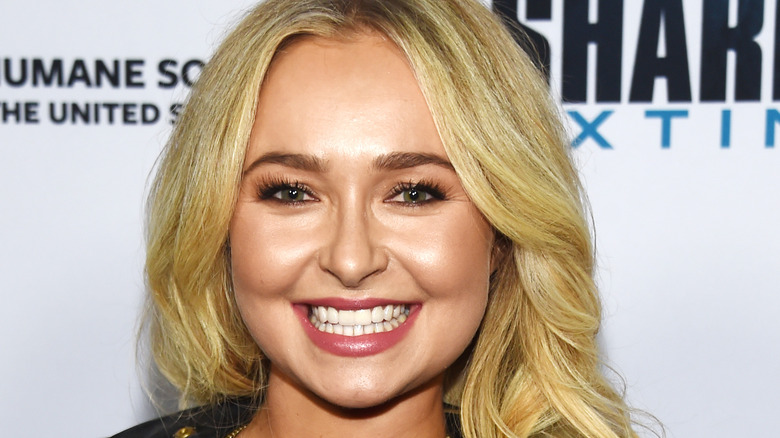 Amanda Edwards/Getty Images
For almost her entire life, Hayden Panettiere has been no stranger to show business. Whether it was appearing in commercials and big-time television shows before she was 10 years old or tackling starring roles on hit television shows "Heroes" and "Nashville," and eventually "Scream 4," Panettiere has been putting in the work for years. She has not been seen onscreen for a few years, but fans can officially look forward to seeing her reprise her role as Kirby Reed in the recently announced "Scream 6." Panettiere is used to being tapped into the pulse of Hollywood and everything that comes with it — even the bonkers and unusual.
Working as a child actor in the 1990s and early 2000s, Panettiere was involved in some pretty strange and outlandish storylines, mainly for her TV projects. Roles on shows like "One Life to Live," "Touched by an Angel," and "Law & Order: Special Victims Unit" (via IMDb) all involved some sort of unusual or fraught plotline, not to mention her work on the superhero-focused "Heroes," plus stints on "Malcolm in the Middle" and "Ally McBeal." For instance, her 2001 "SVU" debut sees her playing a child star whose parents may be hurting her, and she grows close to Detective Benson as the SVU detective investigates her case. 
Out of all her acting credits, there's one show in particular that Panettiere has publicly declared her weirdest, with her character going through waves of wacky storylines.
The soap opera Guiding Light was Panettiere's most bizarre show by far
According to Hayden Panettiere, the legendary CBS soap opera "Guiding Light" is, by far, the one with the most bizarre storylines she's ever been a part of in her decades-long career. Her character, Lizzie Spaulding, goes through a number of bad things during her three-year run on the show, including an episode where she is tossed down a well and another where she shoots her mom's boyfriend.
"'Guiding Light' takes the cake," Panettiere said during a 2017 appearance on "The Late Show with Stephen Colbert" (via YouTube). "I mean, they threw me down a well. I got leukemia not once but twice. I was kidnapped. I shot my mom's boyfriend. I was like, eight." While the writing on "Guiding Light" may have been out there, Panettiere said she loved every minute of it. "I was still in that bracket where I didn't care," she told Colbert. "I was good. My confidence was soaring."
In addition to having off-the-wall storylines to act her way through, Panettiere has also described in interviews how important "Guiding Light" was to her development as an actor. "It's such a pivotal time from four to 12-years-old, and that is the time that you remember throughout your life, especially something that is so every day, and so constant, and a character that you lived," Panettiere told "On-Air On-Soaps" in 2012 (via Michael Fairman TV). "It was such a gift to work with Grant Aleksander, Ron Raines, and Beth Chamberlin, and I loved them," she said. "If I saw them, I would run up to them like I was their child."