Scream 6 - What We Know So Far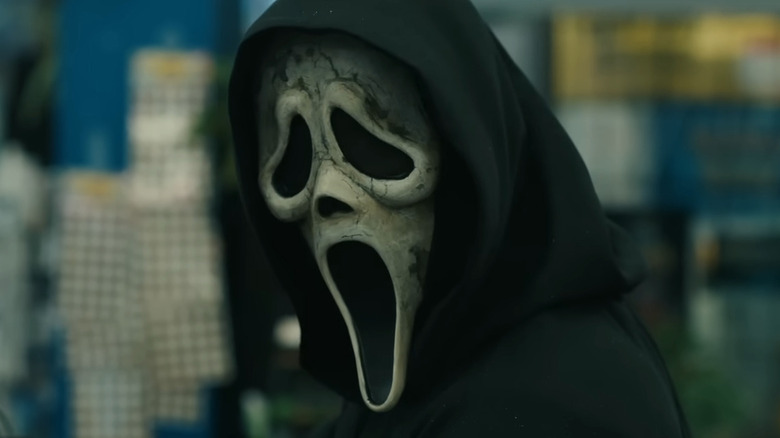 Paramount Pictures
We may receive a commission on purchases made from links.
Do you like scary movies? If you do, then you probably love the "Scream" franchise. Released in 1996, the original "Scream" movie took horror to new meta levels, reinvigorated the dying slasher genre, and introduced us to iconic horror characters like Sidney Prescott, Dewey Riley, and the phone-calling, knife-wielding Ghostface. The movie became the 13th highest-grossing film of the year, earned praise from critics like Roger Ebert, and kicked off a killer franchise that's still going strong — and still getting meta with it — all these years later.
Now, Ghostface and company are returning to the big screen in all their terrifying, trope-subverting glory. After 2022's "Scream" relaunched the franchise, bringing back familiar faces and introducing us to brand new heroes, we're getting a follow-up with "Scream 6." However, the latest installment in the series will take us to a new locale and give us a more vicious Ghostface. Plus, a franchise MVP will be missing from all the frightful fun. If you think you've got what it takes to survive, read on for everything we know so far about "Scream 6."
When will Scream 6 be released?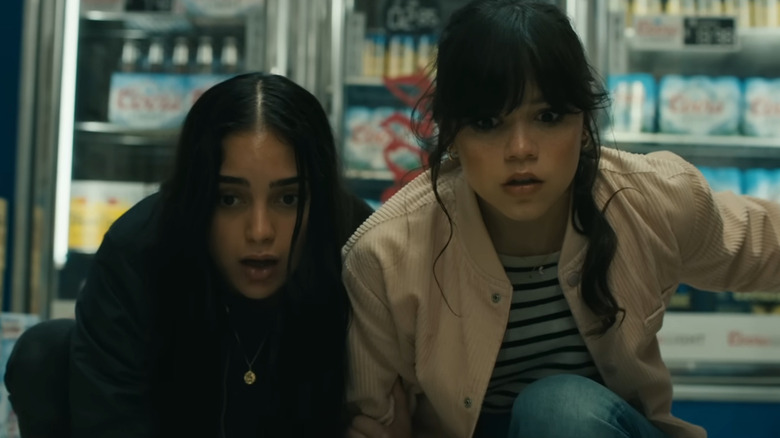 Paramount Pictures
After "Scream 4" slashed its way into theaters back in 2011, the franchise took an 11-year break as Ghostface geared up for his grand return. The fifth film, simply titled "Scream," premiered in 2022, playing with the concept of a "requel" — a reboot sequel that leans heavily on the first film of a franchise while introducing new characters alongside established vets. The result was one of the very best movies of 2022, basically guaranteeing we'd get a new entry in the series.
And fortunately for "Scream" fans, the wait for part six is almost over. The film originally had a release date of March 31, 2023 (via Bloody Disgusting), but Paramount Pictures actually moved it up to an earlier date of March 10. That's good news for horror hounds, although March is a particularly packed month for movies. For example, in "Scream's" original March 31 slot, Paramount has scheduled the upcoming "Dungeons & Dragons: Honor Among Thieves." That month also sees the release of big-deal titles like "Creed III," "John Wick: Chapter 4," and "Shazam! Fury of the Gods." It'll be interesting to see if "Scream 6" can manage to slice and dice its way through the competition.
What is the plot of Scream 6?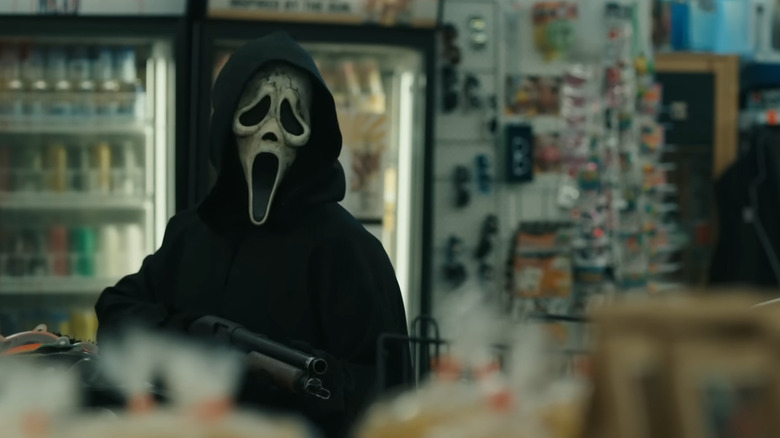 Paramount Pictures
In 2022's "Scream," we were introduced to half-sisters Tara and Sam Carpenter, the latter of whom reveals she's the daughter of Billy Loomis — one-half of the original Ghostface duo. Obviously, that's quite a lot to deal with, especially when a new Ghostface shows up and is dead-set on hacking Sam and her friends to pieces. Following the rules of a reboot sequel, aka a "requel," Tara, Sam, and friends Mindy and Chad Meeks-Martin make it out of the movie alive, along with long-time final girl Sidney Prescott and the pistol-packing Gale Weathers (RIP poor Dewey Riley).
Of course, there's no rest for the weary, and that's especially true in the world of "Scream." The new installment is moving from Woodsboro to New York, with our young heroes from the fifth film looking to escape their bloody past and find a new start. But move over, Jason Voorhees — this time, Ghostface is taking Manhattan, and Tara, Sam, Mindy, and Chad will have to join forces with intrepid reporter Gale Weathers if they're going to make it through the Big Apple alive. Only, this particular slasher seems even more violent than the previous Ghostface killers, and he's not afraid of ditching his trademark knife for the occasional firearm. 
"Ghostface gets a lot more intimidating," star Jenna Ortega told Entertainment Tonight, adding, "It just gets more and more gory. I think that this is probably the most aggressive and violent version of Ghostface we've ever seen." Star Melissa Barrera backed this up, telling Collider, "With the last 'Scream,' [directors Matt Bettinelli-Olpin and Tyler Gillett] were tip-toeing and trying to be very respectful of what the franchise had been, up until that point, and keeping their inner gory dreams at bay. But with this one, they were like, 'We're going all out.' It's potentially a hundred times gorier."
Who is starring in Scream 6?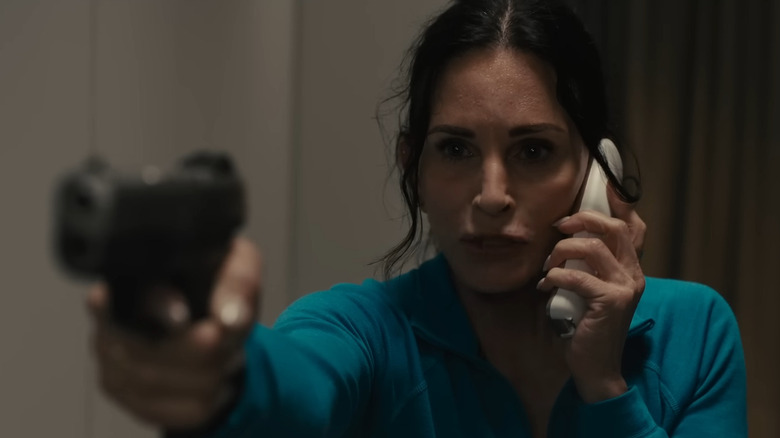 Paramount Pictures
Okay, let's address the elephant in the room — or rather, the final girl not in the room. There are two mainstays of the "Scream" franchise: Ghostface and Sidney Prescott. While various actors have donned the twisted ghost mask, Neve Campbell is the one and only Sidney, defeating masked murderers and overcoming serious trauma again and again. Sidney survived the fifth film, but we're sorry to report that Campbell won't be reprising the role in part six. 
Speaking with People, Campbell revealed the paycheck she was being offered for the film was insulting, explaining, "I did not feel that what I was being offered equated to the value that I bring to this franchise and have brought to this franchise for 25 years. ... I honestly don't believe that if I were a man and had done five installments of a huge blockbuster franchise over 25 years, that the number that I was offered would be the number that would be offered to a man."
Sticking with her guns, Campbell refused to star in "Scream 6." However, Courteney Cox will be back in action as Gale Weathers, and she'll be joined by another vet from the franchise. Hayden Panettiere is back as Kirby Reed, who evidently survived her seemingly fatal stab wound in "Scream 4." They'll also be joined by 2022 stars Jenna Ortega, Jasmin Savoy Brown, Melissa Barrera, and Mason Gooding.
As for newcomers to the series, we can expect to see both scream queen Samara Weaving ("Ready or Not," "The Babysitter") and Tony Revolori of "Spider-Man" and "Grand Budapest Hotel" fame (via Deadline). They'll be joined by the likes of "Mission: Impossible's" Henry Czerny and "My Best Friend's Wedding's" Dermot Mulroney, along with Jack Champion ("Avatar: The Way of Water") Liana Liberato ("The Best of Me"), Devyn Nekoda ("Ginny & George"), and Josh Segarra ("Arrow"). And while we don't know who's wearing the Ghostface mask, we know who'll provide that chilling voice — "Scream" OG Roger L. Jackson.
Who is directing Scream 6?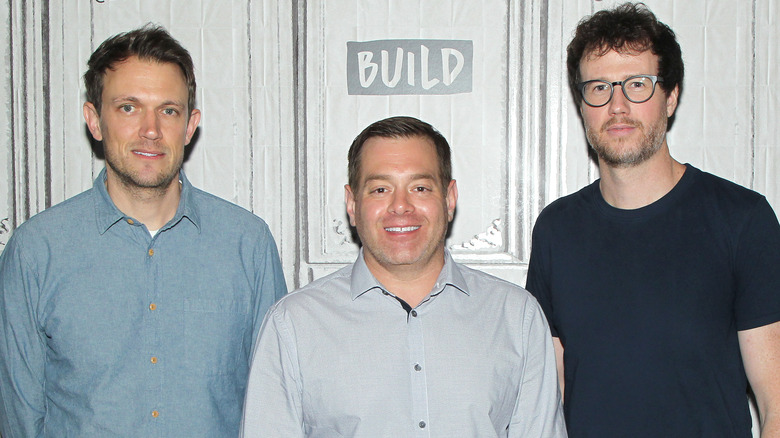 Jim Spellman/Getty Images
Don't mess with success. 2022's "Scream" was a hit with critics and at the box office, so why mess around with that formula? You don't, and that's why Matt Bettinelli-Olpin and Tyler Gillett have returned to direct "Scream 6." Working with producer Chad Villela, these three are known collectively as Radio Silence, and in addition to 2022's "Scream," they've honed their horror chops on the anthology horror flick "Southbound," the "10/31/98" segment in "V/H/S," and the hilarious demonic thriller "Ready or Not," starring Samara Weaving.
So what do Bettinelli-Olpin and Gillett have in store for "Scream 6?" Speaking with NME, Gillett explained their goals for the new flick, saying, "Part of our assignment on 'Scream 5' was to play the greatest hits, to really show that we were part of a long lineage of characters. With 'Scream 6,' we wanted to subvert that warm blanket and make something that's grittier and rawer. ... It's relentless and really visceral." That matches up with what the stars of the film are saying — that this Ghostface is more vicious than ever and that things are about to get bloody.
Who are the writers and producers on Scream 6?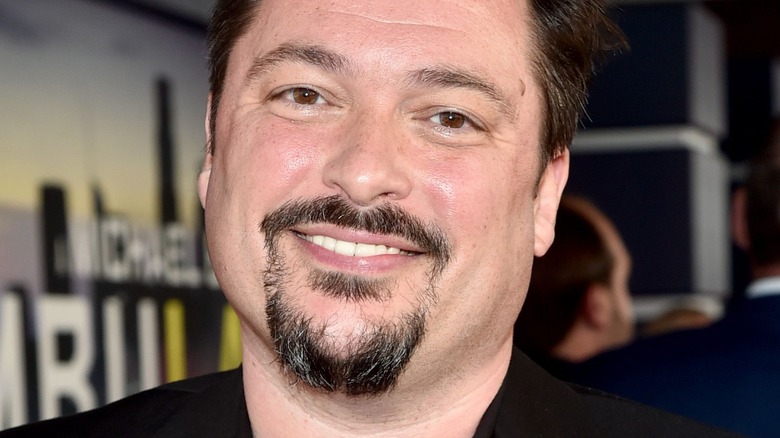 Alberto E. Rodriguez/Getty Images
As Ghostface himself might say — name the screenwriters of 2022's "Scream." Did you guess James Vanderbilt and Guy Busick? Correct. These two writers collaborated to help revive the franchise, and now they're teaming up again for "Scream 6." However, they had quite a few titles under their respective belts before they found themselves in the bloody world of Woodsboro.
Previously, Busick co-wrote the script for "Ready or Not," a horror-comedy that finds Samara Weaving's bride trying to survive the world's worst wedding night. He's also contributed to TV shows such as "Castle Rock" and "Stan Against Evil." As for Vanderbilt, here's a screenwriter who's been pretty busy. He's penned "The Amazing Spider-Man," "Independence Day: Resurgence," "Murder Mystery," and perhaps David Fincher's finest film — "Zodiac."
On the producing side of things, Chad Vilella of the Radio Silence collective (which also includes "Scream 6" directors Matt Bettinelli-Olpin and Tyler Gillett) will help guide the upcoming slasher to the screen as an executive producer. In addition to other names, he'll be joined by Kevin Williamson (via Collider) — the man who brought Ghostface to life by penning the scripts for 1996's "Scream" and 1997's "Scream 2."
Is there a trailer for Scream 6?
The official trailer for "Scream 6" promises a white-knuckle thriller and something far more intense than we've seen in the series so far. It kicks off with our heroes, Sam and Tara Carpenter, desperately seeking shelter in a New York bodega. But that ain't gonna' stop Ghostface, who gets his hands on a shotgun and begins to hunt our characters down.
We then jump back to slightly less scary times — slightly — as Sam tells us, "I had this secret. There's a darkness inside of me. It followed me here, and it's going to keep coming for us." She's no doubt referencing her murderous dad, Billy Loomis, but perhaps she can overcome that darkness with the help of fellow survivors like Tara, Kirby Reed, and Gale Weathers. Together, they plot to execute Ghostface, but this villain seems about a million times more violent than any version we've seen before.
The trailer also gives us a glimpse of a Ghostface shrine and a collection of Ghostface models, each one seemingly representing the film's previous baddies. It also highlights what's bound to be one of the creepiest moments of the movie — when our heroes are trapped on a subway filled with costumed trick-or-treaters. And there's one Ghostface figure slowly but surely making his way towards Mindy Meeks-Martin, and we're pretty sure he's not going to ask her for candy.
Where to watch the previous Scream movies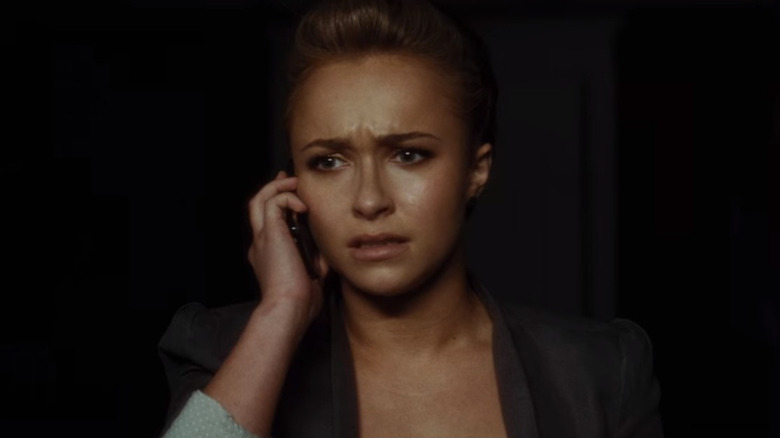 Dimension Films
So, how did we get here? On the run in New York? With the tenth Ghostface on the loose? Well, if you want to get caught up on all the "Scream" action, don't worry. We've got you covered.
It all starts with 1996's "Scream," directed by the legendary Wes Craven. The original movie features one of the greatest opening moments ever filmed, with Drew Barrymore having a truly terrifying phone call. It only escalates from there as Craven both celebrates and satirizes the slasher genre he helped create. You can rent it for $2.99 on Google Play, Prime Video, YouTube, as well as for $3.99 on Apple iTunes and Vudu.
If you want to continue the "Scream" saga, get ready for part two, which plays with the concept of sequels and features new names like Timothy Olyphant, Jada Pinkett Smith, Laurie Metcalf, and Sarah Michelle Gellar. You can find "Scream 2" for $2.99 on Google Play, Prime Video, and YouTube, as well as for $3.99 on Apple iTunes and Vudu
In "Scream 3," the franchise moves from Woodsboro to Los Angeles, where Ghostface gets to chop his way through Hollywood as the movie critiques the vicious nature of show business. Also, if you're a fan of the works of George Lucas or the oeuvre of Kevin Smith, you're probably going to enjoy this one. "Scream 3" can be rented for $3.99 on Apple iTunes and Vudu, as well as for $2.99 on Google Play, Prime Video, and YouTube.
With the fourth film, we return to Woodsboro, where Sidney is giving a tour for her new self-help book. She's trying to turn the proverbial page and start a new chapter in her life — too bad there's a killer on the loose. "Scream 4" introduces audiences to Hayden Panettiere's Kirby Reed, who'll play an important role in the upcoming film. You can stream "Scream 4" on Netflix, or you can rent it for $3.99 on sites like Apple iTunes, Google Play, Prime Video, Vudu, and YouTube.
Lastly, there's 2022's "Scream," which is a direct set-up for the events of "Scream 6." Watch a new bunch of heroes team up with Sidney Prescott, Gale Weathers, and Dewey Riley as they try to survive a real-life "requel." "Scream" is available to rent on Paramount+, to rent for $2.99 on Amazon, Google Play, and YouTube, and to rent for $3.99 on Apple iTunes and Vudu.