Matt Damon Would Agree To Star In A Superhero Movie Under One Condition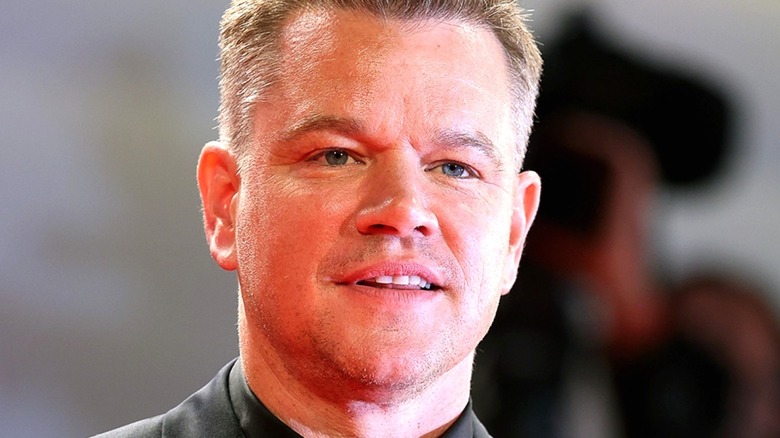 Maria Moratti/Getty
One core pillar of online Marvel Cinematic Universe fandom seems to be hoping or even theorizing that a big actor previously uninvolved in a Marvel project might appear in an upcoming film. Sometimes, such wishes become reality, as was the case when a well-known actor frequently attached to an iconic Marvel comic book character appeared in "Doctor Strange and the Multiverse of Madness." Keanu Reeves is similarly someone that fans have often expressed interest in joining the MCU, to the point that Reeves addressed this proposition directly in an interview.
Although Matt Damon has technically appeared in an MCU film, it was as an actor performing the role of Loki in a single "Thor: Ragnarok" scene, effectively amounting to a cameo with virtually no bearing on Marvel canon at large. For what it's worth, real Loki actor Tom Hiddleston found the experience amusing.
Damon's one MCU appearance thus far hardly precludes him from a starring role at some point down the line. With that said, Damon once mentioned in an interview one particular condition that would get him to star in a superhero movie — MCU or not — should it be met.
Matt Damon would appear in a superhero movie helmed by Ben Affleck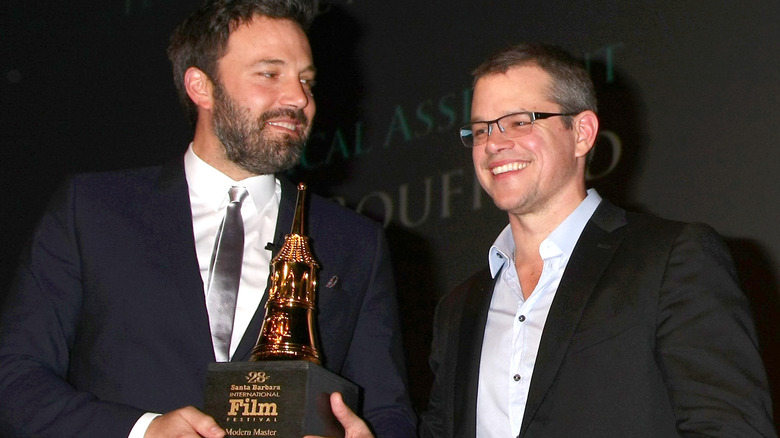 Kathy Hutchins/Shutterstock
In 2016, the Irish Examiner — in an interview that has since been deleted, but some of the content of which appears in an article by CinemaBlend — broached the subject of what superhero Matt Damon might want to portray should he ever star in a superhero film.
"I'd consider anything with the right director, but I can't imagine there are any superheroes left, I think they're all taken at this moment. If [Ben Affleck] was directing me, I'd jump on it in a New York minute. I'd love to work with Ben," Damon replied.
Affleck and Damon famously have a strong working relationship with one another dating back to "Good Will Hunting," which Damon starred in thanks at least in part to advocacy from Sylvester Stallone. Most recently, the duo wrote part of and co-starred in the Ridley Scott-directed medieval drama "The Last Duel."
In an interview with The Hollywood Reporter published around the time of the release of "The Last Duel," Affleck praised Damon's skills as an actor. "Matt almost always causes me to forget that its him," Affleck said. "[Whether] it's 'Stillwater' or a movie like 'The Good Shepherd,' which I think is still one of my favorite performances of Matt because it's so internal and constrained and subtle and contextual and nuanced." At the very least, then, the interest in continuing to work together that Damon expressed seems to be mutual.
What are the chances of Ben Affleck ever directing a superhero movie?
While Matt Damon and Ben Affleck appear wholly devoted to collaborating with one another, whether or not Affleck might want to direct a superhero movie — thus meeting Damon's one condition for starring in a superhero role — is another matter entirely.
Fortunately for those holding out hope that this collaboration might happen, Affleck told LADbible that even after dropping out of directing a "Batman" movie, he remained interested in potentially helming another superhero project. "I can certainly imagine directing a movie, you know — if [DC] would have me — if it was something I was passionate about," Affleck said.
Since then, however, Affleck told The Hollywood Reporter that he backed out of his "Batman" movie over a lack of passion. "I looked at it and thought, 'I'm not going to be happy doing this. The person who does this should love it.' You're supposed to always want these things, and I probably would have loved doing it at 32 or something. But it was the point where I started to realize it's not worth it," he said.
Currently, Affleck is signed on to direct two features: "Witness for the Prosecution" and "Keeper of the Lost Cities" (via IMDb), so a hypothetical superhero film likely won't happen anytime soon. Down the line, though, there's always a slim possibility that Affleck might direct a superpowered Damon as long as the two of them remain collaborators.