The Real Reason Ben Affleck And Matt Damon Only Wrote The Male Characters' Scenes For The Last Duel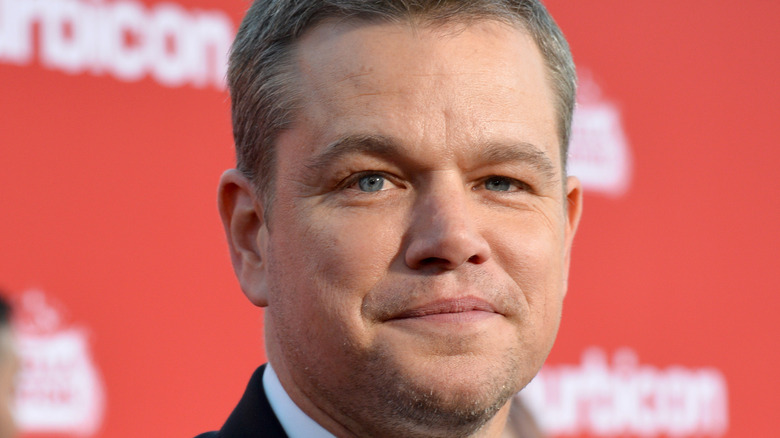 Shutterstock
From the sci-fi masterpiece "Blade Runner" to the historical drama of "Gladiator," director Ridley Scott has cemented himself as one of Hollywood's most celebrated filmmakers. And it's probably one reason why his fans are excitedly anticipating the upcoming release of one of his latest projects, "The Last Duel." Yet besides having Scott in the director's chair for the movie, "The Last Duel" offers so much more for viewers to keep an eye out for.
For one, it's based on a true story of a 14th-century knight and his squire engaging in a battle to the death over the honor of the knight's wife. It stars Jodie Comer as Marguerite de Carrouges, Matt Damon as Jean de Carrouges, and Adam Driver as the squire Jacques Le Gris. Additionally, "The Last Duel" will reunite Damon onscreen for the 10th time with Ben Affleck, who plays Count Pierre d'Alençon. Besides acting together, the longtime best friends share writing duties on the movie's script along with Academy Award nominee Nicole Holofcener ("Enough Said"). But it appears that writing duties were specifically split, with Damon and Affleck writing only the male characters' scenes.
According to Damon, there's a solid reason for this.
The Last Duel centers on perspective
Warning: This section contains references to sexual assault.
While talking to Entertainment Tonight, Matt Damon gave some insight into the writing process behind the script for "The Last Duel." He revealed that while he and Ben Affleck wrote from the male characters' point of view, Nicole Holofcener wrote for the female lead. It was planned this way as the movie is built on the different perspectives of its characters.
"But this time around, you know, it's a story about perspective," Damon said. "So, there are two knights and then there's the Lady Marguerite. So Ben and I wrote the male perspectives and Nicole Holofcener wrote the female perspective. That's kind of the architecture of that movie."
If perspective is one of the main ideas being explored in the film, then the writing process makes sense. We'll have to see just how "The Last Duel" fully uses the approach of different perspectives from its characters when it releases this fall. But as its initial trailer seemed to do for potential viewers, Damon's words may help continue to assuage fears that the movie is solely using Marguerite de Carrouges's rape accusations as a plot device. There's a chance that "The Last Duel" might actually attempt to take on the sensitive subject matter appropriately.