Why Matt Damon Credits Sylvester Stallone For His Role In Good Will Hunting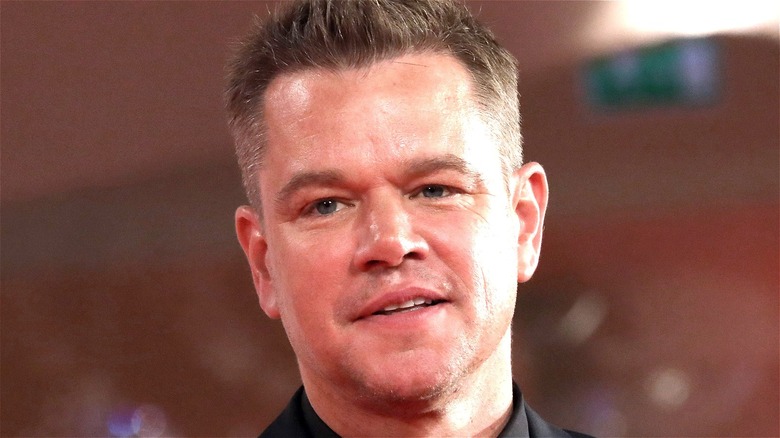 Elisabetta A. Villa/Getty Images
"Good Will Hunting" remains a major achievement for both Ben Affleck and Matt Damon. The film, which was co-written by Affleck and Damon and tells the story of a college janitor who is discovered to be a math prodigy, earned the pair a cabinet's worth of awards and rave reviews for their work on it.
But the road to success was one paved with difficulty and tension for Affleck and Damon. The making of "Good Will Hunting" was hampered by studio involvement (via Vanity Fair) and the threat of other actors getting cast as the characters that both Affleck and Damon had held near and dear to their hearts for years. Thankfully, all the pieces correctly fell into place, and Damon ended up playing the film's titular character. What's interesting, however, is that the person Damon has previously credited for helping him secure the lead role in the film is someone who had absolutely no direct involvement in the project.
Here's why Matt Damon believes Sylvester Stallone is the reason he got to star in "Good Will Hunting." 
From one underdog to another
At the 2016 National Board of Review awards gala in New York, Matt Damon gave a speech and revealed that Slyvester Stallone played a key role in him holding onto his role in "Good Will Hunting." The studio powers that be, as Damon put it (via Vanity Fair), "really wanted to take it away from us," with actors like Leonardo DiCaprio being named as contenders to play the film's lead role. Damon, however, stood firm against the studio, explaining, "Every time they said, 'You can't do this,' we said, 'Actually it's been done once before.'"
Damon was referring to Stallone and the life-changing decision he made in order to bring "Rocky" to life on the big screen. Much like the role that made him a legend, Stallone was down on his luck and completely broke when he wrote the script for the 1976 Oscar-winning boxing film. An unknown at the time, Stallone endured studio pressure to let someone else lead "Rocky" (via Forbes), with other, more high-profile names being considered for the film's titular part. However, like his boxing alter ego, Stallone stood his ground, demanding that he be the one to play Rocky Balboa. Eventually, the studio relented and he got to lead the film.
Like Damon, the decision paid off for Stallone, who went on to play the role seven more times, two of which were for his appearances in the franchise's "Creed" sequel series. In case that wasn't enough, he also unknowingly helped another actor do something very similar just a few decades after him. "He had an incredible amount of courage," Damon said, before adding, "and he changed the course of our lives."
Way to go, Rock.